I first made Chocolate Thumbprint Cookies as a mark my second month with The Secret Recipe Club in December 2011 and it really had already been such a fun experience that I repeated it a lot of times since then.
This month I was bookmarking all kinds of things to make (as usual), while I saved many savory dishes to create in the future, I figured that with the weekend very quickly approaching, I should probably make a sweet treat to share with all of you!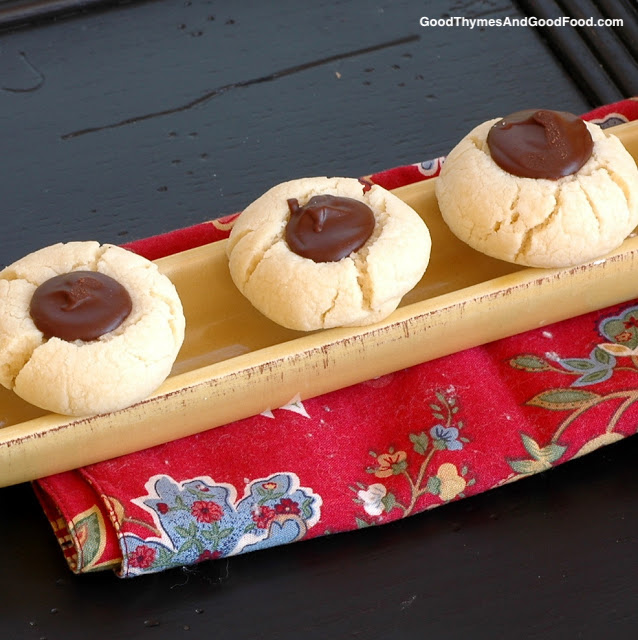 This is hard for me to believe, but I'd never made thumbprint cookies before.  (At least not that I remembered.)
The cookie portion of these thumbprints is a cross between sugar cookies and a shortbread base. They have a wonderful sweet, buttery flavor and are paired with just the right amount of chocolate goodness. The chocolate stays sort of soft after it sets up making for a great texture combination with the crisp cookie.
These keep very well and would make a great addition to holiday treat baskets!
Chocolate Thumbprint Cookies Ingredients
1 cup (2 sticks) plus 3 tbsp unsalted butter, room temperature (divided)
1 cup confectioner's sugar
¼ tsp. salt
2 tsp. vanilla extract
2 ½ cups all-purpose flour
3 oz. semisweet chocolate chips
1 tsp. light corn syrup

Directions
Preheat oven to 350°F and line baking sheets with parchment paper; set aside.
In the bowl of an electric mixer, beat together 2 sticks of butter, sugar, salt, and vanilla on medium speed until smooth, 2-3 minutes.
Add in flour in small portions, beginning at low speed, and increasing speed as more is added. Mix only until combined.
Form 2 teaspoons of dough into balls and place about 1 inch apart on the prepared baking sheet. Bake cookies for 10 minutes and remove from oven and press thumb gently into the center of the cookie to make a deep, wide well. Place cookies back into the oven for another 7-9 minutes or until the edges are light brown. Transfer to a wire rack to cool completely before filling with chocolate.
To prepare the chocolate, combine chocolate, 6 tablespoons of butter, and corn syrup in a double boiler (or a small heat-proof bowl set over a pot of simmering water). Stir occasionally until melted and smooth. Allow to cool slightly, then fill the thumbprints using a small spoon.
Allow to firm up before storing the cookies in single layers in an airtight container.