I mean, what is there really to say about this stuff?  It's gooey salted caramel sauce that's studded with vanilla bean flecks. There you have it. Put it on ice cream, bake it into brownies, top cupcakes with it, dip apples into it, or eat it by the spoonful.  Any way you drizzle it, it's going to be delicious.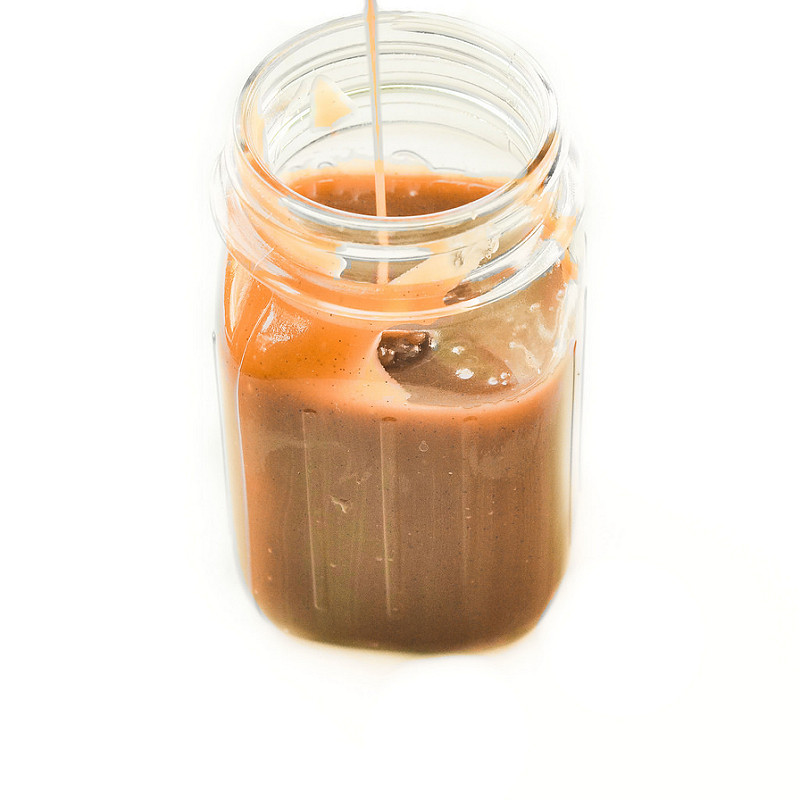 Be sure to have all of your ingredients measured and ready to go because this can go from melted sugar to burned, bitter sugar really quickly and you definitely don't want that.  The caramel color usually takes 5-7(ish) minutes to develop but watch it closely.  If you don't have vanilla beans, you can still make a delicious salted caramel sauce without the vanilla bean pod.
Ingredients
1 whole vanilla bean pod
1 cup heavy cream
5 tbsp. unsalted butter, cut into small cubes
2 tsp. sea salt or fleur de sel
1 ½ cups granulated sugar
¼ cup light corn syrup
¼ cup water
Directions
Use a small paring knife to split the vanilla bean pod down the middle, stopping about ½ inch before the end. Scrape the seeds from the pod and place seeds and scraped pod in a small saucepan. Add the cream, butter, and salt to the pan and place over medium heat, until boiling, stirring occasionally. Once boiling, remove from heat and set aside.
In a separate 3- to a 4-quart heavy saucepan, bring sugar, corn syrup, and water to a boil, stirring until sugar is fully dissolved.
Boil, without stirring but gently swirling pan, until mixture is a golden caramel, watching carefully to avoid burning.
Remove vanilla bean pod from the cream mixture and slowly add the cream mixture, a little at a time, to the caramel (it will bubble up). Bring to a simmer, stirring frequently, for 3 minutes.
Pour caramel sauce into a heat-safe dish and cool to room temperature before storing in the fridge. Enjoy!