I've had this Chicken Cheesesteaks recipe for a while and hadn't made it, so after a long day of shopping last weekend, this was the perfect thing to throw together. I wasn't sure how it would be, I was afraid it was going to be flavorless. And I was surprised by how well it turned out! Don't forget the mayo though, that was key. I forgot it the first time around!!
Ingredients
Serves 4
1 pound chicken cutlets
2 tablespoons vegetable oil, such as safflower
Coarse salt and ground pepper
2 bell peppers (ribs and seeds removed), thinly sliced. Use mixed peppers.
1 large red onion, halved and thinly sliced
4 garlic cloves, thinly sliced
6 ounces sliced provolone cheese
4 soft hoagie rolls, split lengthwise
1/4 cup light mayonnaise
If you want to add a very mild spicy flavor to your cheesesteaks, add mildly hot banana pepper rings and juice to the recipe (if you'd like it really spice pick the Hot banana pepper rings jar). The banana pepper rings are significantly less spicy than jalapenos.
Directions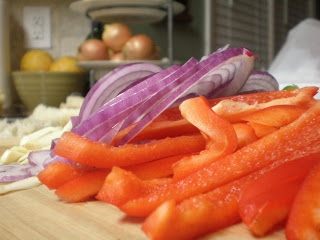 Heat broiler. The rack should be set 4 inches from the heat.
On a rimmed baking sheet lined with aluminum foil, toss chicken with 1 tablespoon oil; season with salt and pepper. Broil until chicken is opaque throughout, for 5 to 7 minutes (do not turn the chicken).
Transfer to a cutting board (reserve baking sheet); let cool, and thinly slice. Set chicken aside.
On a baking sheet, toss together peppers, onion, garlic, and the remaining tablespoon of oil. Broil, tossing occasionally, until crisp-tender and slightly charred, 8 to 10 minutes; season with salt and pepper.
Add chicken to broiled vegetables; toss, and spread in a single layer.
Top them with cheese; broil until cheese is bubbling, for 30 seconds to 1 minute.
Remove and discard almost all of the dough from the center of each half of the rolls.
Spread rolls with mayonnaise; fill with chicken and vegetables.
Serve immediately.