While at work today I was trying to think of something to make for dinner tonight (this week we're trying to eat a bit healthier, so I planned for a Keto dish). And I was having a hard time. I knew we were having chicken, but what, exactly, was the question. So I checked my bookmarks and found that I'd love some chicken wrapped in cheese and ham – the Keto chicken cordon bleu!
I just thought last night that I think the biggest thrill in cooking for me, is to try something new as often as possible. I don't repeat recipes often, I like to try new recipes. Something has to be a huge standout for me to make it again.
Anyway, I hadn't made chicken cordon bleu, but it is a dish I enjoy. So I thought, "Why not?" I used this recipe and it was very good!! It was easy, as well, which is always a plus. I hope you like this recipe as much as we did!
P.S. The picture does NOT do it justice…this keto version of classic chicken cordon bleu was really good! Don't let the crappy photo fool you!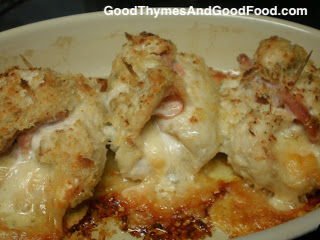 What is chicken cordon bleu?
Basically, classic cordon bleu is a stuffed chicken that came from Switzerland (I thought France too, honestly). We take chicken breasts, wrap them around cheese (we can also add ham), then bread them and bake or fry them on the pan.
Sounds easy and mouthwatering, I know! We all know breaded chicken as schnitzel.
In fact, we can use also pork or veal instead of chicken and wrap the meat around ham and, or cheese.
---
What does keto mean in food?
You may wonder if the keto recipe is good for you, and I will explain what does keto means in terms of diet. Keto or ketogenic diet is a food plan when you lower carbs and your body doesn't have enough carbohydrates to burn for energy.
With the keto diet, we get calories from protein, not from lots of carbs. We eat less sugar, sodas, pastries, and white bread. The Keto diet is not a vegetarian diet, we still can eat meat. Eggs are allowed too.
Why people would do that? When our body doesn't have carbs to burn for energy in couple of days, it will start burning fat so you can lose weight.
It means that my Keto Chicken Cordon Bleu is as tasty and juicy as the classic one, has the same amount of cheese, but I will replace some ingredients like flour and breadcrumbs (you will not notice it in the dish). It will be the same creamy chicken with ham and cheese you like, but a little bit healthier!
What are positive effects of keto diet:
weight loss
may help people with heart disease, certain brain diseases, and even acne
may have positive effects on epilepsy, Alzheimer's disease, Parkinson's disease, and sleep disorders
more satisfaction with less food
lower insulin production (insulin takes part in weight gain), lower blood sugar level
Why keto recipes may be bad for you?
people with type 1 diabetes should see a doctor before trying this diet
you may have constipation, mild low blood sugar, or indigestion
the transition to the keto diet may be followed by headache, weakness, and irritability; bad breath; and fatigue.
This doesn't apply to the Keto Chicken Cordon Bleu recipe, as we do not change a lot of classic ingredients. The only threat in here is the bad chicken – buy only fresh raw meat from producers you know well.
---
Keto Chicken Cordon Bleu Ingredients
2-4 chicken breasts, pounded thin and very dry, boneless, and skinless.
4 slices of very thin ham
2 slices of thick swiss cheese (can substitute with gouda or mozzarella, or even smoked gouda or mozzarella)
Parmesan Cheese, freshly grated
3/4 almond flour
1-2 garlic cloves, chopped (can be replaced by garlic powder)
1 egg
2 tbsp water
salt and pepper, to taste
---
As we're making low carb Chicken Cordon Bleu we will use almond flour instead of regular one, and we will not use bread crumbs to keep the dish healthier.
We use Swiss cheese and Parmesan just as classic cordon bleu recipes, so your family and friends will not notice any difference, and I am sure they will enjoy it.
If you don't follow keto diet, you can use Panko bread crumbs (1/2 – 1 cup) and regular flour (about 1 tbps).
If you don't want to spend extra on breasts free of skin and bones, buy regular ones and remove carefully bones and skin, which you can use to make some healthy bone broth or stock later. If you decide to debone the chicken yourself, watch this 1,5 min video to do it right.
Keto sauce:
1 tbsp unsalted butter
sea salt
ground black pepper
garlic powder
dijon mustard
heavy cream
Parmesan (can be replaced by aged cheddar)
Making sauce for a non-keto diet, you can use cornstarch, half & half and a bit of wine.
---
Directions
I recommend use toothpicks to hold tight the chicken breasts.
Preheat oven to 350-375 degrees F (180-200C).
Place slices of ham on one side of thin chicken breast. Add swiss cheese in the middle of the ham. Roll up chicken breast and secure with toothpicks. Do this with all chicken breasts.
Alternatively, you can create a pocket in the chicken breast: just slice it horizontally through the center and place in this pocket ham wrapped around swiss cheese. Fix with toothpicks.
Make sure the top of the chicken is very dry, and season with salt and pepper. I prefer using sea salt, it is much healthier than regular salt.
Beat the egg in a medium bowl (size and depth should be just enough to dip the breast, not too deep or large). Whisk in the water and set aside.
Spread almond flour all over the first chicken "roll", then dip it in the egg mixture. Repeat with all breasts.
You can also dip the top of each chicken breast twice (egg first, then almond flour). Honestly, you can repeat the step 5 until you used all the egg and flour 🙂 You'll have really crispy breasts!
Place in a greased baking dish and then cover with foil. Bake for approx. 40 – 50 minutes until chicken is no longer pink. (I removed the foil at the end and turned on the broiler for about 5 minutes to brown the top.)
While the chicken breasts are baking, prepare the sauce: melt butter in a small saucepan or skillet.
Add garlic and cook until fragrant, about 1-2 minutes.
Add mustard and cook another minute or two.
Warm up the cream a little bit, then add to the saucepan and simmer for 10 min.
Add salt, pepper, and a little bit of shredded Parmesan Cheese and mix until the cheese is melted.
Drizzle over Chicken Cordon Bleu just before serving.
---
Be aware that chicken is the meat that trasfers viruses and infections very easily. Make sure you wash it thouroughly before cooking and also wash you hands before and after touching raw chicken.
Make sure you cooked it through and there are no pink areas or blood as it can make you or your family feel sick and lead to intoxication or gut issues.
What to serve with chicken cordon bleu
We are done with perfect meat and now we need some sides for chicken cordon bleu. I love it simple with baby potatoes, onions, and peas, but let's see what other keto-friendly options we have:
Roasted broccoli or cauliflower with garlic
Steamed Veggies
In general, fresh veggies, like simple fresh salad, sauces, and steamed or grilled vegetables will make the best side dish to serve with chicken cordon bleu. I love cauliflower, I usually make it with beef steaks, but I guess it will work for chicken too.
Other vegetables can be: aspargus, carrots, broccolini, Brussels sprouts, zuchinni, etc.
If you're following keto or any other diet, double check the nutrition values of all ingredients before cooking.