I'm pretty sure that everyone struggles with what to make or eat for lunch from time to time, I know that I do.  While a sandwich is easy, it's not always all that filling or satisfying.  Sometimes you just want or need more. Enter this Roasted Chickpea and Vegetable Salad.  
It's full of vegetables and chickpeas then topped with an herb-filled dressing.  I've made this so many times, with so many variations, and every time it's great.  I make a large batch and we eat it for several days.  It's a great way for me to use whatever vegetables I have around.  Feel free to swap out with whatever you like.  I've added kale to the roasting pan instead of spinach and used a myriad of vegetables.  Play around with it and find your favorite combination!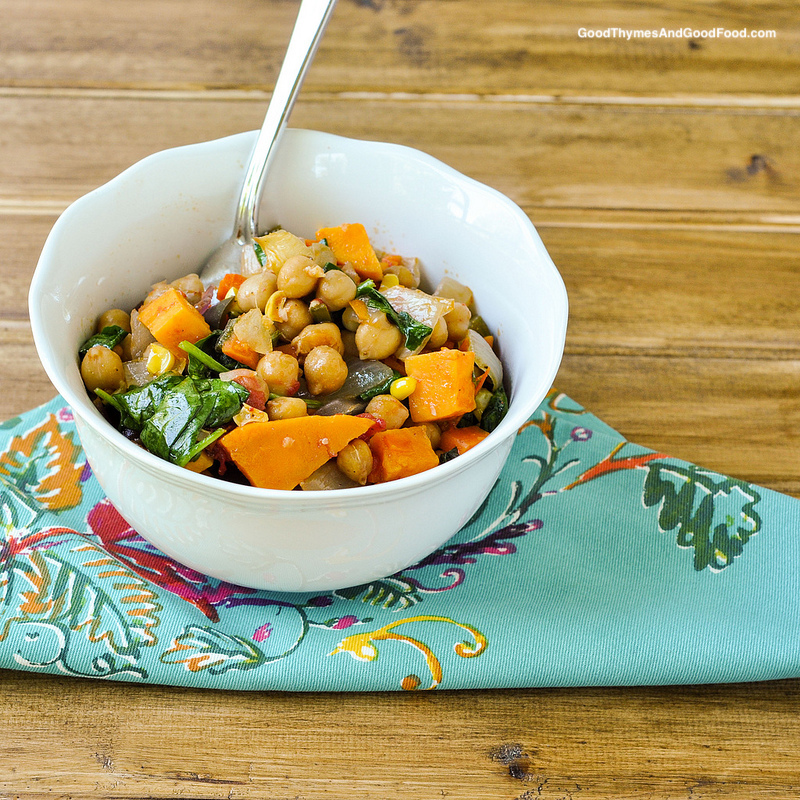 Ingredients
1 pint grape tomatoes, halved or 2 medium tomatoes chopped into ½-inch pieces
1 poblano or jalapeno pepper, seeded and chopped
1 red onion, chopped
About 1 ½ cups corn (cut from cob or frozen that has been defrosted and patted dry)
2 (15 oz.) cans chickpeas, drained and rinsed
2 carrots, peeled and finely diced
1 large sweet potato, finely diced (or leftover cooked sweet potato, diced)
4 cloves garlic, minced or pressed
2 tbsp. olive oil Kosher salt and freshly ground pepper
3 oz. fresh spinach
1 roasted red pepper, chopped (You could also roast a chopped bell pepper with the other vegetables.)
For the dressing:
¼ cup white wine vinegar
2 tbsp. olive oil
1 tbsp. honey
3 tbsp. fresh herbs (any combination – parsley, chives, basil, cilantro…)
Kosher salt and freshly ground pepper
Directions
Preheat the oven to 400˚ F (200C) and line 2 baking sheets with aluminum foil, set aside.
Add the tomatoes, poblano or jalapeno, red onion, corn, chickpeas, carrots, sweet potato, and garlic to the baking sheets. Toss with olive oil and season to taste with salt and pepper. Spread the vegetables into an even layer on both sheets and roast about 25-35 minutes until vegetables begin to char slightly, stirring once or twice and rotating baking pans halfway through.
To make the dressing, combine all ingredients in a glass measuring cup and whisk to combine.
Place the spinach and roasted red pepper into the bottom of a large bowl and carefully add the roasted vegetables on top of the spinach. Pour the dressing over the top and stir to combine and wilt the spinach.
Season to taste with additional salt and pepper. Serve at room temperature or cold.