I have had a whole bunch of kitchen failures lately, like outright bombs.  Dry cakes, cookies falling apart, chewy chicken;)  Pies have always, always been my nemesis in the kitchen.  I've made a few that have been very good but most of them never make it to the blog because they don't turn out, are soggy, the crust is awful…the list could go on (and on). Except for Chocolate Cream Pie.
This Chocolate Cream Pie Recipe was not a failure.  I had a few moments where I was sure the whole thing was going to flop (like when I forgot to strain the filling) but thanks to the good people at Cook's Illustrated and The New Best Recipe, it turned out delicious and perfect. The Oreo crust is crunchy and chocolatey, the filling is smooth and rich, and of course, homemade whipped cream is always great.  I knew when I saw this on Tide & Thyme a while back that I would definitely be giving this pie a shot.
I made a pretty good pie (woo)!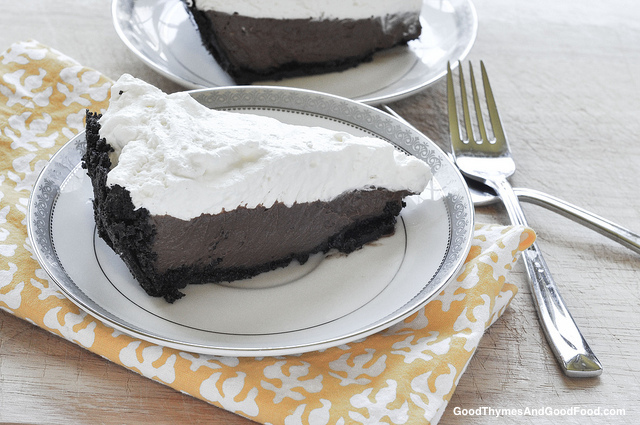 Chocolate Cream Pie Recipe Ingredients
For the crust:
20 Oreo cookies, broken into large pieces
3 tbsp. unsalted butter, melted
For the filling:
2 ½ cups half-and-half
Pinch of salt
⅓ cup granulated sugar, divided
2 tbsp. corn starch
6 large egg yolks, at room temperature
6 tbsp. unsalted butter, cold and cut into
6 equal pieces
6 oz. semisweet or bittersweet chocolate, finely chopped
1 oz. unsweetened chocolate, finely chopped
1 tsp. vanilla extract
For the whipped cream topping:
1 ½ cup heavy whipping cream, cold
2 tbsp. powdered sugar
Directions
To make the crust:
Preheat the oven to 350° F.
Pulse Oreo cookies in a food processor until fine crumbs form (or crush in a zipper-top bag). Drizzle butter into a food processor until a uniform consistency is reached, a few 1-second pulses.
Pour crumbs into a 9-inch glass pie plate and press evenly across the bottom and up the sides of the plate. Refrigerate the unbaked crust for about 20 minutes, until firm and set, then bake for 10 minutes. Cool on a wire rack while the filling is prepared.
To make the filling:
In a medium saucepan bring the half-and-half and 3 tablespoons of the sugar to simmer over medium-high heat. Stir to dissolve the sugar.
In a small bowl, combine the remaining sugar and cornstarch; set aside.
In a medium bowl, whisk the egg yolks together until slightly thickened, about 30 seconds. Add the cornstarch mixture to the yolks and whisk well for about 1 minute, until the sugar has begun to dissolve and the mixture begins to turn glossy.
Once the half-and-half reaches a simmer, slowly add about ½ cup to the egg yolks to temper them, whisking constantly. Then add the yolk mixture to the rest of the hot half-and-half, the mixture will thicken in about 30 seconds. Return to a simmer, whisking constantly until 3 or 4 bubbles burst on the surface and the mixture is thick and glossy about 15 seconds.
Remove from the heat and whisk in the butter until incorporated then add the chocolate and the vanilla and whisk well, then stir with a spatula to be sure that everything is well incorporated.
Pour the filling through a fine-mesh sieve set over a large bowl. Pour strained mixture into cooled crust and smooth the top. Let cool for about 5 minutes then press plastic wrap directly to the surface and refrigerate until firm and set, at least 3 hours. (My pie was not fully set after 3 hours but was perfect the next day.)
For the topping:
Beat the heavy whipping cream with an electric mixer on medium speed until soft peaks begin to form.
Add in the powdered sugar and continue to beat just until stiff peaks begin to form.
Spread over chilled pie.