I always have a hard time finding suitable side dishes when we have Mexican or Tex-Mex dinners.  For some reason, it's always an afterthought and usually very forgettable.  But not this time!!
Once the rice is cooked, this dish comes together incredibly quickly and is so full of bright flavor that it might outshine your main course. 😉  The lime and cilantro bring great brightness and the sweet corn really rounds everything out.  Definitely a keeper of a side dish.
Fiesta Rice Bowl Ingredients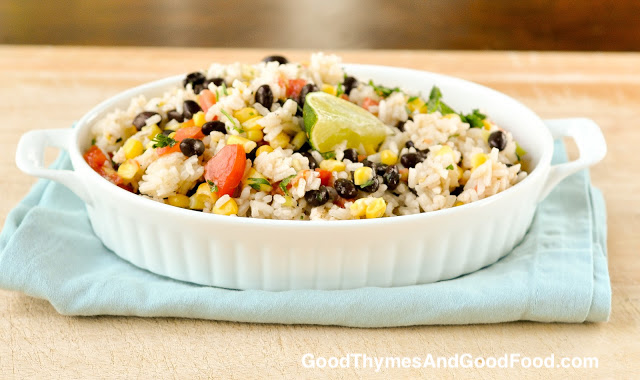 1 cup long-grain rice, cooked to package directions
1 cup canned black beans, drained and rinsed
1 cup corn, fresh, frozen, or canned (drained and dried)
1 large tomato, seeded and diced
2 scallions, thinly sliced
¼ cup chopped cilantro (more or less to taste)
Juice of 1 lime
½ tsp. ground cumin (more or less to taste)
Kosher salt, to taste
Directions
Cook rice in a rice maker, on in a pot, fr approx 15 min
In a large bowl, combine and mix rice, corn, beans, tomato, scallions, cilantro, lime juice, cumin, and salt if needed.
Easy, healthy and so rich in protein!