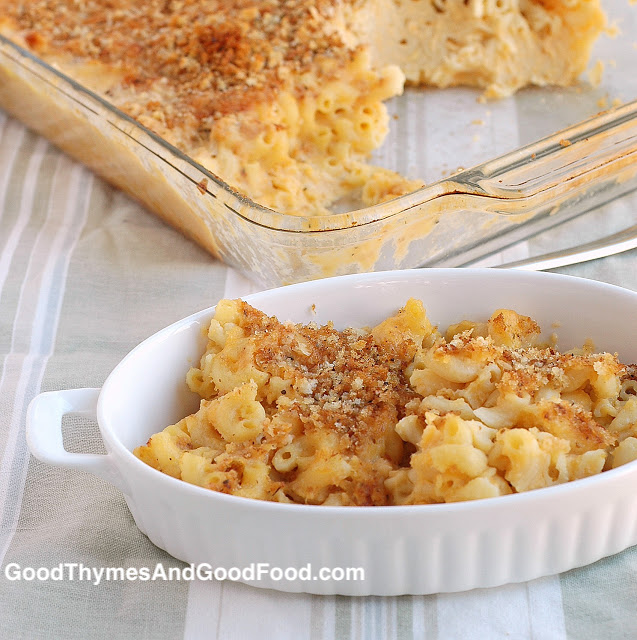 Mac & cheese is a staple American and British dish, it is one of my favorite comfort food, and it is a must-have for Thanksgiving table. Historically, the ingredients are pretty much the same: macaroni, cheddar cheese, bread crumbs – for Old fashioned baked macaroni and cheese.
But did you know that first macaroni and cheese was mentioned in 14th century? I guess, Italians always had great taste!
As for nutrition facts, it all depends on the ingredients you use, but mac & cheese is definitely high in fat and sodium. Once cooked, baked macaroni and cheese can stay fresh in the fridge for 2-3 days. 
---
Old fashioned baked macaroni and cheese Ingredients
For the breadcrumbs:
2 tbsp. unsalted butter
3/4 cup panko bread crumbs
1 tsp. dried Italian seasoning
Kosher salt and freshly ground black pepper
For the pasta: 
1 lb. pasta shapes
6 tbsp. unsalted butter
2 cloves garlic, minced
1 tsp. dry mustard
6 tbsp. all-purpose flour
2¼ cups low-sodium chicken broth
3½ cups milk
1 lb. colby jack cheese, shredded
8 oz. extra sharp cheddar cheese, shredded
Freshly ground black pepper
You'll also need:
skillet pan
baking sheet
9 x 13″ baking dish
tinfoil
large pot
---
Directions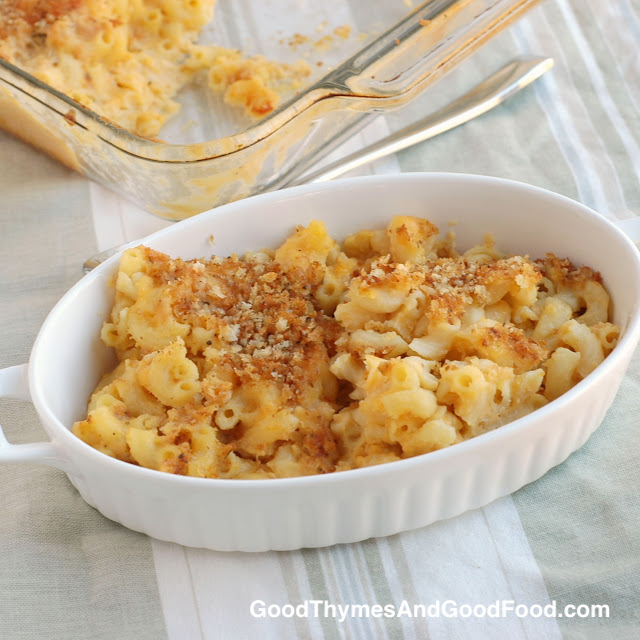 To make breadcrumbs topping:
In a medium skillet melt the butter over medium heat.
Add in the panko bread crumbs and cook, stirring, until the crumbs become light golden brown.
Remove from the heat and add in Italian seasoning, salt, and pepper to taste and let it cool.
To bake mac & cheese:
Preheat the oven to 400˚ F (200C).
Line a baking sheet with foil.
Cook the pasta in the salted water just until it begins to soften, 4-5 minutes.
Drain the pasta and leave in the colander.
Return the pot to heat and add in the butter and melt over medium-high heat. Add garlic and dry mustard, whisk and cook for 30-60 seconds (just until fragrant)
Whisk in the flour and cook, stirring constantly, until golden, about 1 minute.
Add chicken broth and milk and continue to cook for 10-15 minutes, stirring, until the mixture slightly thickens.
 Remove from the heat.
Add both kinds of cheese, whisking until they are completely melted. Season with salt and pepper to taste. Stir the drained pasta into the cheese sauce.
Pour the mixture into a greased baking dish. Add the bread crumbs as a topping. If you don't want to serve it straight away, wrap it into the foil and place it in the fridge. It can last for 2 days.
Set filled casserole dish on top of the prepared baking sheet. Bake the mac&cheese for 30-35 minutes: the sauce should start bubbling and the bread crumbs will be golden brown.
*If you serve refrigerated macaroni and cheese cover it with the foil and bake at 400˚F (200C) for 40-45 minutes. Then, remove the foil and continue to bake for 15-20 min. until the breadcrumbs are crispy.