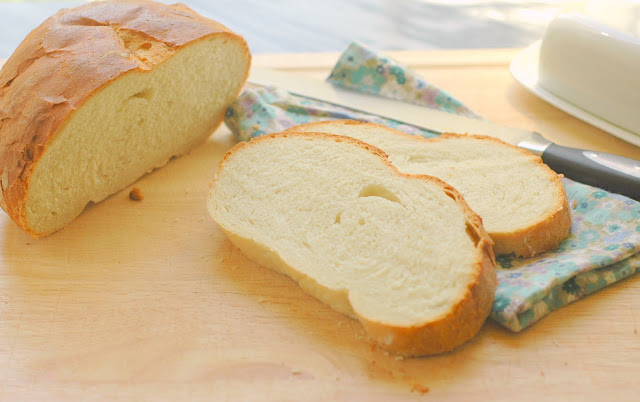 Here is a story of how I learned about Italian sandwich bread. Do you know those moments when you realize that you aren't fully satisfied with something?  You know there's something better out there?  I had one of those moments recently while making a sandwich. (Yes, a sandwich.)  As usual, I was using the bread that I always make for sandwiches and toast and whatnot and I just felt blah about the whole thing.  I'm always excited to eat, even if it is just a sandwich, so this was a surprise to me.  And that's when it hit me – I was tired of the same old bread.  It was time for something new!
I started researching, looking for something that would be similar to my favorite grocery store bakery bread.  I wanted a bread that was soft in the middle yet sturdy enough for sandwiches, a little chewy on the outside, and of course, full of flavor.  When I came across this recipe, I knew I had to try it, and voila! A winner was had.  This makes one large loaf, free-formed loaf but can be adapted to two loaf pans for more standard-size slices of bread.
Italian Sandwich Bread Ingredients
2 cups warm water, about 110-115°, divided
2 ¼ tsp. active dry yeast
5-5 3/4 cups bread flour
1 tbsp. light brown sugar
2 tbsp. extra-virgin olive oil
2 ½ tsp. salt
1 egg white, lightly beaten
Directions
In a glass measuring cup, stir the yeast in with ½ cup of warm water. Let stand for about 5 minutes, until foamy.
In the bowl of an electric mixer fitted with the paddle attachment, combine 5 cups flour, sugar, and salt. Mix at a low speed to combine. Once mixed, add the yeast mixture, remaining water, and olive oil. Switch to the dough hook attachment and mix at low speed until the dough starts to come together for about 7 minutes.
Transfer dough to a lightly floured surface and need by hand for 1 to 2 minutes, or until the dough is smooth, firm, and elastic. (Dough should not be loose.)
Transfer the dough to a lightly oiled bowl and spray the dough with a thin coating of cooking spray. Wrap the bowl with plastic wrap and set it aside to proof in a warm, draft-free place for 1 ½ hour or until doubled in size.
Preheat the oven to 425° F and place a piece of parchment on a baking stone and place baking stone in the oven to preheat. (Optional – bread can be baked on a baking sheet.)
Remove the plastic wrap from the risen dough and punch down. Flatten the rounded dough with the heel of your hand into a large rectangle**. Roll the dough up tightly, sealing the seam well after each roll. The dough should be an oval shape with rounded ends. Be sure to seal the ends, as well, by pinching the dough together.
Place the dough on a floured and inverted baking sheet (If not using a baking stone, place the dough on the normal side of the baking sheet). Cover with a clean kitchen towel and allow the dough to rest for 30 minutes, or until doubled in size.
Brush the dough with the egg white and using a sharp knife, create a ¼-inch deep slice down the middle of the dough.
Place a cake pan (or other shallow pans) filled halfway with water on the bottom rack of the oven. Carefully slide the dough from the inverted baking sheet onto the preheated baking stone (or leave on the baking sheet to bake if not using a stone). Bake for 40-45 minutes, or until a hollow thud is heard when tapping the bottom of the bread. Allow the bread to cool before slicing.
Makes 1 large loaf.
**To make two loaves, divide the dough evenly into two pieces. Shape each piece into a rectangle and roll up into a tight cylinder. Place inside a lightly oiled 9-inch loaf pan and cover to rise. Continue with step 8.
NOTE: After making this bread a few more times, I've found that if I want to make it into true sandwich loaf bread, it's best to double the above recipe and then make 3 loaves.  For me, that creates the best crumb.