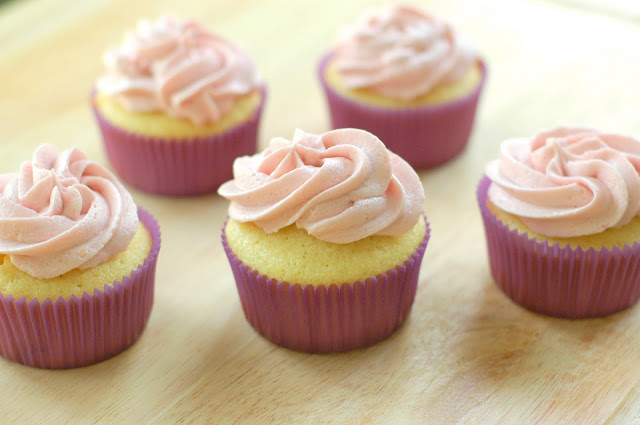 There isn't much to say about these cupcakes except that they scream summer and are delicious.  I know that summer hasn't officially arrived yet but with temperatures in the 90's, it's hard to tell!
These are great for those times that you want a cupcake but don't want anything too heavy.  For me, lemon always seems to lighten and brighten dishes and the raspberry add just enough sweetness to the already delicious vanilla cupcake to make these real winners.
I thought about filling the cupcakes with the raspberry preserves and then just making lemon buttercream.  I still think that would be delicious even though I didn't do that this time.
Vanilla Cupcakes with Lemon-Raspberry Buttercream
for the cupcakes:3 cups cake flour
1 tbsp. baking powder
1/2 tsp. salt
1 vanilla bean, split lengthwise
16 tbsp. unsalted butter, at room temperature
2 cups sugar
5 large eggs, at room temperature
1 1/4 cups buttermilk, at room temperature
1 tbsp. vanilla extract
Preheat the oven to 350 degrees and line 24 muffin tins with paper liners; set aside.
In a medium bowl, combine the cake flour, baking powder, and salt. Whisk together and set aside.
Place the butter in the bowl of an electric mixer. Scrape out the seeds of the vanilla pod and add the seeds to the butter. Beat the butter and vanilla bean seeds on medium-high for 3 minutes, until creamy. Scrape down bowl and beat for an additional minute.
Add 1/4 cup sugar to the butter mixture and beat for 1 minute, then add another 1/4 cup sugar and beat and so on. Mix in the eggs one at a time, beating well after each addition and scraping the bowl as necessary.
in a glass cup, whisk together buttermilk and vanilla. Mix on low in electric mixed, and add the dry and wet ingredients, little by little, alternating them. Begin and end with the dry ingredients. Mix only until incorporated, do not over-mix. Scrape down the bowl and mix for 15 seconds longer.
Fill prepared muffin tins 2/3 of the way and bake for 18-22 minutes, or until a toothpick inserted into the center comes out clean. Cool in pan for a few minutes before removing it to a wire rack.
for the buttercream:
1 cup unsalted butter, at room temperature
3 3/4 cups confectioners' sugar
1 lemon, juice & zest of
1 tsp. vanilla extract
1/8 tsp. salt
1/3 cup seedless raspberry preserves
1. In the bowl of a stand mixer fitted with the paddle attachment, combine the butter, sugar, and salt and beat until well combined and fluffy, 2-3 minutes.
2. Add the lemon juice, zest, and vanilla and continue to beat for another 1-2 minutes, until creamy.
3. Stir in the preserves and beat until fluffy, 2-3 minutes longer.