Everyone has their own idea of what "comfort food" is and should taste like.  For me, it's warm, savory, and filling like chicken and biscuits casserole. That's very country style, comfort, down-home, ready to be shared with friends dish for me and many Americans.
This chicken and biscuits dish would probably fit the bill for a lot of people. Tender chicken, creamy sauce (gravy), just enough vegetables to make you feel not too guilty, and flaky, flavorful biscuits. This definitely falls into the 'what's not to love?' category.
It's not a super-fast meal but the end result is definitely worth it. This chicken in biscuits casserole was one of my favorite dinners that we had in a long time and I plan to make it over and over again.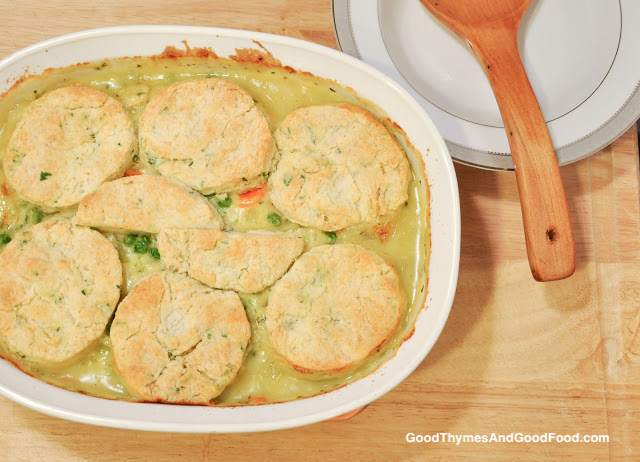 In Chicken and Biscuits you don't use biscuits from store, you make them from scratch, but they will be baked together with chicken, so you basically will put uncooked dough in the filling and bake it. This way the dough will soak all the juices and flavor of the meat and vegetables.
Ingredients for chicken and biscuits
For the filling: 
2 cups cooked chicken breast, shredded or diced
Kosher salt and freshly ground black pepper
2 tbsp. unsalted butter
1 medium onion, minced
3 medium carrots, sliced thinly
2 stalks celery, diced
2 medium potatoes, cubed (~1 heaping cup)
¼ cup flour
3 cups chicken stock
¼ cup heavy cream
1 cup frozen peas
¼ cup fresh parsley, minced
To make the dish even more filling, you can add rice. In this case cook it before adding to the baking dish.
For the biscuits:
2 cups all-purpose flour
1 tbsp. baking powder
1 tsp. kosher salt
1 tsp. sugar
8 tbsp. cold unsalted butter, diced
¾ cup half-and-half
¼ cup chopped fresh parsley
3 tbsp. grated Parmesan cheese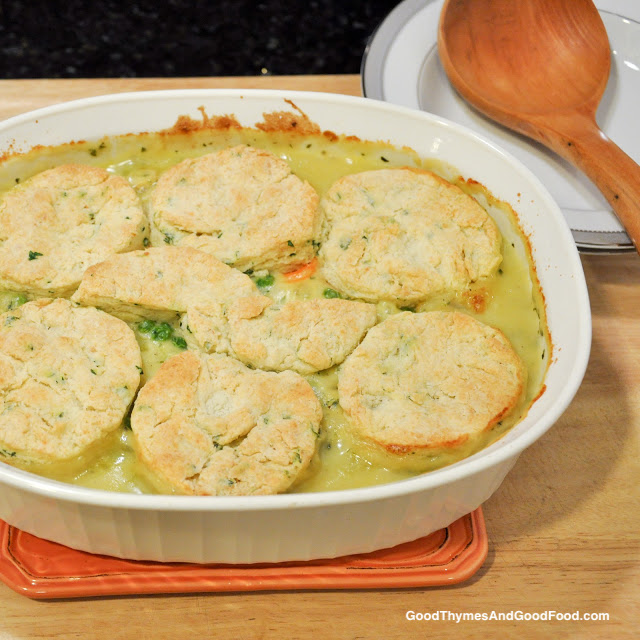 Directions
Time: 50 min
Preheat the oven to 375°F. Line a sheet pan with aluminum foil and set it aside.
In a large pot or Dutch oven, melt the butter over medium heat and add the onions, carrots, celery, potatoes. Stir to coat in butter and cook, uncovered for 5 minutes, stirring occasionally. Cover and cook until potatoes are nearly tender, 5-10 minutes more, stirring and checking often.
Add in the flour and cook, stirring constantly, for about 90 seconds. Add the chicken stock and bring to a simmer until mixture begins to thicken, 1-2 minutes. Season to taste with salt and pepper. Stir to combine.
Slowly add in the heavy cream, then the chicken, peas, and parsley. Stir to combine and then pour into a medium-sized baking dish and place on the prepared sheet pan. Bake for 15 minutes.
Meanwhile, make the biscuits. In a large bowl, combine the flour, baking powder, salt, and sugar. Using a pastry cutter or your fingers, cut in the cold butter until butter is the size of peas. Add the half-and-half and stir with a fork until moistened. Add in parsley and Parmesan and stir to combine.
Remove the dough to a well-floured work surface and roll out to about ¼-inch thick. Cut out biscuits with a 2 1/2-inch round cutter. Gather scraps and re-roll, if desired.
Remove the filling from the oven and arrange the biscuits on top of the filling. (Bake extra biscuits on a sheet pan.) Return pan to the oven and bake for 20 to 30 minutes, until the biscuits are brown and the filling is bubbly.
Let cool for 5-10 before serving.
---
What chicken and biscuits are?
Chicken and biscuits, also called biscuits and gravy, chicken and dumplings, are historically (I researched), coming from the beginning of 19 century, from Southern Appalachia.
The dish was not always with chicken, to make it cheap and filling, workers from sawmill will eat sausage, "beaten biscuits" and gravy. So pork sausage and biscuits in gravy was cheap and copious food for poor people.
Started as a tool to survive, in biscuits casseroles appeared in restaurants in 20s century and spread around states.
Nowadays, we eat biscuits with chicken, lamb, bacon and eggs, lobster, there are even vegan options!
What the difference between chicken and biscuits and chicken and dumplings?
Do not confuse chicken biscuits with chicken dumplings. Chicken and dumplings appeared long ago the Depression time in the South, also as a cheap option for a good lunch.
Chicken and dumplings dish is, basically a soup with chicken, vegetables (carrots), fresh herbs, and boiled biscuit dough.
I'm making Chicken and Dumplings Casserole too, feel free to check the recipe and try it – the comfort food at its height!