For me, casseroles are comfort food at their height.  The classic flavors of chicken and dumplings in casserole form are even better. I make it with peas, carrots, broth, and russet potatoes. Dumplings turned out to be quite easy to make!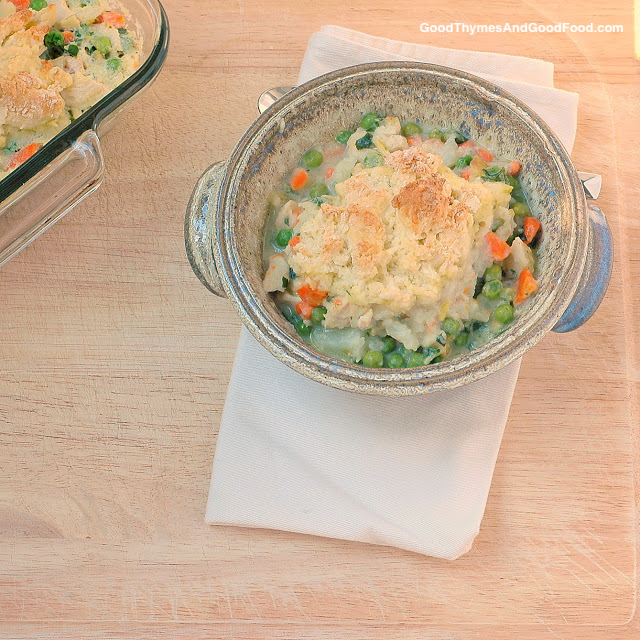 Chicken and Dumplings Casserole Ingredeints
For chicken:
2 bone-in, skin-on chicken breasts
1 tbsp. extra virgin olive oil
Kosher salt and freshly ground black pepper
3 tbsp. unsalted butter
3 carrots, peeled, halved, and cut into ¼-inch pieces
3 celery ribs, sliced ¼-inch thick
1 onion, minced
3 cups chicken broth
¾ cup heavy cream, ½ & ½, or whole milk
1 pound russet potatoes, peeled and cut into 1-inch chunks
2 bay leaves
1 ½ cups frozen peas
¼ cup chopped fresh parsley
For the dumplings:
2 cups all-purpose flour
1 tbsp. baking powder
¾ tsp. salt
½ tsp. baking soda
¾ cup whole milk, warm
¼ cup buttermilk, warm
1 tbsp. unsalted butter, melted
Directions
Adjust an oven rack to the middle position and heat the oven to 375°F. Line a baking sheet with aluminum foil and grease a 13×9 inch baking dish; set aside.
Pat the chicken dry and season with salt and pepper. Place into a baking dish large enough to fit both pieces of chicken, drizzle chicken with olive oil, and season to taste with salt and pepper. Roast in preheated oven until chicken is cooked through, about 30 minutes depending on the size of chicken pieces. Let cool and then chop into bite-size pieces.
Meanwhile, melt the butter in a Dutch oven or other large pot over medium heat. Add the carrots, celery, onion, and 1/2 teaspoon salt and cook, stirring occasionally, until softened, 5 to 7 minutes. Season with salt and pepper. Whisk in the broth, cream, potatoes, and bay leaves, scraping up any browned bits.
Add the chicken, along with any accumulated juices, to the pot. Bring to a simmer, cover, and cook until the potatoes are tender, 10-15 minutes.
Using a potato masher, gently mash about half of the potatoes. Stir in the peas and parsley. Season with salt and pepper to taste. Pour the mixture into the prepared baking dish and set it aside.
Whisk the flour, baking powder, salt, and baking soda together in a bowl. Stir in the milk and buttermilk until incorporated. Using two soup spoons, drop eight generous ¼ cup dumplings onto the filling, about 1 inch apart. Brush the tops of the dumplings with the melted butter.
Place the baking dish on the prepared baking sheet and bake until the filling is bubbling and dumplings are golden brown, 20 to 30 minutes. Allow cooling for 10 minutes before serving.
---
Here is also chicken and biscuits casserole recipe.