I am so glad that I tried these Chicken Meatballs in sauce, and I didn't do classic Marinara but experimented with garlic tomato sauce and served it greek style – with pita.
I saw this recipe in my Google Reader and HAD to try it right away. Sometimes I star items and they sit there for a while, other times I star them and put them on the menu right away.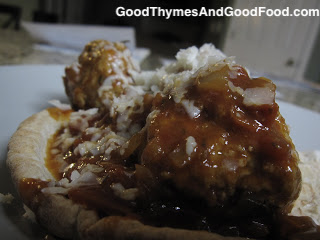 The original recipe asks you to grind chicken breast. Well, I don't have a meat grinder but I do have a grocery store that carries ground chicken! I really enjoy ground chicken over ground beef and am always looking for new ways to cook with it. Although it took a while to make this recipe, it was well worth the effort in the end.
I found a new keeper! I might double it next time so that I can freeze half for later…yum!
---
Ingredients
For chicken meatballs:
1 lb. ground chicken
1 medium sweet onion, grated
1 tsp fresh thyme
1 tsp fresh oregano
1 pinch fresh rosemary
1 tbsp fresh breadcrumbs
1 Tbsp low sodium soy sauce
2 tsp ketchup
1 Tbsp olive oil
1 recipe garlicky tomato sauce (see recipe below)
Pitas
Mozzarella, or cheese of choice
For the Garlicky Tomato Sauce:
1 tbsp olive oil
1 small onion, finely diced
4 garlic cloves, minced or pressed
1 (14 oz) can whole tomatoes, lightly drained and coarsely chopped
1 (14 oz) can tomato sauce
1/4 c. water
1 tsp fresh lemon juice
1/2 tsp balsamic vinegar
2 tsp fresh oregano, minced
1 tsp fresh thyme, minced
1 tsp fresh basil, minced
1/2 tsp salt
1/4 tsp black pepper
1 pinch raw sugar
---
Directions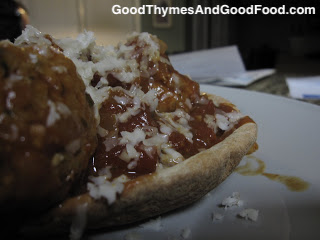 In a large bowl, combine chicken, onion, thyme, oregano, and rosemary.
To the chicken mixture, add breadcrumbs, soy sauce, and ketchup.
Fold mixture to combine ingredients (do not stir as it will overwork).
In a large skillet over medium-low heat, add olive oil.
Meanwhile, roll the chicken mixture into 2-inch balls.
Preheat oven to 350 degrees.
When the pan is heated through and almost smoking, carefully add meatballs to the pan, spacing one inch apart.
Let cook, untouched, until the bottom of meatballs is browned, about 4-5 minutes.
Using tongs, gently flip meatballs being careful not to break, and let cook untouched until another side of meatballs is browned about 4-5 minutes.
Remove meatballs from the pan, set aside, and repeat the cooking process with the remaining meatballs.
Return all meatballs to the pan, add 1/2 c. of water, and place in oven to cook. (I put the pitas in now to toast them. Be careful though, ours were a little too toasty!)
Cook until the internal temperature of meatballs reaches 165 degrees F – this took about 15 minutes in my oven. Check the meatballs with a meat thermometer to measure doneness.
Meanwhile, heat tomato sauce.
Remove meatballs from the oven, drain off the liquid and all fat.
Add heated tomato sauce to the pan, scraping browned bits from the bottom.
Heat through and serve on toasted pitas, topped with cheese.
For sauce:
In a large stockpot over medium heat, heat oil and bring up to almost smoking.
Add diced onion and cook until translucent and just beginning to brown, about 5 minutes.
Add garlic and cook until fragrant, about 60 seconds
Add chopped tomatoes, scraping any browned bits from the bottom of the pan, and heat until starting to bubble.
Turn heat to a simmer and add remaining ingredients, stirring to combine.
Let simmer for one hour, uncovered.
If storing, remove from heat and place in airtight containers in the fridge once cooled.
If serving immediately, simmer until begins to bubble and serve.
What to serve with chicken meatballs
I'm serving my chicken meatballs in sauce and on pitas, but there are some other sides for meatballs. Here is my ideas list:
Meatballs will work great with spaghetti, especially considering that we've already made a delicious sauce
Vegetables are always a good and healthy thing to add. Roast some vegetables like potatoes, peppers, tomatos, eggplants, broccoli, cauliflower. I also will add some mushrooms or make a ratatouille.
Meatballs can be an italian style appetizer served on crostini with Parmesan.
Roasted Chickpea and Vegetable Salad and other salads as another alternative to add vegetables
The simple sides are rice (like Hawaiian Rice [Mexican Style Pineapple Salsa Rice] or Cilantro Lime Rice Recipe), baby potatoes or mashed potatoes.