What can be better for a Sunday with friends if not good food? We made some steaks and I wanted to bake some easy cakes, as I hate anything time-consuming and difficult to cook and I remembered about California Pizza Kitchen butter cake – that's it!
The creamed cake is a sweet dessert with delicious buttery flavor, rich and moist cakey base, and caramelized sugar or cream cheese topping – this is the cpk butter cake I know. Shall I add vanilla ice cream and whipped cream? Yes, please.
JUMP TO THE BEST BUTTER CAKE RECIPE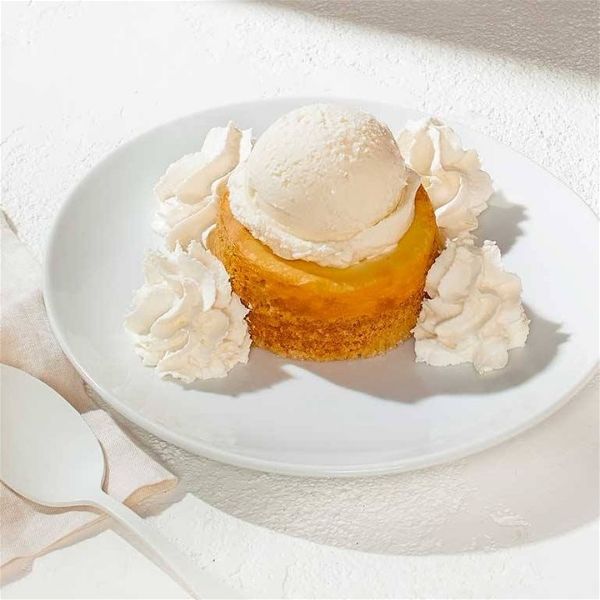 We had so much fun, as at the end of the day nobody talked about the brilliant steaks we made with black garlic butter we were cooking for 2 weeks, but everyone was happy because of 45 min baked simple butter cake!
Now it's one of my favorite copycat recipes, as it is basically California pizza kitchen copycat butter cake, even if they actually never revealed their own recipe – not fair, I think, but we managed to replicate it 😉
I'm not a big cake baker, so I listed some common mistakes too, as I always have trouble understanding what went wrong. Honestly, with butter cake, I had no problem, but I still find the mistakes list very useful.
Quick note about CPK
California Pizza Kitchen is definitely well known for its pizza (the bbq chicken pizza, right?) and butter cake. In fact, they have a lot of great things on the menu since 1985.
I was surprised to know that none of the owners was a chef or had cooking experience before CPK – the owners were attorneys. It made me feel so good – you can become whatever you want if you follow your passions!
---
Ingredients
We need very basic ingredients. All the ingredients should be at room temperature (including the eggs).
2 – 2 1/2 sticks of butter (softened). Choose unsalted butter.
1 cup sugar
1 1/2 cups of flour (you can substitute with gluten-free flour)
3 eggs or 2 large eggs
2 t vanilla extract, OR 1 teaspoon almond extract + 1 teaspoon of vanilla extract
3/4 cup of buttermilk (you can replace by regular milk)
1/4 cup of condensed milk (optional)
1 teaspoon of baking powder
For cream cheesecake layer (this topping is optional):
4 ounces cream cheese
1 egg
1/3 cup granulated sugar
1/2 teaspoon vanilla extract
Buttermilk is a good choice to make a tender and moist butter cake. Be careful, it is even thicker than normal milk, so if you have any issues with milk consumption.
You'll also need:
springform pans (you can use a set) or individual ramekins / cake pans
Please, note, that original CPK cakes are made individually and individual pans. You can use one big cake pan or several smaller ones, but make sure you'll adjust the baking time: the smaller the pan is, the fewer minutes it should be in the oven, the bigger pan is – the more time the cake needs to be baked.
For this amount of ingredients I use one 9-inch cake pan, if you want to use individual pans, you need 4 4-inch pans. For 9-inch pan the baking time will be around 45-60 min based on your oven, for 4-inch pans the baking tima will be around 20-25 min.
Always check not only the time but the cake itself with a cake tester, a toothpick or a knife. Always check the cake in the center, not from the sides, as the center takes most of the time to be done.
electric mixer: stand mixer with the paddle attachment or a hand mixer.
a kitchen torch is optional. Only if you want to caramelize some sugar and you are not scared to use the torch.
non-stick spray is optional. I use butter to grease the bottom of the pan, but I know that some people prefer the spray.
parchment paper is optional. If you use it, cover the bottom of the pan with parchment paper before buttering it and covering it with sugar.
---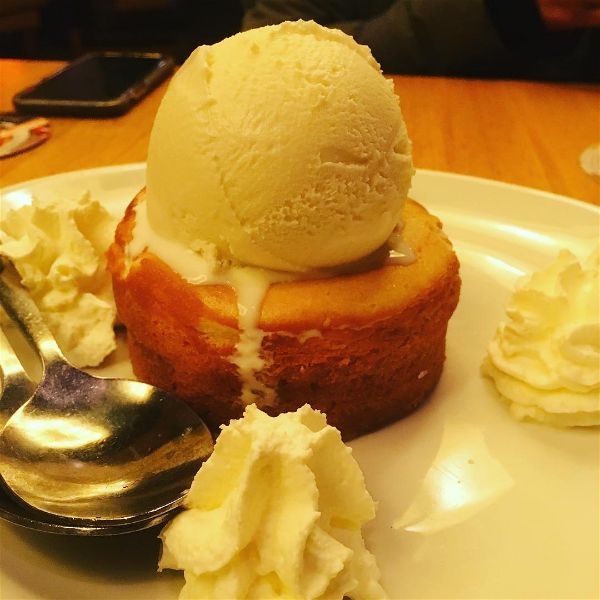 Directions
The simple version is just to make the butter cake and serve it with whipped cream and ice cream, but I will also share the instructions on How to make the famous cream cheese topping so you can impress the entire family and friends with a restaurant style dessert.
Butter cake:
Bake the butter cake in the oven, it is easy and fast. Water bath will not work!
Heat oven to 375 degrees F (200 degrees C).
Butter the bottom of a cake pan ( I use one about 9 inches) or individual pans.
Cover the bottom and sides of the pan with some sugar. The sugar will stick to the butter, make sure you made an even layer, and all sides and bottom are covered with sugar and butter.

AS LISTED

mix all the ingredients (I use a stand mixer) adding and mixing one by one. Mix cake mix well, the batter should be fluffy and light, but quite dense and thick. The list:

softened butter
sugar
flour
eggs
vanilla extract (if you want to add almond extract, add it now)
milk
condensed milk (optional)
baking powder

Pour the batter into the cake pan, cover 3/4 of a pan maximum, as the batter should have space to rise.
Based on the size of your pan, bake for about 45 – 60 min, or until a toothpick or a cake tester comes out clean. The cake will be golden brown.
Serve the restaurant way – with ice cream on top.
It is better to let the cake cool on the wire rack for 5 min before serving and serve warm butter cake- it really makes the difference. If you will refrigerate the cake, preheat it in the micro oven for 30-40 sec before eating.
Cream cheese layer:
The cream cheese layer is also classic, but can be optional as even just butter cake with ice cream will get you. If you cant to combine perfect creamy cake with cheesecake topping, you need to bake the cake and make a cream cheese layer.
Prepare the cake batter in a large bowl following the instructions above.
In a small bowl whip together sugar and cream cheese until creamed. You can always use a hand or stand mixer at medium-high speed.
Mix in egg and vanilla extract.
Pour cake batter into the cake pan or pans. Don't overpour as the cake will rise.
Top with a layer of the cream cheese layer mixture.
Bake for 60 – 75 minutes until a toothpick comes out clean and the cake has golden-brown color.
Serve!
---
What to serve with CPK butter cake?
ice cream – I prefer vanilla ice cream, but you can choose some other flavors. I would recommend hazelnut ice cream too, it has a nutty mild flavor, not too sweet.
whipped cream – it is classic! you can't go without it.
berry compote, peaches.
with guava marmalade.
add a cheesecake-like topping and caramelize the sugar with a kitchen torch.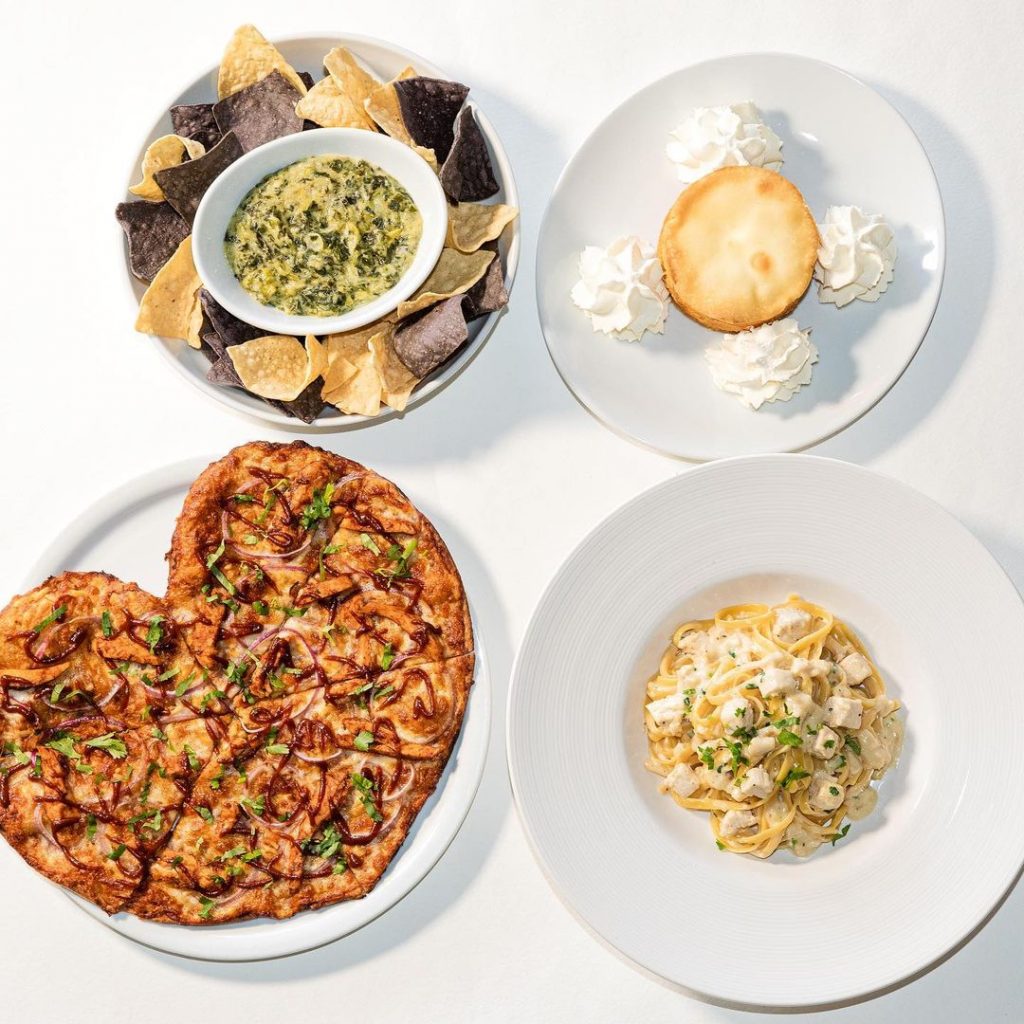 ---
My cake doesn't look right
Common mistake is using too much of an ingredient, for exemple:
Sometimes the cake can also turn out less attractive than you want it to when we use butter that was not softened enough (softened is not the same as melted butter) or overbeat the mixture.
Don't worry, these are common mistakes, but if you follow the directions you will be fine. Baking takes a bit of time and experience, but the butter cake is one of the easiest and absolutely doable desserts!
If your cake is not "growing" while baking and sits grumpily below the cake pan borders level, you probably used too much flour. If the batter is too liquid, you need more flour.
When the cake cracks too much, you put too much baking soda or powder. Too much baking powder will also create a sunken center of the baked cake.
In case the cake looks like an omelet a bit, a bit blurry, with no cracks at all – it means too many eggs.
If you added too much milk, the cake would not be light, fluffy, it would not rise in the oven.
if the cake comes out too brown, you added too much sugar.
you used cold ingredients from the list. With cold ingredients, the batter and the cream cheese layer won't set up properly.
the cake is dry. In this case, it really can ruin everything, as butter cake supposed to be moist. The answer here is the wrong temperature or overbaking.
---
More butter cakes:
Yes, the CPK butter cake will be probably on your TOP forever, but here are more ideas to try or to bake at home:
Blue-Ribbon Butter Cake
Reese peanut butter cake – fluffy butter cake with candies
Triple layer chocolate cake or Triple Chocolate Muffins
I'm a big fan of everything sweet, so I have a lot of recipes to please myself, you can browse them all in the section SWEETS.