I love fresh peaches – soft, juicy – they are a pure reminder of every happy summer 😉 These Peaches and Cream Cake is light and sweet, not overly peachy, and perfectly tangy and smooth from the cream cheese.  It's positively delightful and something that I foresee myself making many, many times with endless adaptations of different fruits.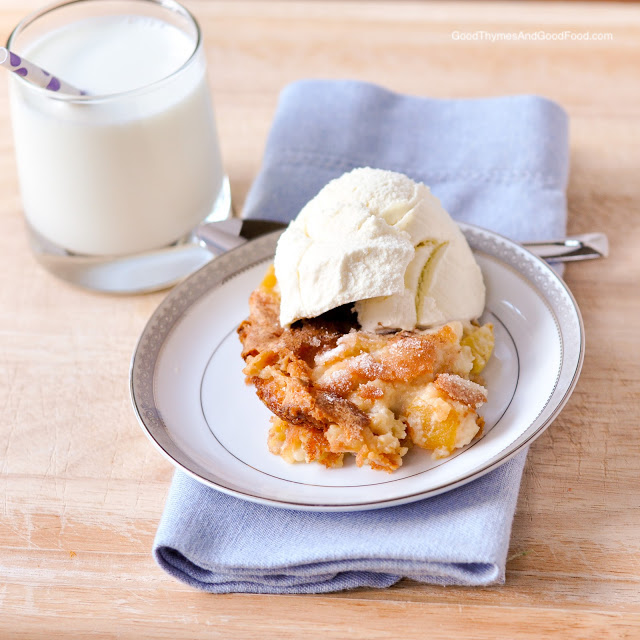 I happened to have a jar of good quality jarred peaches in my pantry and I used those in combination with fresh peaches that I blanched, peeled, and diced.  I think the two worked really well together giving subtly different textures.  You could definitely use all jarred or canned peaches or use all fresh.
The Peaches and Cream Cake recipe calls for some of the syrup that the peaches are packed in but you could most likely substitute with a quick simple syrup.
---
Peaches and Cream Cake Ingredients
For the cake: 
1 ½ cups all-purpose flour
2 tsp. baking powder
½ tsp. salt
¾ cup granulated sugar
1 tbsp. cornstarch
1 cup milk
1 tsp. vanilla
2 eggs
6 tbsp. unsalted butter, melted and slightly cooled
For the peach layer and the topping: 
23.5 oz. jar sliced peaches + 3 large, ripe peaches (about 30 oz. total), 6 tbsp. peach juice reserved
16 oz. (2 packages) cream cheese, at room temperature
½ cup granulated sugar
½ cup brown sugar
6 tablespoons reserved peach juice
Cinnamon and sugar for sprinkling (~½ cup sugar & ~2 tbsp. cinnamon, to taste)
Directions
Preheat the oven to 350° F and grease a 9×13-inch baking pan with cooking spray; set aside.
In a medium bowl, whisk together the flour, baking powder, salt, sugar, and cornstarch. In a glass measuring cup, stir together the milk, vanilla, and eggs. Add in the cooled butter.
Create a well in the center of the dry ingredients and add in the wet ingredients. Stir together until well mixed and then spread evenly in the prepared pan.
Dice the peaches and spread them over the batter evenly.
In the bowl of an electric mixer fitted with the paddle attachment, beat the cream cheese, sugars, and reserved peach juice together until light and fluffy, about 3 minutes.
Drop the cream cheese mixture by the spoonful over the top peaches. Carefully spread into an even layer with a spatula.
Sprinkle the cinnamon and sugar over the cream cheese layer.
Bake for 45-60 minutes until the edges are puffed and golden and the cream cheese layer has bubbled slightly on top. When done, the cake should not jiggle or be runny.
Let rest for at least 15 minutes before cutting and serving.