I stumbled across these Buffalo Chicken Tacos as I was making a grocery list and quickly added the needed ingredients to the list.  I am not one bit sorry that I made these.  They were amazing – so amazing, in fact, that I had them twice in one day!  The spicy chicken complimented perfectly by the blue cheese, the cool lettuce with the super fresh cilantro, and green onions made for a perfect lunch and dinner.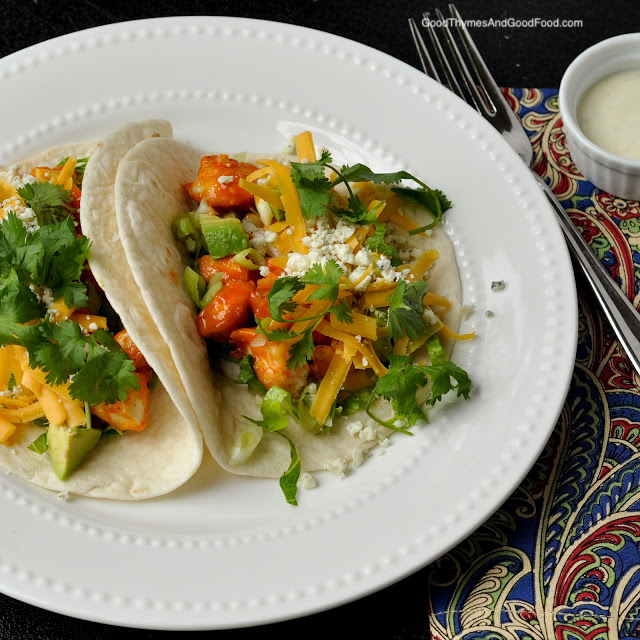 In all honesty, Buffalo Chicken Tacos made me even more anxious for fall and football so that I can indulge in chicken wing dip in copious amounts.  🙂
Buffalo Chicken Tacos Ingredients
serves ~4
3 tablespoons vegetable or canola oil
1 lb. boneless, skinless chicken breasts, cut into bite-size pieces
2 tablespoons cornstarch
½ cup all-purpose flour
½ tsp. garlic powder
Pinch cayenne pepper
Kosher salt and freshly ground black pepper
¼-½ cup Buffalo wing sauce (such as Frank's)
~8 4-inch flour tortillas
Toppings: cilantro, shredded lettuce, blue cheese, green onions, shredded sharp cheddar cheese, avocado, ranch dressing, additional wing sauce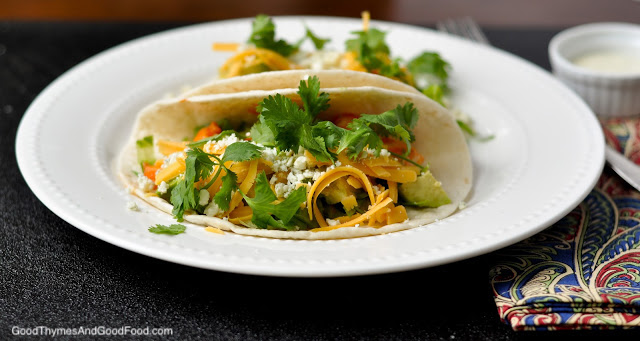 Directions
Heat a medium skillet over medium-high heat and add oil.
In a large bowl, combine cornstarch, flour, cayenne pepper, garlic powder. Season with salt and pepper. Dredge each piece of chicken in the flour mixture, shaking off excess.
Add chicken to hot pan and brown on all sides, cooking until chicken is no longer pink and fully cooked, 6-7 minutes total (depending on the size of chicken pieces). When the chicken is fully cooked, remove from the pan with a slotted spoon and toss with ¼ cup buffalo wing sauce, adding more if needed to thoroughly coat the chicken.
Build tacos using any combination of toppings and chicken.