Pasta with Toasted Breadcrumbs, Crispy Prosciutto, and Peas is one of those meals that you can have on the table in the time that it takes to boil water and cook the pasta.  It's super-fast, filling, delicious, and easy.  Toasty breadcrumbs, savory prosciutto, sweet peas, and tender pasta all come together for a delicious, delicious meal.
The days are getting a little longer, the weather a tiny bit warmer, so there have been a few days when I've rushed to get dinner on the table and this was a perfect meal for just such an occasion.  This would be great topped with Parmesan, too!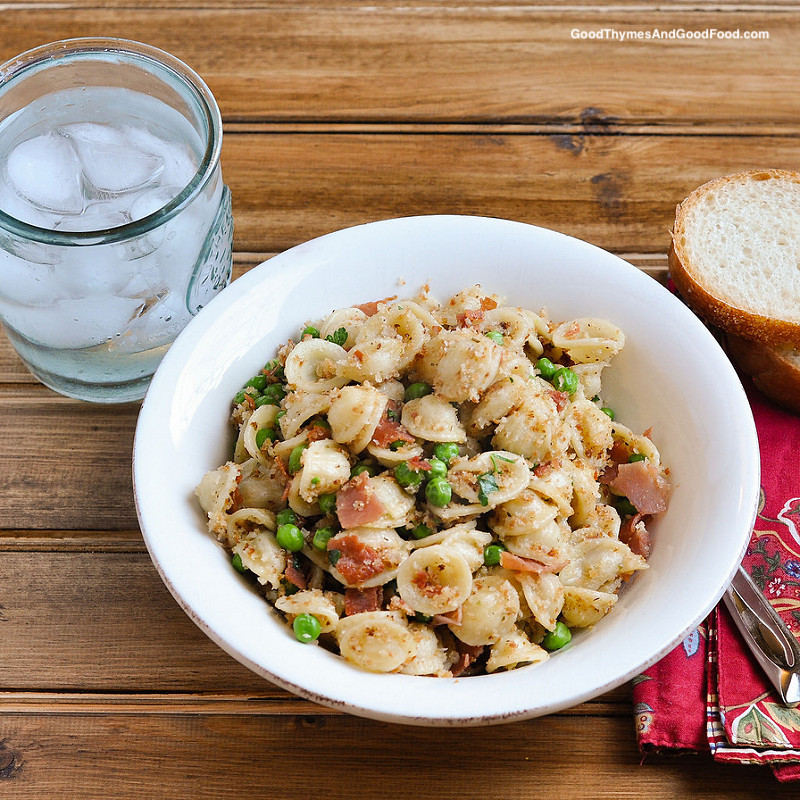 Pasta with Toasted Breadcrumbs, Crispy Prosciutto, and Peas Ingredients
1 lb. pasta shapes
2 tbsp. olive oil, divided
⅔ cup breadcrumbs, any style
1 tsp. dried Italian seasoning
2 cloves garlic, minced or pressed
Kosher salt and freshly ground black pepper
⅓ lb. prosciutto, chopped
1 cup frozen peas
2 tbsp. fresh parsley, chopped
Directions
Bring a large pot of salted water to a boil and cook pasta according to package directions. Reserve 1 cup pasta water before draining. Drain cooked pasta and set aside.
In a 12-inch skillet, heat 1 tablespoon olive oil over medium heat. Add in bread crumbs and Italian seasoning. Stir to coat and cook until just barely golden, 2-3 minutes. Watch carefully and stir often to avoid burning. Add in garlic and cook until fragrant, about 30 seconds. Season with salt and pepper. Remove to a bowl.
Heat remaining tablespoon olive oil over medium-high heat and stir in prosciutto. Cook until crispy, about 5 minutes. Return breadcrumbs to the pan and stir. Add in peas, parsley, and cooked pasta. Toss with a small amount of pasta water, just enough to coat, adding more as necessary. Season to taste.