Do you like falafel? I'm not a big fan of it, but this Deconstructed Falafel Salad is so easy to make –  we almost always have all of the ingredients on hand and it makes for a super fast, very easy dinner.  The dressing is delicious and really ties everything together while also adding a lot of flavor from both the lemon and the tahini.
This also holds up fairly well if you happen to have leftovers. The pita chips won't be as crisp but it still makes for a delicious lunch the next day!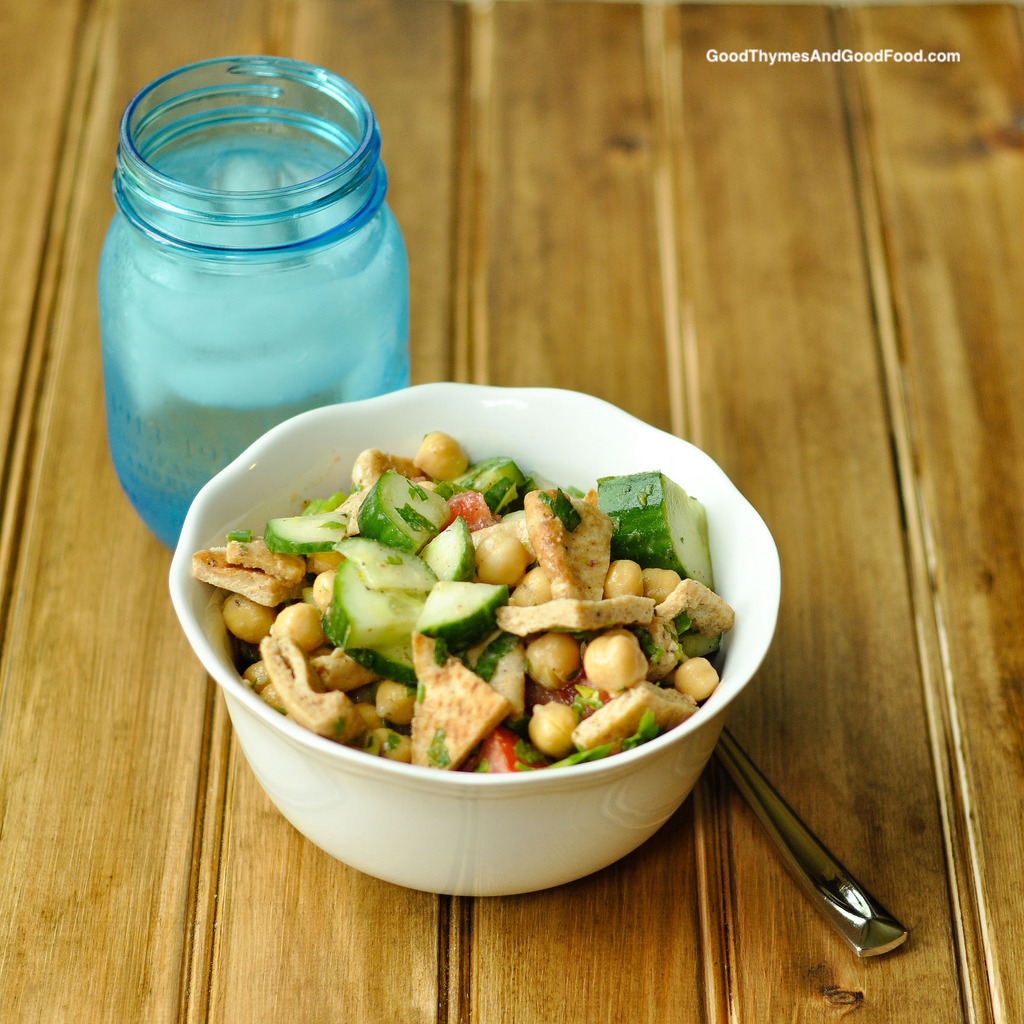 Deconstructed Falafel Salad Ingredients
3 whole-wheat pitas
2 tbsp. olive oil
Kosher salt and black pepper, to taste
the juice from 2 lemons
2 tbsp. tahini
½ tsp. ground cumin
½ tsp. ground coriander
⅛ tsp. cayenne pepper
1 (15 oz.) can chickpeas, drained and rinsed
2 medium tomatoes, seeded and chopped (or 1-pint cherry tomatoes, halved)
1 large English cucumber
3 scallions, chopped
2 tbsp. minced cilantro
2 tbsp. minced flat-leaf parsley
Directions
Preheat the oven to 400° F (200C) and line a baking sheet with foil; set aside.
Cut each pita in half and then in half again. Cut each quarter in half and then cut into bite-sized pieces. Place onto a prepared baking sheet and drizzle with 1 tablespoon of olive oil. Season with salt and pepper and toss together. Spread into an even layer and bake for 8-10 minutes, until crisp. Remove from oven and allow to cool for at least 5 minutes.
In a large bowl, juice the lemons and add the remaining tablespoon of olive oil. Whisk in tahini cumin, coriander, cayenne pepper, and salt & pepper. Add in the chickpeas and chopped tomatoes. Slice cucumber in half lengthwise and then in half again so that you have 4 long pieces. Chop into bite-sized pieces and add to the bowl. Stir in the scallions, cilantro, parsley, and pita chips. Be sure to combine well and coat the entire salad with the dressing.