Pasta with White Beans and Prosciutto was one of those meals where as soon as I saw the recipe, I knew that I had to make it and that we would enjoy it.  I don't buy prosciutto very often and I don't know why.  It's such a great flavor added to so many meals.  It's definitely something that I should incorporate into my cooking more.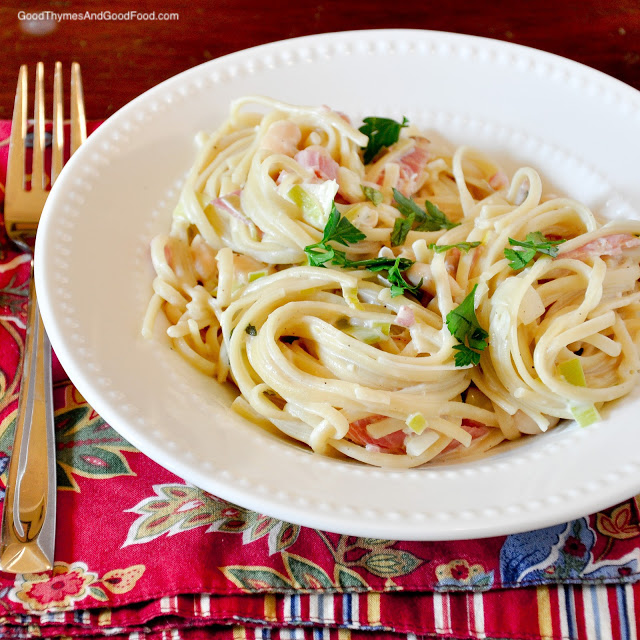 We are big fans of pasta. I used cream cheese in place of the mascarpone and it adds such wonderful creaminess and tang to dishes.  Not only was this excellent the first night, but it also made for wonderful leftovers the next day.
Pasta with White Beans and Prosciutto Ingredients
1 lb. pasta, any type
3 tbsp. unsalted butter
3 tbsp. olive oil
1 leek, white portion only, cut into thin rounds
2 (15-oz.) cans white beans, drained and rinsed
salt and freshly ground pepper, to taste
ground nutmeg, to taste
1 c. chicken stock
4 oz. cream cheese, at room temperature (you can replace it by mascarpone)
zest of 1 large lemon, plus a squeeze of juice
¼ lb. thinly sliced prosciutto, cut into narrow strips
large handful of fresh basil leaves, shredded
½ c. grated parmesan cheese, divided
chopped parsley, for garnish
---
Directions
Cook pasta according to package directions. Drain the pasta and set it aside.
In a large deep-sided skillet over medium heat, melt the butter and olive oil. Add leeks and sauté until soft, 5-6 minutes. Add in the beans, salt, pepper, and nutmeg and sauté for 1 minute. Add the stock and simmer for about 6 minutes.
Remove the pan from heat, add the cream cheese and lemon zest. Stir until the cheese is melted.
Add the cooked pasta to the pan containing a bean mixture. Add in prosciutto, basil, and half of the parmesan and toss to combine. Season to taste with salt, pepper, and a squeeze of lemon juice.
Serve immediately with the remaining parmesan.