I didn't grow up on baked mac & cheese, I grew up on The Blue Box and I loved it.  I really didn't know any differently until college and a friend brought over a baked Mac and Cheese with Peas.  Heavenly, I tell you.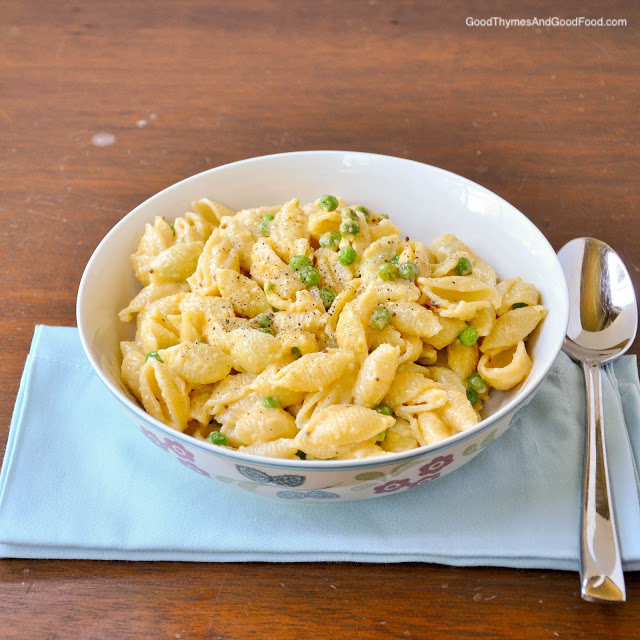 With that being said, I actually still prefer stove top mac and cheese to a baked version. To me, it just stays creamier and that's what I'm usually looking for.  Don't get me wrong, baked mac & cheese definitely has its place in my world but I'm usually going to gravitate towards a creamy, saucepan version.  It's just what I like.
As soon as I saw this recipe on Smells Like Home, I checked my refrigerator to make sure I had enough cheese and I set out to make it for lunch. It was the perfect blend of cheeses and with the addition of peas, I didn't feel so bad about how much I ate. 😉
I had some cheese sauce leftover after I mixed it with the full box of cooked pasta, so I just froze the remaining sauce and then made more pasta another time for an easy meal.  I think the amount of cheese sauce you use just depends on taste and preference.
Mac and Cheese with Peas Ingredients
16 oz. small pasta shapes
4 tbsp. unsalted butter
½ cup all-purpose flour
2 ½ cups milk, heavy cream, or half-and-half
4 oz. American cheese, chopped or torn into pieces
8 oz. extra-sharp white cheddar cheese, shredded
2 tsp. – 1 tbsp. Dijon mustard (adjust according to preference)
½ cup frozen peas
1 tsp. Kosher salt
¼ tsp. hot sauce
Directions
In a large stockpot filled with salted water, cook pasta according to package directions. Drain well.
While the pasta cooks, melt the butter in a 4-quart saucepan over medium heat. When the butter has melted and has started to bubble, whisk in the flour and cook for 1 ½ minute, whisking constantly.
Slowly add in the milk, whisking until no lumps remain. Reduce the heat to medium-low and cook milk mixture, whisking frequently, until it thickens and bubbles about 8 minutes.
Remove the saucepan from the heat and stir in the cheeses, one handful at a time, allowing all of the cheese to melt into the sauce before adding more. Add in the peas then stir in the mustard, salt, and hot sauce.
Return pasta to the pot that it was cooked in and add the desired amount of cheese sauce. Be sure to stir up the sauce from the bottom of the pan and thoroughly coat all of the pasta with sauce. Cook for 1-2 minutes over medium-low heat until heated through.