I've been lusting after this Oreo chocolate cake for quite a while.  I do love Oreo cookies and chocolate cake, and the frosting is just there to hold it all together.  😉  Oreo cake is a decadent, almost over-the-top cake.  Moist, chocolaty, full of flavor, and bursting with Oreo goodness.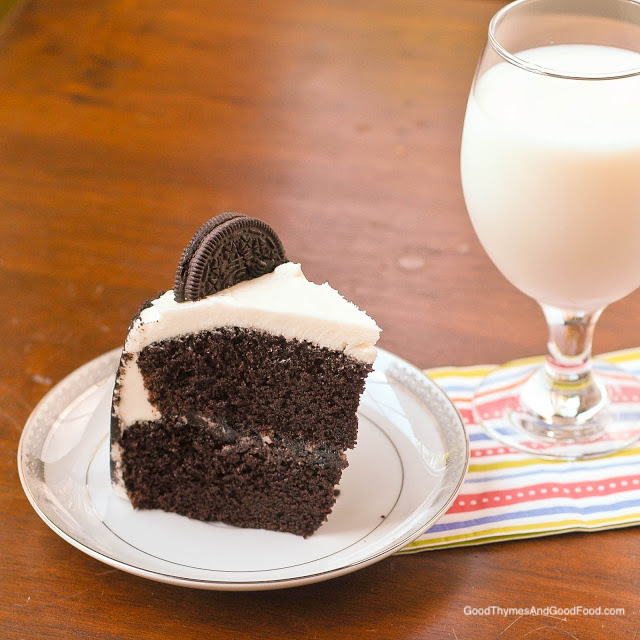 I modified the original recipe: it's no secret that I'll always take cake over frosting, so more cake and less frosting is the way to go around here.  I cannot resist a fluffy chocolate cake.  I just cannot.
This frosting is definitely delicious and it is worth the little bit of extra time.  When you are making the frosting, be sure to really whisk the flour mixture to avoid lumps, which is the most common problem with making frosting and it can ruin the cake.
I cannot wait to make this again. Truly.
Oreo chocolate cake Ingredients
For the cake: 
3 cups all-purpose flour
2½ cups granulated sugar
1 tbsp. + 1 tsp. baking soda
½ tsp. salt
1 cup unsweetened cocoa powder
1⅓ cups canola oil
1½ cups buttermilk
3 large eggs
1½ cups freshly brewed, extra-strong hot coffee
1 tsp. pure vanilla extract
For the frosting:
Scant ½ cup all-purpose flour
1½ cups milk
2 tsp. vanilla
1½ cups (3 sticks) unsalted butter, softened
1½ cups granulated sugar
 ~1 cup confectioners' sugar (optional)
25 Oreo cookies, crushed into crumbs
6 whole Oreo cookies, for garnish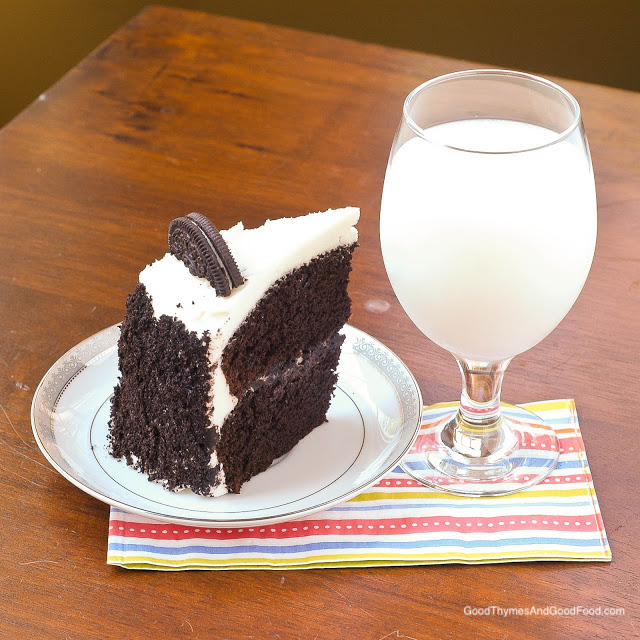 Directions
For the cake:
Preheat the oven to 350°F. Butter 2 cake pans (I use 8 or 9-inch pans) place the parchment rounds, butter the parchment paper too, and dust it with flour, tapping out the excess. Set pans aside.
In the bowl of an electric mixer, place flour, sugar, baking soda, salt, and cocoa powder. Mix on low speed to combine.
Mix in oil, buttermilk, and eggs, adding one egg at a time. Pour the hot coffee down the side in a thin stream. Add vanilla and mix until the batter is smooth.
Pour into prepared pans and bake until a toothpick comes out with moist crumbs, about 30-40 minutes.
Once cakes are ready, let them cool in pans, then remove them from pans.
For the frosting:
While the cakes are baking, prepare the frosting. In a saucepan, whisk together the flour and milk and cook over medium heat until the mixture thickens (It should be about the consistency of mashed potatoes.) Whisk continuously so clumps don't form, about 4-5 minutes.
Set milk mixture aside and allow to cool completely.
In the bowl of an electric mixer, beat together the butter and granulated sugar until light and fluffy, about 4 minutes. Add the vanilla and beat for 1 minute. Once the milk is cooled, beat it in the mixture at high speed for 3-5 minutes. If it looks separated, keep beating.
When the cakes are cool, lay the first layer covering with ⅓ – ½ cup of the frosting. Sprinkle about ½ cup of Oreo crumbs. Top with the second cake. (If frosting is not stable enough to apply to cake, beat in 1 cup of confectioners' sugar.) Frost top and sides of the cake, reserving ½ cup frosting. Apply Oreo crumbs to the outside of the cake.
Use the remaining ½ cup of frosting, create 6 swirls on the top of the cake and place an Oreo cookie in each swirl.
---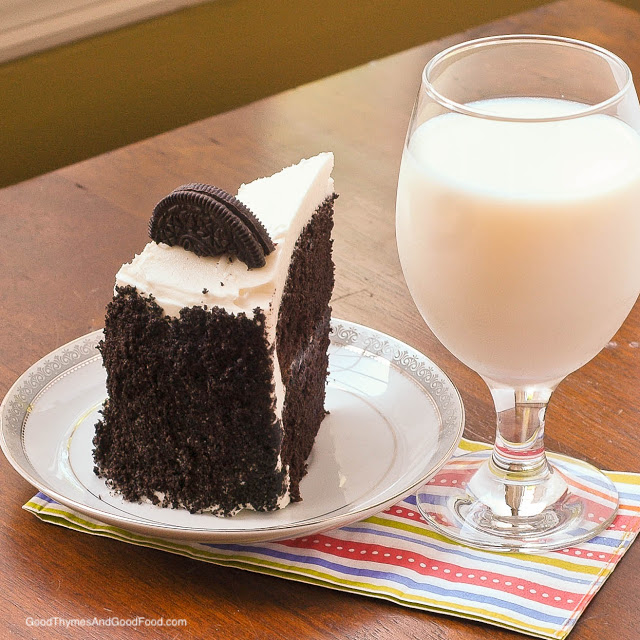 cake from The Paper Seed, originally from Portland Monthly magazine
frosting slightly adapted from Sunny Side Up in San Diego, originally from Tasty Kitchen
cake inspired by Family Circle Magazine