Chocolate Cupcakes with Cookie Dough Buttercream it's a wonderful birthday treat when you have just basic ingredients.The journey to this decision was met with much strife.  Choosing cupcakes/buttercream is hard.  (First World Problem…I know.)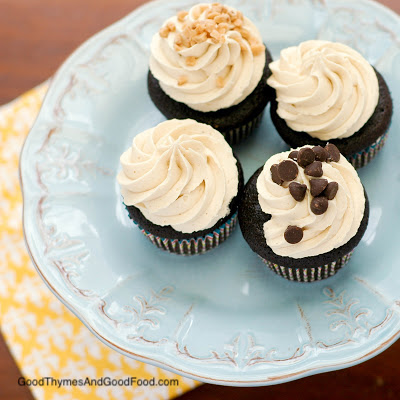 I knew from the beginning that I was going to make chocolate cupcakes but I had a difficult time making up my mind about how to top them.  I didn't want vanilla or chocolate, I didn't have enough egg whites for Swiss meringue buttercream.  
This Cookie Dough buttercream, for me at least, was the star of this cupcake.  While the cake was light, fluffy, and chocolaty, the buttercream added richness with its cookie dough flavor and infinite list of toppings (I used toffee pieces and chocolate chips).  They were definitely a hit!
Chocolate Cupcakes with Cookie Dough Buttercream Ingredients
For the cupcakes: 
3 cups all-purpose flour
2½ cups granulated sugar
1 tbsp. + 1 tsp. baking soda
½ tsp. salt
1 cup unsweetened cocoa powder
1⅓ cups canola oil
1½ cups buttermilk
3 large eggs
1½ cups freshly brewed, extra-strong hot coffee
1 tsp. pure vanilla extract
For the buttercream: 
3 sticks unsalted butter, at room temperature
¾ cup light brown sugar, packed
3½ cups confectioners' sugar
1 cup all-purpose flour
¾ tsp. salt
3 tbsp. milk
2½ tsp. vanilla extract
Directions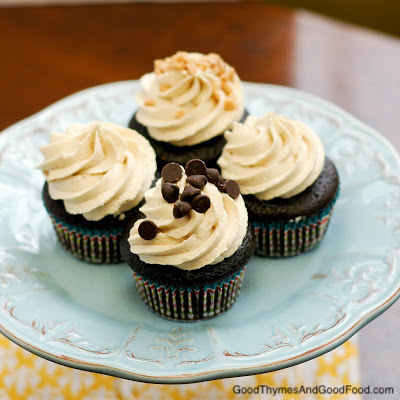 For the cupcakes:
Preheat the oven to 350°F. Line cupcake pans with paper liners; set aside.
In the bowl of an electric mixer, place flour, sugar, baking soda, salt, and cocoa powder. Mix on low speed to combine.
 Mix in oil and buttermilk. Then add in eggs one at a time. Pour hot coffee down the side of the bowl in a thin stream. Add vanilla and mix until the batter is smooth.
 Pour into prepared cupcake pans and bake until a toothpick comes out with moist crumbs, about 17-20 minutes. Let cool in pans for 5 minutes before removing to a wire rack to cool completely.
For buttercream:
In the bowl beat butter and brown sugar until the mixture is light and fluffy, about 3 minutes. You can use an electric mixer with the paddle attachment.
Mix in the confectioners' sugar until smooth. Beat in the flour and salt, then milk and vanilla extract. Frost and garnish as desired.