Guyanese bread or plait, braided bread is white oval-shaped bread, soft and light, a little bit sweet (as it is yeast-based) – perfect for breakfast, dipping, and toasts with butter. The big difference between the Guyanese bread recipe and other bread recipes is that traditional Guyanese bread doesn't contain eggs.
The bread making is time-consuming (about 2-3 hrs) but the taste of a homemade bread recipe is worth it. The key to the best breakfast with bread is this white bread with butter – try it! Plait bread is one of the staple dishes for Guyanese cuisine on Christmas morning.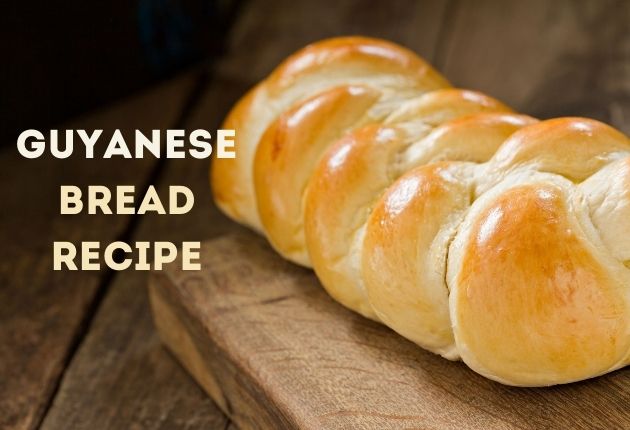 ---
Ingredients
1 loaf makes about 8 serves.
3 ½ cups all-purpose flour
1 tbsp dry yeast
1 ¼ cup water at 110 degrees F plus 1 tbsp warm water
¼ cup melted butter (you can substitute regular butter with vegan butter, olive oil, or other vegetable oil)
1 teaspoon salt
¼ cup sugar (you can use white or brown sugar)
Do not add too much salt as it will stop dough from rising.
The original recipe doesn't contain eggs, but some people adapt it and add 1 egg yolk with a tsp water to make the Guyanese Plait bread. I don't do it.
---
Directions
This plait bread recipe requires time, but no extra equipments. You'll need your oven, a baking sheet, you can mix and knead the dough with your hands.
Make the yeast starter:
Let the sugar dissolve in the water then mix in the yeast.
Cover with a towel and set aside in a warm place to allow the yeast to activate (about 10 min).
Make the dough:
In a large bowl, add flour, salt, cut and add butter (room temperature), and mix until a crumbly texture forms.
Form a well in the center and add in the activated yeast starter, whisking together until pancake batter consistency. Mix all flour to form a soft dough.
Flour your workplace and transfer the dough to it. Knead the dough for 5 min, forming a smooth ball. The dough will be sticky, if you don't want to use your hands, use a stand mixer with the dough hook attachment.
Transfer the dough into a greased container, cover with a towel and let it rise for about 45-60 min until it will double in size. You can always boost the rising process by placing the covered dough in a warm oven (about 200 °F) for 30 minutes.
Remove the dough to a floured surface and knead again, forming a smooth dough ball. for about 2 min.
Cut the dough into 3 even pieces and roll each piece into equal logs ( maybe about 14 inches). Alternatively, you first cut a long, 2-inch piece and roll it into a long strip, and then cut the remaining dough into 3 equal pieces.
Plait 3 logs into a braid. If you made a 2-inch strip too, place it on top of the braid.
Baking:
Preheat oven to 350-375 degrees F (175-200C).
Grease a baking sheet and transfer the plaited dough over it.
Cover the bread and let rise for 30-45 minutes on the cooktop of the preheated oven until it doubles in size.
Bake in the preheated oven bread for 20-25 minutes, until it is golden brown. If you want to make a brown crust, you can mix egg yolk and water in a small bowl with a fork and brush the top of the bread.
Remove from the oven and immediately brush with 1 tablespoon of butter.
Cover with a towel and allow the bread to cool completely before serving. If you're not eating the bread straight away, let it cool and place it in a bag, and seal. It will last up to 5 days (I use a zip-log bag).
Serve for breakfast with butter, jam, or for dinner with stew, soups, dips…This homemade bread is so good, that you'll easy eat the whole loaf in 1, max 2 days… I warned you! 🙂
How to know if the dough is ready?
it doubled in size
when you poke the dough, it feels airy and bounces back.
Video for Guyanese bread recipe
In case you need a visual aid to make the bread happen, here is a youtube video I found for you:
What to serve Guyanese bread with?
Your favorite soup or stew
I love mushrooms soup, vegetable soup (like Summer Vegetable Soup) beef stews, and Old Fashioned Chicken Noodle Soup. This Beef Stew Recipe Without Wine I repeat a lot, as it is a savory and delicious lunch for me. I like dipping bread in stew.
By adding bread to your soup you can make the meal more filling.
Don't forget that you can serve croutons with French onion soup!
2. Butter or spreads
The simplest breakfast is a slice of plain bread with butter – it will fill you for hours! Butter is also one of the good sources of fat we need. You can choose regular butter, or nut butter, fruit spread, or savory spread, like Lecso recipe [Russian lecho] or any you like.
Try also fruits with bread – classic British summer pudding is a bread with seasonal fresh fruits.
3. Salads
It is maybe only my childhood experience, but where I was growing up, we used to eat salads with bread. I am not a huge fan of salads, but my top is Southwest Avocado Chicken Salad, Deconstructed Falafel Salad, and Trisha Yearwood's Potato Salad – especially potato salad, I love it!
4. Dips
When you need a quick snack or you craving chips or fast food, I would recommend dipping your homemade bread in a homemade dill dip (I make it very often, it is super easy and yummy!) with cream cheese, or something meaty, like Keto Buffalo Chicken Dip or Smoked Queso Dip.
5. Sandwiches
Make some sandwiches for breakfast or for a quick snack. Making sandwiches can be a very handful if you have leftover chicken and bread, just add some veggies, lettuce, sauce and enjoy!
Remember avocado toast:toast with avocado, salmon and dill is very good. Top bread with eggs in purgatory too or any other way of cooking eggs.
6. Breadcrumbs
You can always remove the crust or blend some "old" bread in a food processor and use breadcrumbs to cook meatloaf, to top ice cream, as ingredients for dips. Breadcrumbs are widely used to cook meat or making meat and fish cutlets.
7. French toast
Make a french toast for breakfast with Guyanese bread, why not? I like it soaked well, topped with strawberries and maple syrup. Another option is to make simple savory french toast, just using eggs, salt and pepper or easy sweet french toast – with cinnamon and sugar.
8. Make garlic bread
Garlic bread is so good, right! I love garlic. To make your homemade garlic bread you need 5 min: mix butter with garlic, salt, and herbs (I prefer basil), spread it on the bread slices, top with Parmesan and bake for 2-4 min. Done, you will enjoy it, I promise!
9. Vegetable noodles
The most common veggie based noodles are zuchinni noodles. Zuchinni bolognese noodles will work very good with bread, especially garlic bread.