I have a newfound love for brisket. Yes, I realize that it sounds impossible, but I didn't actually cook it before. It is such a great cut of meat that I have made it several different ways. All in the Crock-Pot, though! Here we go with Leftover Brisket Tacos.
The Crock Pot. I have one. I'm not a huge user of it, though. Unless it's for brisket, apparently. I do love to just throw it in there and let it go! It's so great for a crowd, too.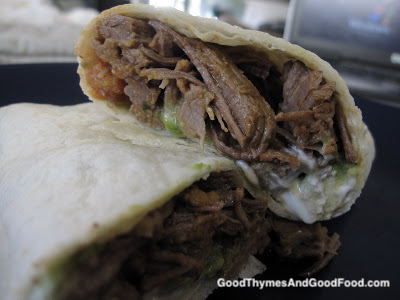 I served these tacos on soft, flour tortillas, with guacamole, salsa, lime and sour cream. So good! We ate them for several days and I didn't even get tired of them. That is huge for me. I don't really love leftovers.
If do not have leftover brisket, don't worry, I'll share the brisket recipe too.
Leftover Brisket Tacos Ingredients
1 beef brisket (2-3 pounds)
1 cup chopped onion
1 can (8 ounces) tomato sauce
3/4 teaspoon pepper
1/4 teaspoon salt
10 flour tortillas (10 inches), warmed
salsa
guacamole
sour cream
bell peppers
lettuce
You can also add cheese.
Directions:
If you have leftover brisket:
In a saucepan over medium heat saute peppers, and onions with oil for about 5 minutes until softened. Set aside and wipe out the pan.
Take 1 part of leftover brisket and roughly chop it, heat it in a pan with tomatillo salsa for 5 minutes. You can also reheat brisket in the oven (sliced for 20-25 min, the whole thing for about 45 min)
Spread heated and chopped meat over tortillas, add sauteed peppers, onions, lettuce. Serve with toppings (sour cream, salsa, guacamole).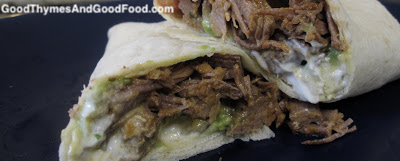 If you DON'T have leftover brisket:
Place brisket in a 5-qt. slow cooker; top with onion, tomato sauce, pepper, and salt.
Cook the meat and veggies covered on low for 4.5 – 5 hours or until the meat is tender.
Remove the beef from the slow cooker and shred it with two forks.
Layer the meat and toppings off-center on each tortilla. Fold sides and ends over filling and roll-up.