I don't really like soups and for me, it's more a thing that you eat when you're sick. But I need to say, that I definitely like ramen and Summer Vegetable Soup is another winner! Freshness, healthy ingredients, easy to make – it's my key factors 😉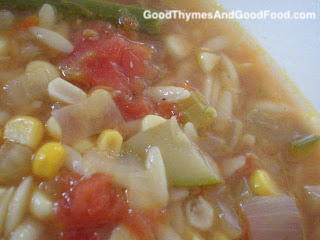 Ingredients
Serves 6
4 ears of corn, husks, and silks removed
2 tablespoons olive oil
1 medium onion, chopped
Coarse salt and ground pepper
2 cans (14.5 oz each) vegetable or chicken broth (I prefer reduced-sodium broth)
2 large zucchini, halved lengthwise and thinly sliced
8 ounces green beans (stem ends removed), cut into thirds
1 can (14.5 ounces) diced tomatoes in juice
1/2 cup orzo
Directions
Cut off the tip of each ear of corn. One at a time, stand ears in a wide bowl. With a sharp knife, carefully slice downward to release kernels. Discard cobs; set kernels aside.
In a Dutch oven heat oil at medium heat, add onion; season it with salt and pepper, and cook for 3-5 min, stirring, until the onion is transparent.
Add in 2 cups water and the broth, and bring it to a boil. Add green beans, corn, zucchini, tomatoes (with juice), and orzo; cook for 8-10 min until orzo is tender, do not cover. Season with salt and pepper.
To freeze: Ladle 1 1/2 cups into each of six resealable plastic bags. Store flat in the freezer, up to 3 months. Before reheating, thaw in the refrigerator.