When I saw this Portobello, Broccoli and Red Pepper Melts recipe on Annie's Eats recently, I put it on the top of the Must Make List. That's a pretty long list and it bumped several other recipes down in priority. These definitely did not disappoint!
In fact, while eating I continuously eyed the sheet pan with the rest of the melts on it making sure they didn't magically disappear and that I could have more! Yes. They are that good and ridiculously easy to put together. We had these after a long day and they came together in a snap and all on one sheet pan, with just the use of a knife and cutting board. Love that!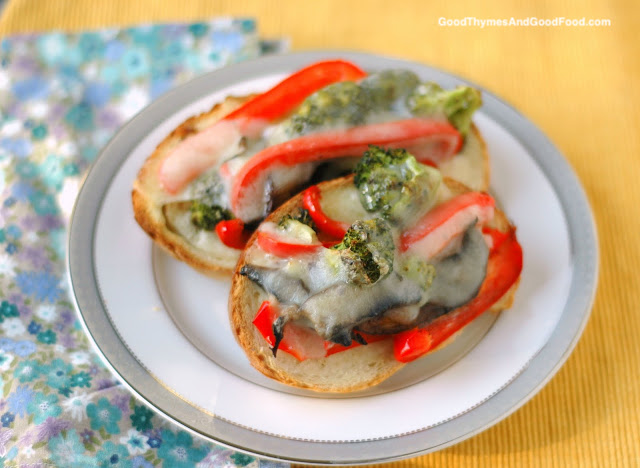 Portobello, Broccoli and Red Pepper Melts Ingredients
1 small head of broccoli, cut into small florets
1 tbsp. olive oil
Kosher salt and black pepper
4 portobello mushrooms, stems removed and sliced ½-inch thick
2 red bell peppers, sliced ½-inch thick
1 tbsp. balsamic vinegar
¼ cup mayonnaise
1 clove garlic, minced or pressed
4-6 slices of bread, 1-2 inches thick
4-6 slices Monterey Jack cheese
Directions
Preheat a broiler and place a rack placed 4 inches from the heat.
Double line a rimmed baking sheet with aluminum foil and set it aside.
Toss the broccoli with olive oil, salt, and pepper and spread it on the baking sheet. Place under broiler until the broccoli begins to brown, tossing once, about 5 minutes.
Add the mushrooms and peppers to the pan with the broccoli & toss to combine. Broil, tossing once, until the vegetables are tender, 8-10 minutes.
While the vegetables are under the broiler, combine the mayonnaise and garlic in a bowl and season to taste with salt and pepper.  Set aside
Spread each slice of bread with 1 tablespoon of the mayonnaise mixture. When the vegetables come out of the oven, toss with the balsamic vinegar and then place the cooked vegetables on top of the mayo mixture and add the cheese.
Carefully remove the top layer of aluminum foil from the baking sheet and lay the bread topped with vegetables on the clean foil.
Place under broiler until the cheese is melted and lightly browned, about 4 minutes (watch carefully).