I think that the most challenging part of the dairy-free journey is realizing when you actually want something and when you want something because you can't have it.  Usually, it's the latter and the craving passes pretty quickly.
But sometimes, you just really want something creamy/chocolatey/gooey/dairy-laden.  And what do you know?? This vegan chocolate pudding fits that bill perfectly, except that it's dairy (and egg!) free!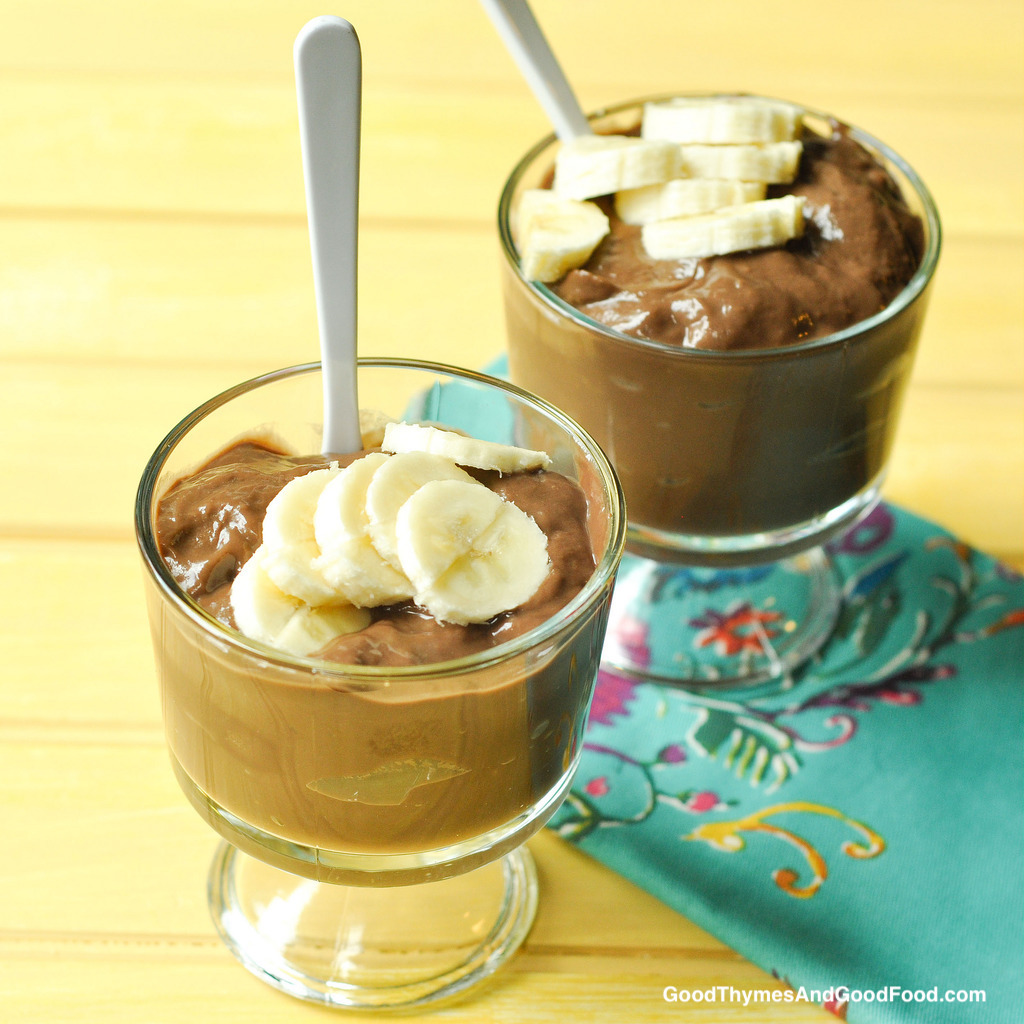 I try not to include too many specialty food products but this is one time that I'm going to do that.  Well, it's not so much specialty as something you probably just don't have hanging out in your fridge.  It's this Silk Dark Chocolate Almond Milk and let me tell you, it's amazing. It's so delicious that after I bought it to make this pudding, I kept on buying it every week because we all loved it so much. It's smooth and rich and will cure your chocolate or sweet craving all on its own.
This pudding recipe is very straightforward. Lots of whisking and then lots of waiting for it to cool and set up.  It's worth it though when you top the finished product with sliced banana (because chocolate-covered bananas – yum) and enjoy it after a long day 😉
Ingredients
⅓ cup granulated sugar
2 tbsp. cocoa powder
 2 tbsp. cornstarch
2 cups dark chocolate almond milk
⅓ cup almond butter (or peanut butter, sun butter, etc.)
¼ tsp. vanilla extract
⅛ tsp. salt
Sliced bananas for serving, optional
Directions
Combine the sugar, cocoa powder, and cornstarch in a medium pan. Slowly whisk in the chocolate almond milk and then begin to cook over medium heat. While whisking very often, bring mixture to a slow bubble. Once it begins to bubble, whisk constantly for an additional 2 minutes.
Remove the pan from the heat and stir in almond butter, vanilla, and salt.
Pour into a medium bowl and allow to cool for about 5 minutes.
Once slightly cooled, press a piece of plastic wrap directly onto the surface of the pudding. Place in refrigerator and allow to fully chill and set about 4 hours.
Serve with sliced bananas or any other fruit you like (ex., strawberries or other berries, peaches, mango, etc.)