We are both big seafood lovers: prawns, crab, octopus, fish. By chance, we are now living in Bali and here we have access to fresh seafood on the market. Well, one of the most popular and easy to cook dinners for us is tuna steaks.
Soy sauce in the recipe makes the tuns taste great, so I really recommend you to try this recipe! I marinated the tuna steak, grilled it up and we ate it. Well, I ate each bite with some pineapple, but it was still good! I actually liked it. I was shocked. 🙂
---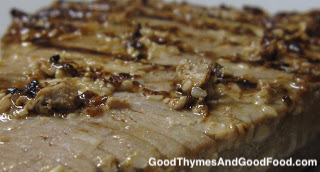 Ingredients
2-8 oz yellowfin tuna steaks
If you have bigger fish, adjust the ingredients below.
For Marinade:
1 cup soy sauce
1/2 cup lemon juice
1 clove crushed garlic (for each steak)
4 tablespoons extra virgin olive oil
a small amount of sea salt, to taste
fresh ground black pepper, to taste
For Pineapple with Brown Sugar & Butter (optional):
1 can pineapple, drained and rinse
2 tbsp. butter
2 tbsp. brown sugar
Directions
Prepare all of the marinade ingredients in a shallow glass dish (I used a 9 X 13-inch one).
You need to marinate both sides of tuna (dredge it and get marinade on both sides).
Let sit in the refrigerator for 30 minutes before grilling. *Don't leave the tuna for too long or overnight in soy sauce, as it has a very strong flavor and the soy taste will overpower tuna!
Heat a grill pan over medium-high heat. Brush with olive oil.
Grill for 3-4 minutes or less per side for 1-inch steaks, depending on how you like them. When the tuna is done, it will be pink in the middle and firm. If you prefer steaks to be rarer, grilling time should be 2 1/2 minutes on each side.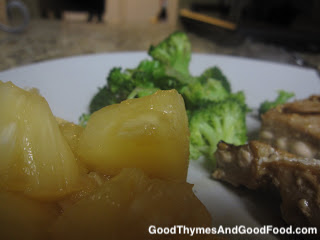 For Pineapple with Brown Sugar & Butter
This I added for my partner as he loves pineapples and it was an interesting combination (also extremely easy to make), but you can absolutely skip it and make any other side dishes you'd like.
Melt the butter in a saucepan and add in the brown sugar.
Stir to combine.
Add pineapple and coat with sugar mixture.
Allow heating through.
Serve and enjoy.