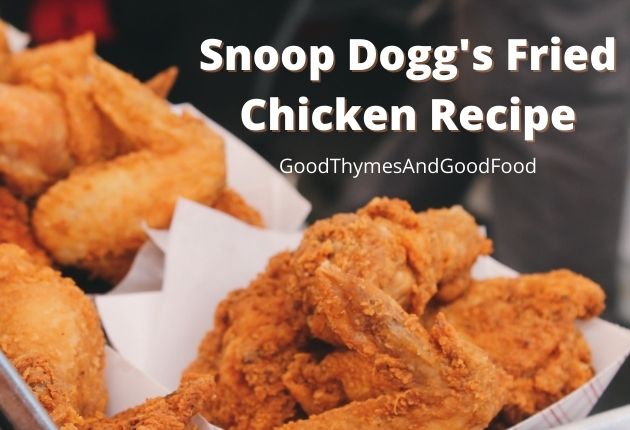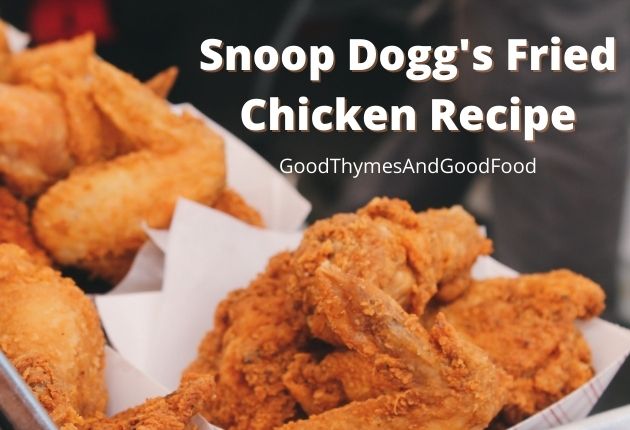 Snoop Dogg is an American rapper, actor, and culinary star. You surely saw him on Martha and Snoop's potluck dinner party with Wiz Khalifa (cooking show). His first cookbook was published in 2018 – From Crook to Cook: Platinum Recipes from Tha Boss Dogg's Kitchen – 50 recipes from homey easy dishes to Lobster Thermidor.
One of the most popular recipe is famous Fried chicken and Easy orange chicken. For many reviewers Snoop dogg's fried chicken recipe is the Best fried chicken.
Snoop's recipe of Fried chicken is basically chicken wings marinated in brine and fried with crispy potato chips – which is the secret of the success. It is salty, can be spicy, and extremely delicious!
Here I share the original Fried chicken recipe and some proven variations that you can easily find something for you! In the end of the post I also will leave the link to some Youtube videos on How to cook fried chicken.
If you ran out of something I used some links to refill, feel free to use them. If you feel like adding other spices or spice mix – experiment! I will also share 10 ideas of great sides to serve with chicken wings.
---
Ingredients for Snoop Dogg's Fried chicken
You will also need:
paper towel to dry chicken from brine
plastic gloves to make the process cleaner and easier
whisk to mix the ingredients
large pot for brine
large bowl
2 shallow dishes for flour mix and buttermilk
wire rack or a pan to set fried chicken
Dutch oven (heavy cooking pot with a lid for braising, cooking stews. Kind of slow cooker) or a deep fryer to fry
brown paper (can be substituted by baking parchment) also to let chicken sit and dry
tongs or spider (skimmer) to get fried chicken from hot oil.
---
How to cook Snoop Dogg Fried chicken
| | | |
| --- | --- | --- |
| PREP TIME | COOK TIME | SERVES |
| 10 – 24 hours | 1 hour | 4-6 |
In Snoop Dogg Fried chicken we first prepare the brine and let it sit for at least 10 hours, you can also leave it overnight, the longer you let it sit, the tender the meat will be. When the brine is done we start battering the chicken and only then we fried it. Follow the directions below. The recipe takes time but it is easy and absolutely doable even for non-cooks. Here are 3 crucial steps to cook tha chip fried chicken wing.
Step 1: How to prepare the brine for Snoop Dogg's fried chicken
Get a large pot and fill it with water (5 cups).
Place the pot over high heat and bring to a boil. Add sugar, salt, bay leaf, red pepper flakes, orange peel, and optional ginger paste. Stir and keep cooking on medium heat until the sugar and salt dissolve (about 1 minute).
Remove from the heat and let cool.
Place the chicken in a bowl and pour the cooled brine to fully cover the chicken.
Cover and refrigerate for 10 to 12 hours, and up to 24 hours. The longer, the tender chicken will be.
Remove the chicken and dry it carefully with paper towels.
Set the chicken aside and discard the brine.
Note, that some people don't like too salty meat, but the brining naturally makes meat salty. If it is the case for you, you can rinse the chicken off with water after it was brined. 
If you're using pickle brine, leave chicken over night.
---
Step 2: How to batter the chicken for Snoop Dogg's fried chicken
Crush chips (choose any chips you like) in a plastic bag. If you really like chips add 1/2 cup or even more for better potato chip coating, as 1/4 cup is not enough for some chips lovers.
Get a large bowl: add the flour, cornmeal, crushed chips, garlic powder, cayenne, baking powder, black pepper, and salt. Stir until you get a uniform mass. You can also add piment d'Esplette, paprika powder, cumin powder and ginger powder.
Get 2 shallow dishes: transfer the flour mix to the first large shallow dish, pour buttermilk or yogurt in the second one.
Place a clean wire rack or a pan to set the battered chicken.
Each wing goes in the buttermilk first. Submerge it, then lift and let any excess drip back into the dish.
Roll the wing in the flour mixture to cover it completely.
Place the battered chicken wing on the wire rack or pan.
When all wings are battered, let them dry for up to 30 minutes before frying.
---
Step 3: How to fry the chicken for Snoop Dogg's fried chicken
Prepare the workplace: Get a large Dutch oven. Place a wire rack or a pan with brown paper aside. I'd recommend to use plastic gloves to keep your hands clean and make the process easier.
In Dutch oven heat the canola oil to 350°F (± 180°C). Or use deep fryer.
Carefully add few chicken wings (not all, just 3-4, depending on sizes) to the hot oil.
Once first chicken wings are in the pot, watch the oil's temperature : it will drop to 300°F – 320°F (150°C – 160°C), but you need to maintain a consistent 350°F temperature.
Fry the wings for 8 to 15 minutes, or until they turn golden. If the chicken is getting too dark, lower the heat. You can fry for 4 minutes on one side and then turn the wing to fry another side.
Once the chicken is done, remove each piece with tongs or skimmer and place on the prepared rack or pan to drain. Sprinkle generously with salt (based on preferences, after brine the chicken is already quite salty!)
Let the oil come back to temperature before adding the next batch;
Fry all remaining wings following steps 4 to 6.
Let chicken rest for a few minutes before serving, otherwise the taste may seem a bit edgy.
How to measure oil's temperature? Use your hand (place it over heat and feel how long you can keep it, it is about 50 degrees per second counting down from 550), or a deep-fry thermometer.
---
What to serve with Snoop Dogg's Fried chicken
Chicken wings are one of the best dinner party dishes, especially when it's recommended by a hip hop legend. Chicken is ready and you can serve it with your favorite sides, here are some interesting ideas:
just with hot sauce
over buttermilk waffles
with rice and broccoli or roasted cauliflower
with French fries or baked potatoes
with sweet potatoes
with onion rings
with homemade macaroni and cheese
with edamame or green beans
with Bacon pasta salad
with avocado Fries.
---
Snoop Dogg fried chicken cooking videos:
Hope you're enjoying your finger lickin experience with snopp dogg special recipe for golden fried chicken.