Almond butter became a real cult and popular peanut butter alternative for its taste and benefits. The taste of almond butter is at once sweet and salty taste which make people really crave for it.
Among substitutes for almond butter I can list: peanut butter, seed butters, cashew butter, sunflower butter, unsalted butter, mashed avocado, greek yogurt and 13 more alternatives.
Popular and well-loved brands: Barney butter, Almondee California Almond Butter (Best almond butter in 2021 based on BodyNutrition ranking), Kirkland Signature Almond Butter.
You can always make your own almond butter, here is the simple recipe.
Almond butter is used for breakfast, for baking, and as part of dips. It has a lot of benefits, but still you may look for alternatives and better substitutes for almond butter in several cases: you just don't have it and don't want to buy it right now (cause it is honestly quite expensive), you are allergic or you just want to experiment.
If you need to check nutritional value of almond butter, jump to this section.
---
Best Uses for Almond Butter:
Use almond butter on toast for breakfast or with jelly.
Use almond butter as a spread muffins and banana bread.
Mix it into smoothies with fruits and milk.
Whisk almond butter to vegetables such as kale, carrots and cabbage.
Add almond butter to chocolate bar cookies.
In Asian style dressing or dipping sauces, ex. for Indonesian famous salad Gado-Gado.
Use it to make almond fudge brownies.
To make light and nutty dip mix cream cheese, Greek yogurt or cottage cheese.
Serve almond butter with pears, apples and celery.
As a dessert topping, especially for chocolate desserts.
Serve almond butter with ice cream.
Make homemade almond milk, etc.
---
Best almond butter substitutes
The choice of the best substitute will depend on the use and taste preferences. I hope this list of 21 alternatives will help you adjust recipes to your needs and cravings.
Substitutes for Almond Butter:
unsalted butter
sunflower seed butter
pumpkin seed butter
pumpkin puree
tahini
peanut butter
cashew butter
pecan butter
pistachio butter
hazelnut butter
walnut butter
coconut butter
soynut butter
mashed avocado
bananas
Greek yogurt
black bean paste
fruit spread
hummus
ghee
applesauce
---
1. Unsalted butter
The least healthy but much cheaper substitute for almond butter is regular unsalted butter. If you've chosen almond butter based on his lower heart diseases rates, unsalted butter is not a good option for you, as it has higher risk and higher cholesterol amount.
Also note that regular butter, made from milk, becomes solid while in the fridge (unlike almond butter).
Unsalted butter as a great substitute will work fine for baking, or as simple spread on toast for breakfast, some people add it to coffee even. Substitution ratio is 1:1.
---
2. Sunflower seed butter
Sunflower butter is safe for people who are allergic to nuts. The consistency is the same, but the taste won't remind nuts, sunflower butter tastes like sunflower seeds.
Sunflower seed butter is as rich in nutrients, vitamins and minerals as almond butter, and even better, as it contains more Vitamin E, folic acid and monounsaturated fats.
Good as substitute for breakfast. Substitution ratio is 1:1.
Natural Sunflower Seed Spread is the top choice of Amazon customers.
---
3. Pumpkin seed butter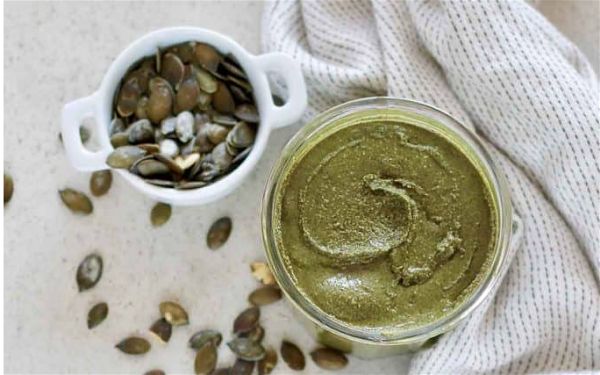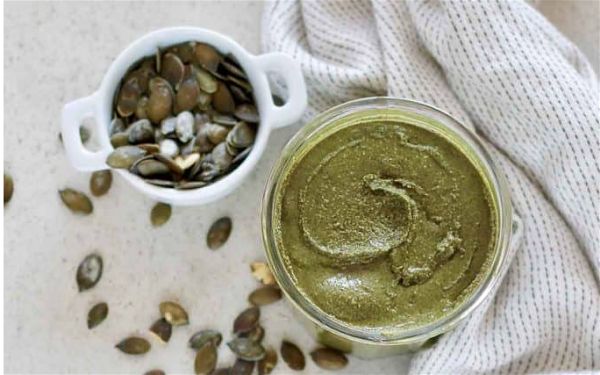 Any seed butter is a superfood, allergy-free and perfect for keto diet. Pumpkin seed butter has green color, is creamy as almond butter, but it tastes like pumpkin seeds.
This butter is also good for your heathy lifestyle, as it contains minerals like zinc, magnesium, and iron, healthy fat content, antioxidant vitamin E, and a good amount of protein.
Good for toasts, sandwiches, smoothies, and baking (Dark chocolate pumpkin seed butter cups).
If you are shopping online: Gerbs Lightly Salted Pumpkin Seed Butter.
---
4. Tahini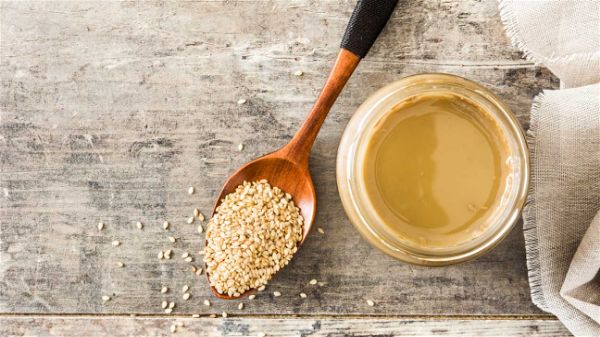 Tahini is a creamy and delicious sesame seeds paste. It is a simple substitute for almond butter, but be careful it is not allergy-free – some people can be allergic to sesame seeds.
Tahini is good for dressings and dips, desserts, for breakfast.
Better to make your own tahini, but if you will buy it, recommended brands are: Kevala Organic Sesami Tahini, and LiOR Certified Organic Tahini.
---
5. Pumpkin purée
Pumpkin purée is not technically a butter, but due to its creamy consistency it can substitute almond butter, especially for those who are on vegetarian diet.
It is also a really cheap and excellent alternative, as you can make a homemade purée from "sugar pumpkin" or "pie pumpkin."
You can use Pumpkin purée for baking, for mac & cheese, for pancakes, add it to your oatmeal. If you want more buttery flavor, mix it with regular butter.
---
6. Peanut butter
The first substitute for almond butter you can think of is peanut butter, but it is not the best for people with peanut allergies though. In general, peanut butter is not as healthy as almond butter (it contains a lot of sugar).
Peanuts are basically legumes, not nuts. Combined with bread or grains they make a complete protein you need.
Peanut butter is easy to buy, cheaper and will work as almost identical alternative. Peanut butter it is much sweeter and smoother, the consistency is more homogenous.
Good for toasts, smoothies, breakfast, baking (peanut butter cookies), etc.
Popular peanut butter brands: Jif, Skippy, Hershey's and many others.
---
7. Cashew butter
Cashew butter is a butter very similar to almond butter in terms of taste, smell and texture. It also fits into vegan and vegetarian diets.
While cashews are not considered as nuts, but as fruits, they have same nutritional values as almonds. Cashew butter is a healthy alternative, better than peanuts. Unlike other nut-based butters and almond butter as well, cashew butter has a bit of sweetness.
in terms of price, cashew is not a better alternative as it is as pricey and rare to find in local grocery store as almond butter.
Good for jam sandwiches, as dip for fruit, snack, etc.
Homemade cashew butter:
Roast the cashews for 10 minutes at 325 degrees Fahrenheit. 
Use food processor to blend cashews for 4 minutes, add salt, and blend for 3 minutes more. Your goal is creamy consistency.
---
8. Pecan butter
Pecan butter is another nut-based butter. The taste is exceptional – sweet and creamy with very distinctive nut flavor.
It is a replacement in case you want to experiment on your keto diet, as it can be even more expensive and harder to find than almond butter, but you can always make it at home if you have pecans, adding cinnamon or vanilla.
Great for desserts, smoothie bowls, dressing, toasts and dips.
---
9. Pistachio butter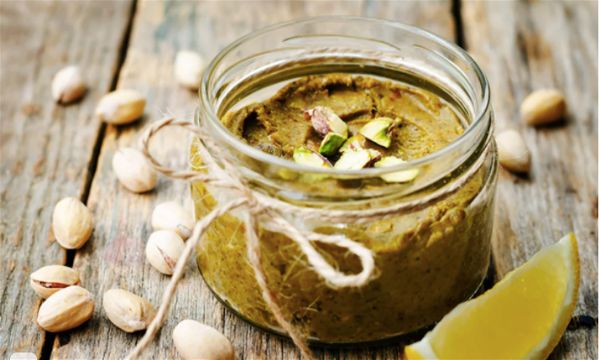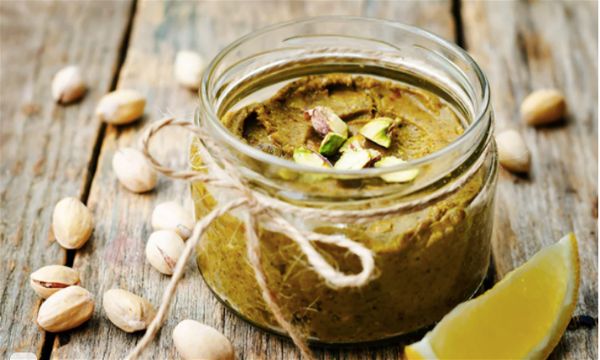 Pistachio butter is green as pumpkin seed butter, and the taste is hard to forget, it is super delicious. Pistachio butter tends to be best almond butter substitute for a healthy lifestyle.
Pistachio butter contains more antioxidants and BCAA (Branched Chain Amino Acids) than almonds and peanuts. Both cashews and pistachios are low in calories, but pistachio nuts are the lowest in cancer-causing compound – acrylamide, they contain 14 times less acrylamide than almonds.
Great for desserts, smoothie bowls, toasts and pistachio pesto.
The first time I've ever tried pistachio butter, it was Pistachio cream by Dolci Sapori dell'Etna, I ate it all in one day because it was too good.
---
10. Hazelnut butter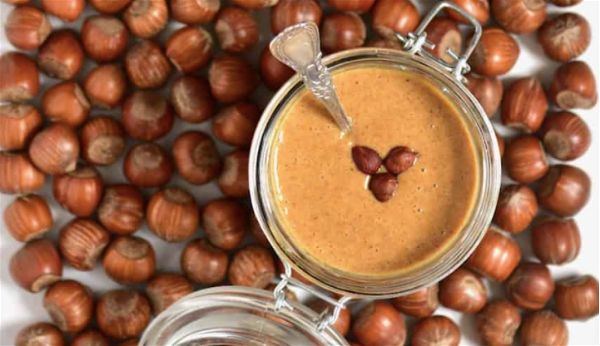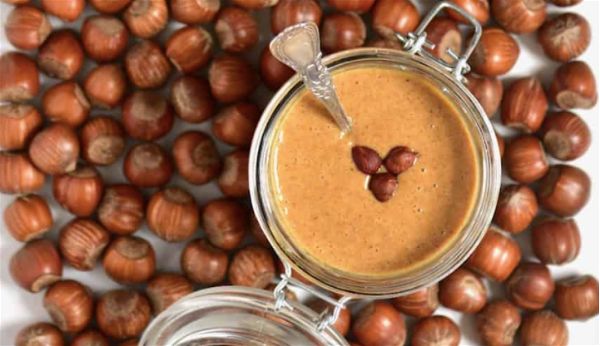 Hazelnut butter is another creamy and nutty flavor replacement for almond butter. It is a good source of dietary protein, oleic acid, and vitamin E, but it is not a good ingredient for weight loss.
It's expensive and hard to find, so you may still want it to experiment.
Good for desserts, toasts and dips. If you mix it with chocolate and it will taste like Nutella!.
---
11. Walnut butter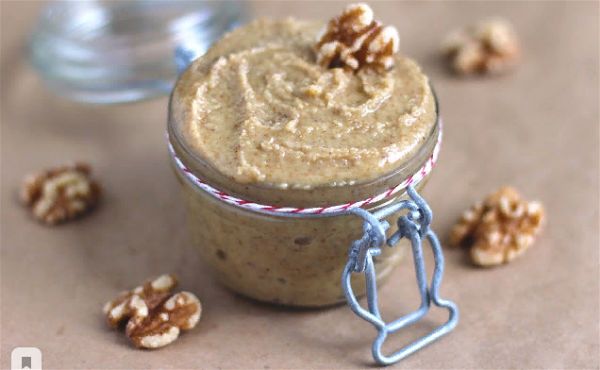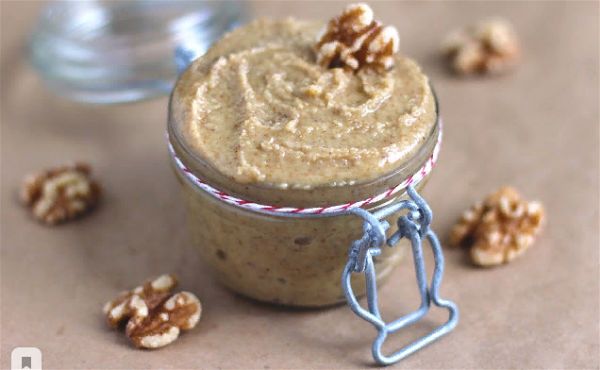 Walnut butter is a nut based butter, so it can potentially cause allergies. Walnut butter is a key ingredient for vegan desserts and it is well-known for its health benefits: low sugar, the most omega fatty acids comparing to other nut butter.
Be aware that walnuts have a bitter aftertaste, and combine them with syrups or honey. Walnut butter is smoother than almond butter, a bit sweet but less than pecan butter.
Goof for toasts, breakfast, desserts, like Vegan cinnamon rolls.
Not easy to find and expensive. Cheaper to make it at home.
---
12. Coconut butter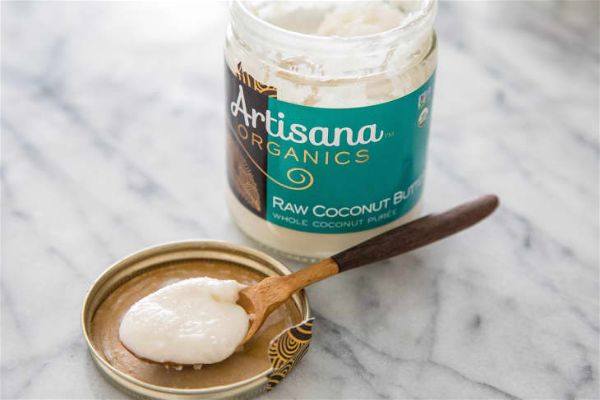 Coconut butter is a creamy, coconut flavor replacement for almond butter, especially for those on keto diet. Please, note, that it can cause allergic reactions and it is not same as coconut oil.
The benefits of using coconut butter and the number of options are incredible. If you like the coconut taste, you can use coconut butter for cooking instead of olive oil, for baking, like a spread or dips, for mayonnaise, for coffee, etc.
It contains potassium, magnesium and iron, as well as fibers and fatty acids. It is much healthier than peanut butter and other peanut butter alternatives.
Most recommended coconut butters in terms of quality are Artisana Organics Raw Coconut Butter and Nutiva Coconut Manna.
---
13. Soy nut butter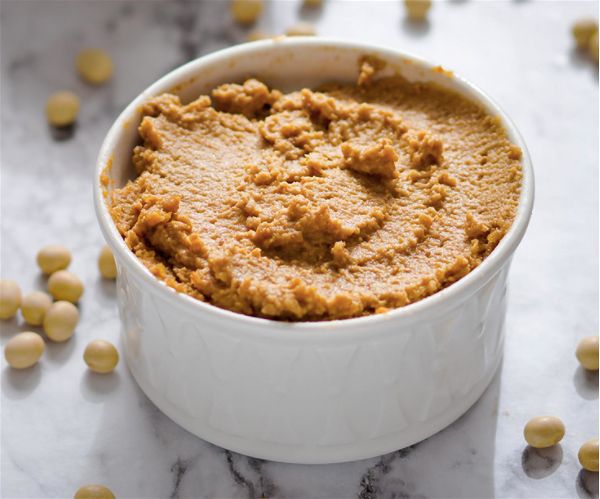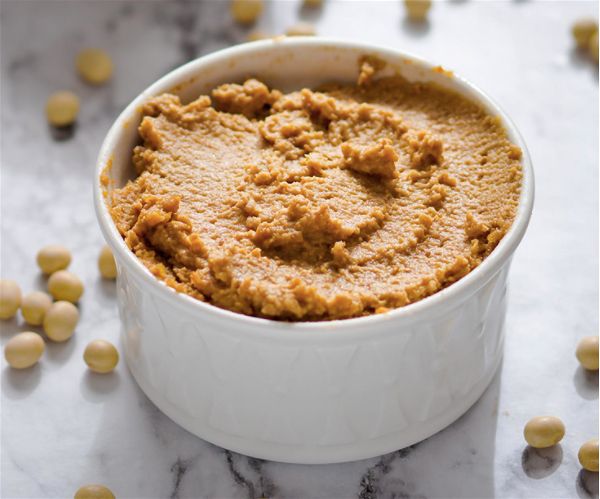 Soy nut butter can be a safe nut-free gluten-free substitute for those who can't eat almonds or peanuts. It is creamy, smooth and healthy and imitates nut butters texture.
Soybeans are low in cancer-causing compound – acrylamide, as rich in fat as nuts, contains Vitamin E, Calcium, Potassium, Phosphorus and other minerals.
As it was introduced into the market as an alternative to peanut butter, you can use it for any purpose: baking, breakfast, dressing, etc.
The most recommended soynut butter is Peanut free Wowbutter.
---
14. Mashed avocado
A completely nut-free vegan option, extremely healthy, with creamy consistency and good price.
Avocado can replace almond butter technically, for breakfast or baking (for flufiness and texture), but you won't get nutty taste.
Avocado is similar to nut butters as it also contains a lot of fat in lower calories. It is better source of omega-3 fatty acids, folate, magnesium, and vitamin E.
---
15. Mashed banana
If you need to stay away from nuts, but avocado is not sweet enough for you, you can replace almond butter with ripe mashed bananas.
Banana is great for baking, smoothies, breakfast and by itself! It is gluten-free and can fit vegan diet. Plus, they are extremely affordable comparing to all nut based butters.
---
16. Greek yogurt
An interesting option to substitute almond butter is Greek yogurt. But with some limitations: it is not vegan, it contains milk, so if you have lactose intolerance or you're trying to lose weight it is not the best alternative.
In terms of nutritional values, Greek yogurt contains protein, vitamins and minerals, it is lower in fat and calories.
Good for baking, smoothies, dressing and dips.
Substitute ratio is 1 : 1 1/2
---
17. Black bean paste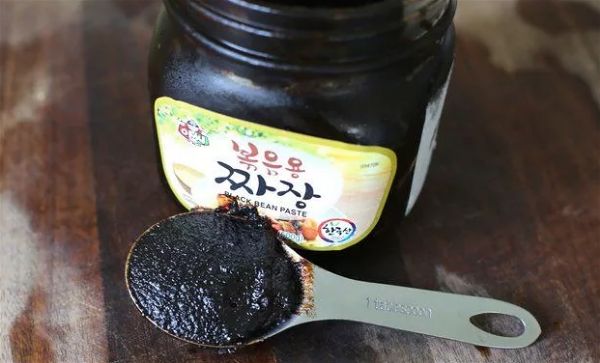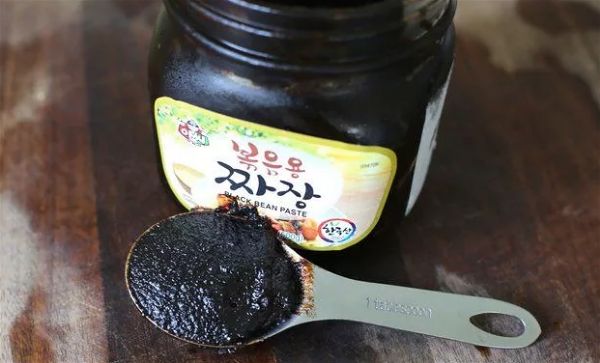 Black bean paste is another interesting alternative for almond butter. It is quite popular in asian cuisine, it has a very unique taste: salty, slightly sweet, and earthy.
Black bean paste is made with a mixture of soybeans, flour, and caramel and then fermented. Black beans are healthy, and contain minerals, protein, and vitamins.
Good for making cakes, muffins, and brownies, but also for main courses.
---
18. Fruit spread
Raspberries, strawberries, fruits and honey, all kind of fruit and berries spreads can be substitute for almond butter for dessert toppings, toasts and oatmeals.
You can find options with less sugar in store, choose any flavor you like and even mix them.
Depending on what fruit or berries you will choose, the nutritional value and amount of calories will vary, but fruits and berries are extremely healthy for our gut and microbiome.
---
19. Hummus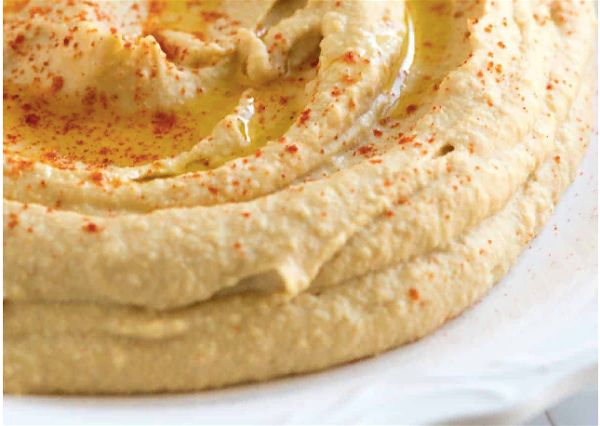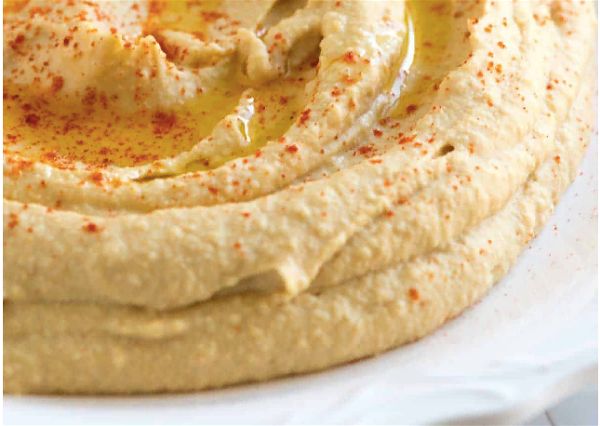 Hummus has creamy smooth consistency and nice flavor. It is vegan friendly and great for diets. Plus, it is easy to make hummus at home.
Hummus is a great and savoury dip and spread, but it won't be a perfect substitute for almond butter for smoothies and baking.
The main ingredient of hummus are chickpeas, which are good for healthy lifestyle: they are cholesterol-free, high in fiber and protein, contain Vitamin C, B6 and folate.
---
20. Ghee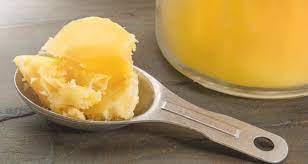 Ghee can work as regular or almond butter in most recipes. Ghee is lactose-free, rich in vitamins A, E and vitamin K, antioxidants, and healthy fats. It doesn't contain protein or fiber.
It is great for cooking vegetables, baking, as spread or simple salad dressing (melted).
---
21. Applesauce
Applesauce is sweet, smooth and healthy and inexpensive substitute for almond butter.
It benefits our health as well as nut butter: it contains antioxidants, vitamins A, B6, and C, fiber, low in fat, but high in sigar as other fruits.
Applesauce is good for breakfast, desserts, baking, as spread, etc.
Substitution ratio 1:1.
---
Homemade Almond Butter Recipe
If you don't have almond butter, you can easily make it in about 40 min.
Prep Time: 15 minutes Cook Time: 25 minutes Yield: About 1 cup 1x
INGREDIENTS
INSTRUCTIONS
Preheat oven to 325°F (±162°C)
Spread raw almonds out onto a baking sheet in one layer.
Toast for 20 to 25 minutes, until you feel the smell.
Let the almonds cool for 1 minute
Get your food processor ready and process still warm almonds for 1 to 2 minutes until the consistency will be dry and crumbly. Stir.
Process for 6-9 minutes more, adding salt and oil, and stirring. Process until a creamy liquid consistency. 
You can store almond butter in fridge for up to 4 weeks. 
Here is also a video to help you visualise the process:
---
Almond butter health benefits and Nutritional value
Almond butter is rich in protein, fibre and good fats, as well as vitamins, minerals and amino acids. Almond butter is low in sugar, saturated fat, sodium and doesn't contain trans fats.
Comparing to normal butter, almond butter has lower risk of heart disease. Almonds contain flavonoids, antioxidants from Vitamin E and help lower cholesterol.
Among other health benefits are skin health improvement, Diabetes control, help to lose weight, enhanced metabolism.
If you are looking to substitute almond butter based on nutritional value, check this table.
Nutritional value of 1 tablespoon (16 gr):
| Nutritions, Vitamins & Minerals | Amount | % DV |
| --- | --- | --- |
| MINERALS | | |
| Calcium, Ca | 56 mg | 5.60% |
| Iron, Fe | 0.56 mg | 7% |
| Magnesium, Mg | 45 mg | 10.71% |
| Sodium, Na | 1 mg | 0.07% |
| Copper, Cu | 0.149 mg | 16.56% |
| Manganese, Mn | 0.341 mg | 14.83% |
| Phosphorus, P | 81 mg | 11.57% |
| Potassium, K | 120 mg | 2.55% |
| Selenium, Se | 0.4 µg | 0.73% |
| VITAMINS | | |
| Vitamin B1 (Thiamin) | 0.007 mg | 0.58% |
| Vitamin B2 (Riboflavin) | 0.15 mg | 11.54% |
| Vitamin B3 (Niacin) | 0.505 mg | 3.16% |
| Vitamin B5 (Pantothenic acid) | 0.051 mg | 1.02% |
| Vitamin B6 (Pyridoxine) | 0.016 mg | 1.23% |
| Vitamin B9 (Folate) | 8 µg | 2% |
| Folate, food | 8 µg | |
| Folate, DEF | 8 µg | |
| Choline | 8.3 mg | 1.51% |
| Tocopherol, beta | 3.87 mg | |
| Tocopherol, gamma | 0.08 mg | |
| Tocopherol, delta | 0.16 mg | |
| PROXIMITY | | |
| Calories in 1 tbsp (16 g) | 98 Kcal | |
| Total Fat | 8.88 g | 25.37% |
| Protein | 3.35 g | 6.70% |
| Ash | 0.49 g | |
| Water | 0.26 g | |
| Carbohydrate | 3.01 g | 2.32% |
| Total dietary Fiber | 1.6 g | 4.21% |
| Total Sugars | 0.71 g | |
| Sucrose | 0.69 g | |
| Maltose | 0.01 g | |
| Starch | 0.01 g | |
| LIPIDS | | |
| Fatty acids, saturated | 0.664 g | |
| Fatty acids, monounsaturated | 5.191 g | |
| Fatty acids, total polyunsaturated | 2.178 g | |
| AMINO ACIDS | | |
| Tryptophan | 0.025 g | 5.68% |
| Threonine | 0.089 g | 5.06% |
| Isoleucine | 0.13 g | 7.78% |
| Leucine | 0.237 g | 6.41% |
| Lysine | 0.098 g | 2.93% |
| Valine | 0.15 g | 7.10% |
| Histidine | 0.088 g | 7.14% |
Data from health benefits times.
Comparing to other nut butters: