Alien Brain Hemorrhage drink is a variation of the Brain Hemorrhage shots.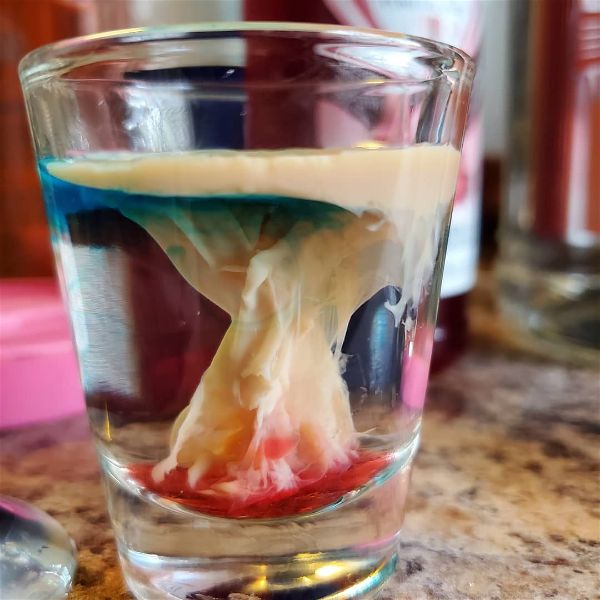 Brief description of this Alien brain hemorrhage cocktail recipe:
Alien Brain Hemorrhage shot has become an iconic Halloween cocktail for its quite creepy look. This cocktail is layered with different alcoholic drinks and is strong enough.
As we will add Peach liqueur first step, you can guess that it will have fruity taste. Bailey's Irish cream adds creamy taste. This drink will fit perfectly people who don't like distinctive alcohol flavor in cocktails. Grenadine – pomegranate and cherry syrup – will also add sweet taste and blood effect.
The appearance is 100% Halloween style – it gives the shot the name as it really looks like Alien Brain Hemorrhage. Alien because of the color obviously.
There is no clear understanding about origin of this alien brain hemorrhage shot, but definitely this bleeding brain with its horrifying looks will impress any halloween party.
It's easy, it is impressive, it is delicious! Try this creepy drink now.
Flavor: Alien brain hemorrhage tastescreamy, fruity, peach. Strength: Medium
Total time of preparation: 2 – 3 min. Level: Easy
Similar Halloween drink: Irish Car bomb, Zombie brain shot.
---
Alien brain hemorrhage shot Ingredients:
1 oz. Peach liqueur – Peach Schnapps Irish cream (Absolut, Doc Well's or Peachtree)
1/2 oz. Irish cream liqueur (Bailey's Irish cream)
1 dash Blue Curaçao
1 dash of Grenadine syrup, ex. Rose's Grenadine syrup
1 dash of creme de menthe, ex. Dekuyper – Crème de Menthe Green
You'll also need:
---
Alien brain hemorrhage Recipe: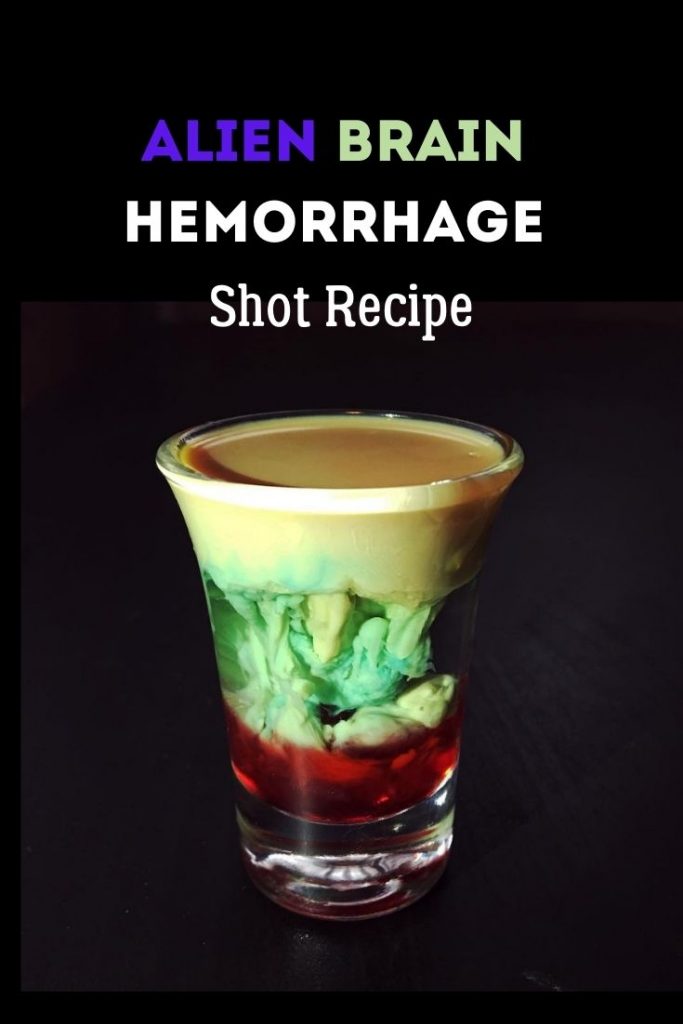 This shot will look great if all layers will be added carefully.
The peach liqueur is almost transparent and fills the whole glass acting like membrane, BBailey's is the floating layer, but splash of Blue Curacao and Grenadine will move towards the top of the shot glass creating the hemorrhage colorful effect like floating brain.
You need to drink the shot once it's served as the more time you wait the more chunky bits will appear and it will be quite unpleasant to drink.
Let Bailey's and Blue curaçao chill.
Pour peach schnapps into shot glass.
Use a spoon and put Bailey's Irish Cream on top: place the spoon on top of the shot glass and slowly pour the liqueur.
From several inches above the shot glass add the dash of Blue curaçao
Add drops of grenadine grenadine.
Pour some creme de menthe  if you want to add green color too.
You can keep adding Blue curacao or grenadine to create more distinctive look.
Some professional bartenders prefer to add grenadine before Blue curaçao!
---
Why this shot is actually looking like brain tumor?
The "secret" weapon to the Alien brain hemorrhage shot is how Baileys liqueur reacts to Peach schnapps while it is slowly added.
The grenadine is a heavy syrup, and we add it last minute to pull the Baileys down and make it curdle even more. Small splash of grenadine tops are also crucial to create bloody effect.
---
Peach liqueur substitutes
Some people do not like peaches, so you may want to know what are other substitutes to peach liqueur.
First of all, it should be a "transparent" drink with higher density than other ingredients (blue curacao, grenadine and baileys) in order to create effects.
Potential substitute is Vodka.
---
Alien Brain Hemorrhage Cocktail recipe:
If you want to turn an alien brain hemorrhage shot into an alien brain hemorrhage cocktail, you just need to double or triple the ingredients, based on how much you want to mix.
So if you triple the ingredients, it will be:
3 oz. Peach liqueur – Peach Schnapps Irish cream (Absolut, Doc Well's or Peachtree)
1 1/2 oz. White chocolate liqueur (Bailey's Irish cream)
small amount of Blue Curacao
Grenadine syrup, ex. Rose's Grenadine syrup
Adding Blue Curacao and Grenadine as much as you will need to create the hemorrhage effects.
---
Other shots you may like:
the Bloody Brain Shooter, the Brain Hemorrhage, the Brain on Fire, Anita's Original Brain Hemorrhage shot, the Zombie Brain Shots, and the Monkey Brain Shot.
This particular recipe you and your friends will remember as some interesting food and fun party shot for your whole life!