The tender chicken, herbed vinaigrette, crunchy cabbage, sweet apples, and the savory wild rice all come together for a very delicious salad that is a great replacement for your everyday boring lunch fare.  This would be a great addition to a brunch.  Or you can just eat it for several days for lunch as we did.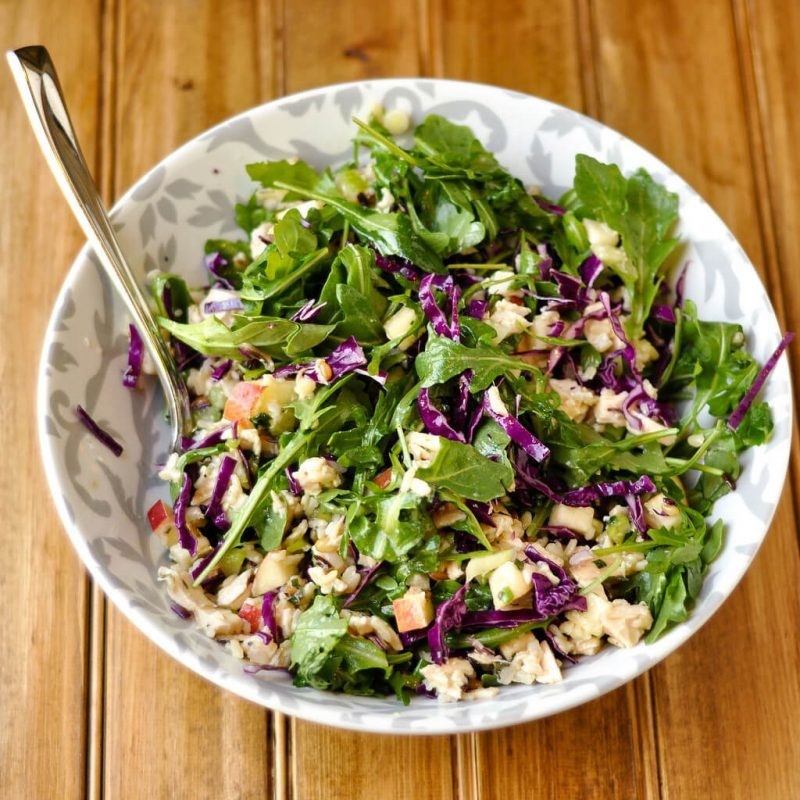 Chicken and Wild Rice Salad with Arugula

½ cup uncooked wild rice, cooked to package directions and cooled
2 cups diced or shredded cooked chicken
3 green onions, thinly sliced
3 stalks celery, diced
1 apple, diced
Kosher salt and freshly ground black pepper
1 cup finely sliced purple cabbage
4 oz. arugula
Herbed Vinaigrette
½ cup olive oil
¼ cup apple cider vinegar
1 tbsp. honey
2 tbsp. fresh herbs, minced, any combination (basil, thyme, oregano, tarragon, parsley, etc.)
Kosher salt and freshly ground black pepper
Place cooked and cooled rice in a large bowl. Add cooked chicken, green onions, celery and apples.
Combine vinaigrette ingredients in a glass measuring cup and whisk to combine. Pour about ½ of the vinaigrette over the chicken and rice mixture and toss to combine. Season with salt, pepper, and additional vinaigrette to taste. Cover and refrigerate for at least 1 hour.
After chilling, serve salad on a bed of sliced cabbage and arugula. Serve with additional vinaigrette if desired.