Beef consommé is a full-bodied, thick broth or even clear soup made from brown beef stock and seasonings well-known from the Middle Ages. It has delicate, distinctive, beef flavorings and texture. Beef consomme can be part of a dish or served individually. In fact, Consommé can be made from almost any animal, including veal, chicken, duck, and fish.
The main reason why you may want to substitute it is the vegan diet. If you don't have time to cook or buy beef consomme, or you simply don't eat meat, here are 20 tested substitutes for beef consomme both for vegan and meat lovers. I will also share the beef consomme recipe in the end of the article.
Jump to the list of substitutes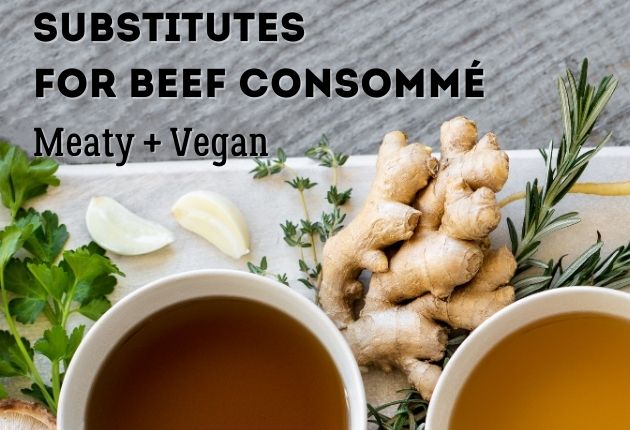 Beef consommé uses:
as it is, a meaty soup
in soups and stews, ex. for onion soup
as flavoring, ex. for Thai or Japanese dish
as ingredient, for French dip sandwiches for example.
Homemade Beef consommé (made from veal stock) tastes better than store-bought, but you want to buy it, choose Campbell's Beef Consomme.
---
What is the difference between Beef consomme and beef broth?
Beef broth is a thin, brownish, and light liquid with mild beef flavor, while beef consomme has thicker consistency, better taste and looks clear. The way they cooked is different: regular broth is made by simmering, and consomme is a purified broth. Very generally speaking, beef consomme is a concentrated beef stock.
Beef broth
Beef consomme
Made by
simmering beef or beef and vegetables on low heat
purifying a rich beef broth or beef, or veal stock
Color
Brownish, cloudy
Clear liquid, grease-free and dark
Consistency
Thin consistency
Thick consistency, concentrated
Taste
Mild
Concentrated, meaty, distinctive
Use
As ingredient for soup, sauces and stews
Server as it is for drinking (due to health benefits)
Served on its own as a starter
As ingredient for stews, soups, French dip sandwiches, etc.
Health benefits
4 servings (1 container) of Campbell's Beef Broth contain Sodium (830 mr) and 2 g of Protein
Good for the joints and digestive system.
2.5 Servings (1 container) of Campbell's Beef Consomme contain Sodium (790mg), Carbohydrate (1g), Sugar (1g), Protein, and tiny amount of Calcium and Potassium + some Vitamins.
---
Best Substitutes for Beef Consomme
The best 3 substitutes that all cooking blog will recommend are beef stock and beef broth, and mushroom consomme. To be honest, there are some more great substitutes! Usual ratio to substitute beef consomme is 1:1.
Here is the list of all substitutes I'll talk about in detail.
Meaty substitutes & alcohol
Beef stock
Beef broth
Beef bouillon cubes
Bouillon granules
Chicken stock / broth
Fish stock
Demi-glace
Au-jus
Bone broth
Campbell's beef consomme
Red wine
Beer
Sauces
Vegetarian alternatives
Mushroom consommé
Water from Shiitake mushroom
Vegetable broth
French Onion Soup
vegan Worcestershire sauce
Soy sauce
---
1 – Beef stock
Beef stock is the first and easy option to replace consomme. Homemade Beef stock is best back-up option but you can always opt for a strore-bought beef bouillon cubes.
Homemade beef stock recipe
2 pounds (1 kg) of beef bones (better meaty)
vegetable of preference (usually, onions, carrots, celery)
bay leaf and parsley, garlic
peppercorns
Directions:
Roast the bones for about 30 – 45 minutes in the oven heated up to 400°F (200°C) until they are brown (turn them during cooking)
Add water to the pot, other vegetables, spices and garlic, and roasted bones. Cover the pot and simmer for 6-8 hours without stirring.
When it is done, pour the stock through the sieve  and let it cool first in the room temperature and then in the fridge.
---
2 – Beef broth
The second easiest alternative to the beef consomme is the simple beef broth. Beef broth is thinner, less meaty than beef consomme and it is cooked faster than beef stock.
You can always turn beef broth into beef consomme by simmering it with egg whites and lean ground meat on a low heat for about 15-30 mins. (it will mimic consomme but it won't be actual consomme).
Any other broth and soups can work as beef broth substitutes.
---
3 – Bouillon Cubes
Easy to buy replacement for beef consomme can be beef bouillon cubes or any other meat or vegetables bouillon cubes. You don't have to cook your own broth, they can last for months and they can be used in a variety of recipes.
Technically it is a stock packed into cubes. Cooking, you dissolve the cube into boiled water.
Substitution ratio: 1 bouillon cube for 1 cup of beef consomme.
---
4 – Bouillon Granules
If you don't like the cubes, try bouillon granules – they have all kinds of flavors: chicken, beef, vegetable. It is an easy way to imitate meat, as granules give meaty flavor immediately.
Beef granules come also in healthier version – without salt, it is called sodium-free.
Substitution ratio: 1 teaspoon for 1 serving.
The most popular brands are Knorr and Maggi, but probably not the healthiest. HerbOx have sodium-free beef granules.
---
5 – Chicken stock or broth
Homemade chicken stock is made more of bones (best with roasted leftover) and chicken broth with chicken meat. They can be both a nice substitute for beef consomme, but of course with completely different meaty flavor.
Chicken stock will have more powerful taste, as it is usually made of chicken, water, some vegetables (garlic, onions, celery, carrots), and herbs (thyme, rosemary, peppercorns, bay leaves).
If you don't want to cook, you can also buy canned low-sodium chicken broth or chicken stock.
---
6 – Fish stock
Fish stock may be the very interesting alternative, as fish flavor can change completely the whole dish taste. You can use fish stock in soups, risotto or paella. Fish stock is much quicker and easier to make at home than beef or chicken stock.
---
7 – Demi-glace
Demi-glace is a French rich brown sauce that can be used as a substitute for beef consomme. It's usually made (simmered) from brown stock and brown sauce (Espagnole sauce). It is not au-jus and not a gravy. The classic demi-glace is made of veal, but you can also find beef, chicken and even vegan demi-glace.
You can use demi-glace with soups, stews or you can always add it when making a recipe with meat.
To make a homemade demi-glace you need time and patience.
---
8 – Au Jus
Another French alternative to the beef consommes is the au-jus. Simply put, the au-jus is the liquid out the meat dish. Au-jus makes the meat softer, juicy and rich in flavor.
Au jus sauce is made basically of beef broth, often with the addition of onion, garlic, soy, and other complementary flavors. It is very rich in salt, so if you're trying to cut it, make a homemade au jus with less salt.
You can use au jus as a substitute for meat an soups recipes, for dip dish and many others.
---
9 – Bone broth
Bone broth is a simple and cheap, but time consuming replacement for a beef consomme. To make a good bone broth you have to simmer bone for almost a day until bone tissue will infuse water with flavor and nutrients.
You can use beef, pork or poultry bones to make a liquid broth. Comparing to beef consomme, bone broth will be thinner and less rich in taste, but it is extremely healthy.
As substitute you can use it in soups, sauces, stews, gravies, etc.
---
10 – Wine or Beer
If you need to substitute beef consomme as part of cooking process you can use red wine or beer. They are usually used in stews, chilli or gravy.
Substitution ratio: 1/2 wine or beer + 1/2 water to replace 1 part of beef consomme.
Alcohol needs to be proceeded very well, make sure you watch the heat and cook enough time.
---
11 – Soy Sauce, Steak sauce, Worcestershire Sauce
Soy sauce, steak sauce or Worcestershire Sauce (80% less salt than Soy sauce) can be a great alternative for beef consomme, as they all have rich, distinctive taste. You can add peppercorns, garlic, bay leaves, parsley, or other seasonings to make it taste even better.
Substitution ratio: 1 tablespoon to imitate the taste, or 1 cup of soy sauce + water to 1 cup of beef consomme.
---
12 – Campbell's beef consomme
Campbell's offer a variety of beef soups with different flavors. It is always better to have your homemade beef consomme, but if you're out of time, try Campbell's beef consomme. It has rich taste, easy to cook, as you only need to add water, and it is made from beef stock.
To add some extra flavor, they put in it soy sauce, carrots, some flavoring, celery, onions, and some other.
---
Vegetarian substitutes for beef consomme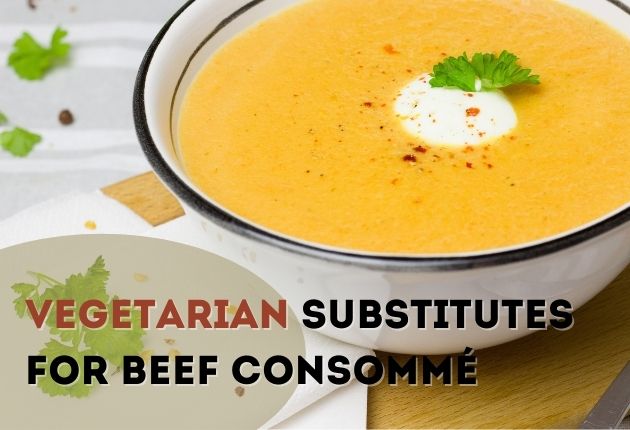 13 – Vegetable broth
Vegetable broth is the most common, easy to cook and optimal vegetarian option to substitute for beef consomme. Cook vegetables with herbs and spices and use it as substitute in soups, stews or as it is.
Substitution ratio: 1 to 1 ratio, or you are not vegetarian, you can also do 1/2 meat broth and 1/2 vegetable broth to 1 part of beef consomme.
---
14 – Mushroom consomme
If you are vegetarian and want to imitate meat in dishes, try mushroom consommé, as mushrooms mimic the umami offered by meat. It is the best vegan substitute from my point of view.
There are 2 main recipes for mushroom consommé – one with fresh white or porcini mushrooms and another one with shiitake, chestnut and Swiss brown mushrooms. You can combine mushrooms to get interesting flavor, but be ready to invest some time in cooking.
Mushroom consommé just like beef consommé is a dish itself, refreshing and very tasty.
---
15 – Shiitake mushroom broth
If you need beef consommé or beef broth as part of the dish, ex. for Stroganoff, you can imitate the taste of the meat with shiitake mushrooms.
Put dried shiitake in water, once it rehydrated, remove the mushrooms and use the water. It won't be as rich in taste and thick.
---
16 – Vegan Bouillon Cubes
We all know that easy way to make a bouillon is just to use cubes, but normally they are all non-vegan. Today, you can also buy vegetable bouillon cubes (Knorr, Maggi, Edward & Sons Garden Veggie Bouillon Cubes), they are also gluten-free and healthy. The taste will remind a good thick vegetable broth.
This can be a great option to substitute beef consomme and use it in a variety of dishes, especially soups.
---
17 – Liquid Aminos
Liquid Aminos is a popular soy seasoning, gluten-free, vegan and with no additives. Liquid Aminos can be a great substitute for beef consomme by itself or diluted with water.
Liquid Aminos is brown, salty and savory. They are made of fermented coconut sap, salt, and water or soybeans mixed with an acidic solution. It is also contain less sodium and more protein.
---
18 – Browning sauce
The browning sauce is a seasoning. For ex., Kitchen Bouquet browing sauce is made of vegetables, herbs and spices. Browning sauce is usually rich in flavor, has caramel or brown color, and can be a good vegetarian replacement for beef consomme. 
Good for soups or stews.
Substitution ratio: 1 cup of water and 1 tablespoon of browning sauce to 1 part of beef consomme.
---
19 – Vegetarian demi-glace
Vegetarian demi-glace is quite far from original recipe, but it has umami, thick consistency and you can vary the vegetables, once you nail the recipe.
Vegetarian demi-glace contains mushrooms, that's why it gets umami, you can skip them and do it only with vegetables. Cooking will take time (2-2,5 hrs).
20 – French Onion Soup
French onion soup is a savory substitute to the beef consomme with unique flavor. You can serve it as it is, and make some sides like noodles, sandwiches, salads, paninis, etc. French onion soup and beef consomme are interchangeable.
---
HOW TO MAKE beef consomme substitute TASTES BETTER
Add spices: peppercorns, coriander, cloves, etc.
Add aromatic vegetables: carrots, ginger, garlic, and celery root.
Add herbs: parsley, thyme, bay leaves, sage, lemongrass, rosemary, etc.
Add some parmesan or camembert cheese rind for a rich flavor.
Simmer the broth with lemon or lime peels.
Add in some miso paste.
Try fish sauce or hot chili sauce.
Add a pinch of smoked salt.
Incorporate a teaspoon of vinegar if you want a sour broth.
---
Homemade Beef Consomme Recipe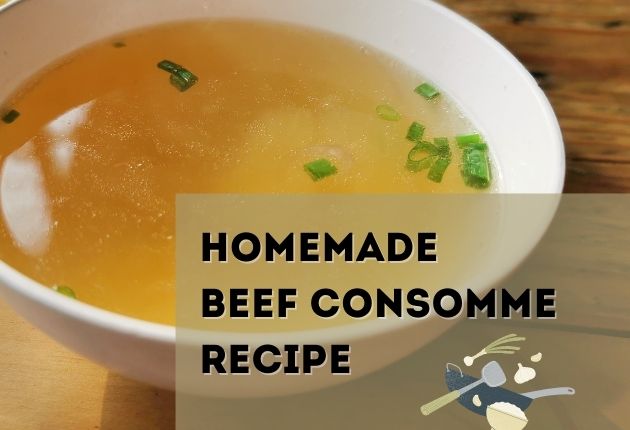 Ingredients
6 cups of beef stock ground beef (sirloin, or shank or shoulder )
4 egg whites, optional – eggshells
4 celery stalks
1 teaspoon salt
1-2 teaspoon of black pepper
1 sprig thyme
1 sprig rosemary
4 small tomatoes
6 cups cold veal stock, or beef stock (veal is better)
You'll also need:
Instructions
Whisk the egg whites in a large bowl with pepper and eggshells (if you want them) until they get a foamy texture.
Blend celery, tomatoes, and ground beef until it is all incorporated. 
In a large pot put egg mixture, veal stock, vegetable-meat mix and cook on high heat, stirring, until it starts boiling.
Reduce the heat and simmer for an additional 30-40 minutes. All the solids will start to form the raft on the top – remove a piece of it, to let all impurities rise to the top and sit on the raft. This is why consomme is so clear if it is done properly.
Take off the pot from the heat and strain the liquid through a fine-mesh sieve with a double layer of cheesecloth. Discard the solids.
Season it and serve hot or cool it down to use later. 
Here is also a Youtube video on How to make Beef consomme:
---