Oreo Truffle Brownies are decadent, fudgy, sweet, and full of chocolate.  They will immediately cure anyone's sweet tooth.  Oreo Truffle Brownies would be perfect for Christmas treats to give to neighbors or friends (once they firm up in the fridge, they are pretty sturdy and easy for packing).
Delicious brownies, Oreo truffle mixture, ganache, more Oreo crumbs – what else do you need?! 😉 I first published that recipe in 2012, and I still love it!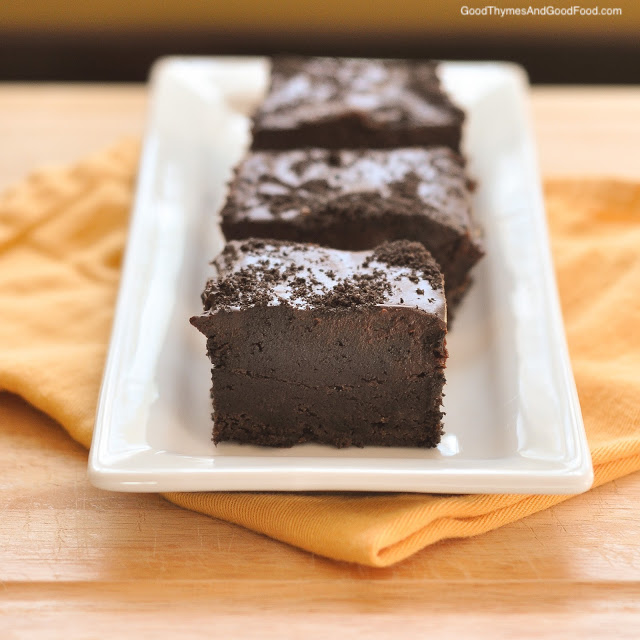 Oreo Truffle Brownies Ingredients
All ingredients should be at room temperature.
1 cup unsalted butter
2 cups granulated sugar
4 large eggs
1 tsp. vanilla extract
½ cup cocoa powder
1 ⅓ cups all-purpose flour
½ tsp. salt
30 Oreo cookies
6 oz. cream cheese
1 cup heavy cream
10 oz. chocolate, semi-sweet or dark chocolate (chips or chopped)
Directions
For brownies:
Preheat oven to 350° F and line a baking pan (I use a 9×13-inch one) with foil. Spray with cooking spray and set aside.
In the bowl mix cream, butter, and sugar for about 2 minutes.
Mix in eggs, scraping down the sides of the bowl.
Beat in vanilla, cocoa, salt, and flour until combined, no longer! Do not over-mix the batter.
Pour the batter into the baking pan and bake for 20-25 minutes, until the tester or a toothpick comes out with just a few crumbs attached.
Remove from the oven to a wire rack and let the brownies cool completely.
For Oreo truffle:
Blend Oreo cookies into fine crumbs in the food processor. Set ¼ aside for topping.
Mix in cream cheese until combined.
For ganache:
Heat the cream in a microwave-safe bowl until very warm for 1 minute at a time.
Mix chocolate with the cream until the mixture is completely melted and smooth.
To assemble:
Spread the Oreo truffle layer over cool brownies.
Pour ganache over the Oreo truffle layer and spread.
Let it set in the fridge.