Technically these Giant Double Chocolate Cookies are a re-post of these cookies…sort of.  When I made them the first time, I added third chocolate and didn't make them a giant size.  They were very delicious but when I wanted a chocolate cookie after a few unsuccessful situations in the kitchen, I tried the Double chocolate cookies.
These are a whopping 4 ounces each, absolutely full of chocolatey goodness, and will cure any sweet tooth that you might have. You may even want to share a cookie over the course of the day – they are honestly that big and rich.  Of course, the right way to wat them – with a glass of milk 😉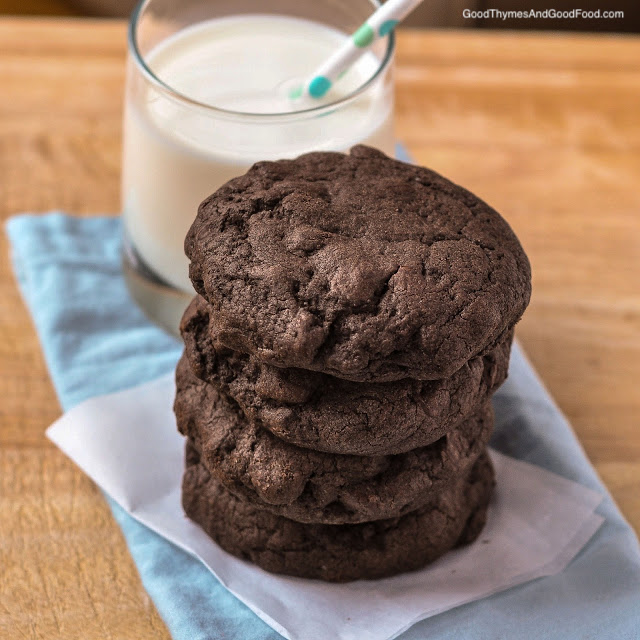 Giant Double Chocolate Cookies Ingredients
1 cup (2 sticks) cold, unsalted butter, cubed
1¼ cup granulated sugar
2 large eggs
½ cup dark cocoa powder
2¼ cups all-purpose flour
¼ tsp. coarse salt
1 tsp. baking powder
1 ¼ cups semi-sweet chocolate chips
1 ¼ cups bittersweet chocolate chips
Directions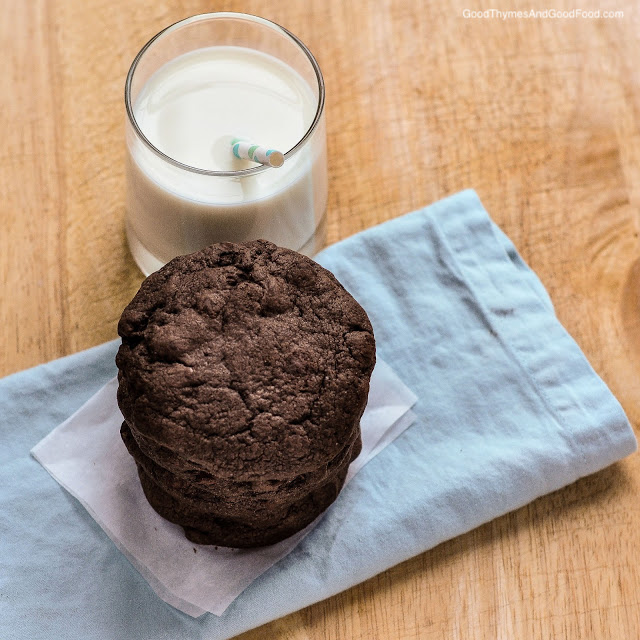 Preheat the oven to 350˚ F and line 2 baking sheets with parchment paper; set aside.
In the bowl of an electric mixer, combine the butter and sugar together on medium-high speed until light and fluffy, 2-3 minutes. Add in the eggs one at a time, scraping down the bowl after each addition.
Beat in the cocoa powder until combined. Add the flour, salt, and baking powder to the bowl and mix at low speed just until incorporated. Beat in chocolate chips.
Divide the dough into 4-ounce portions (or into 12 equal pieces). Roll each portion of dough into a ball* and then flatten just slightly into a disc.
Place 6 dough balls onto a prepared baking sheet, spacing a few inches apart. Bake for 16-20 minutes, until mostly set.
Allow to cool on the baking sheets for 5-10 minutes, then transfer to a wire rack to cool completely. Store in an airtight container.
*If freezing, place baking sheet with shaped dough balls into the freezer until mostly frozen, at least 1 hour. Place dough balls into a freezer safe container for storage. When ready to bake, allow dough balls to thaw enough so that they can be slightly flattened into discs. Bake as directed.
---