We've gotten into a really great habit of having a group of friends over every few weeks to hang out, barbecue, talk, and of course, eat lots of food and sides. Our fav becomes Individual 7 Layer Dip.  Everyone is really great about bringing something to share and we always have plenty to go around.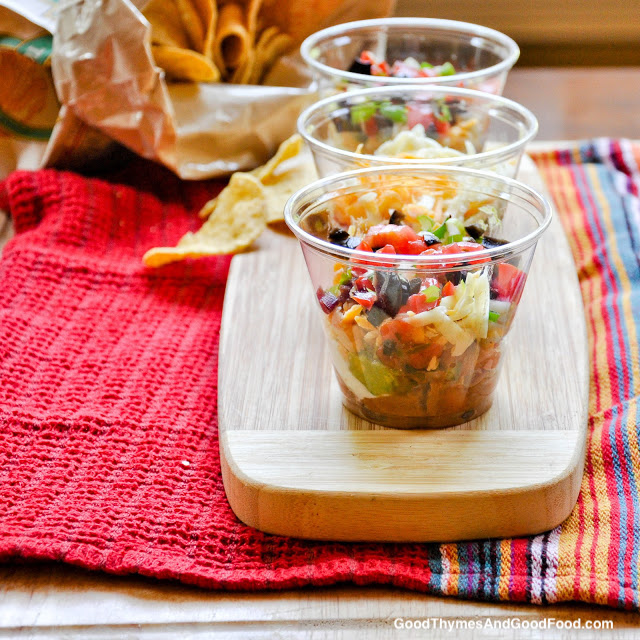 I didn't want to get into a rut of always making the same thing, so as I was thinking about what to make for the most recent get-together, I remembered that I'd love to make an Individual 7 Layer Dip!  Who doesn't love something individual?!
While these do require several steps, they are worth the little bit of effort that they take.  You can either make everything from scratch or buy pretty much everything pre-made.  I made my own guacamole, used homemade taco seasoning, and mixed store-bought refried beans with a can of pinto beans. I did, however, buy pico de gallo, even though it's so easy to make.  I also mixed sour cream with Greek yogurt for that layer.  It's up to you and will also depend on how much time you have available to prep everything.
Once you have everything ready to go, they do come together pretty quickly.  I think they benefit from a little time in the fridge, so if you can swing it, let them sit and meld their flavors before serving.
---
Individual 7 Layer Dip Ingredients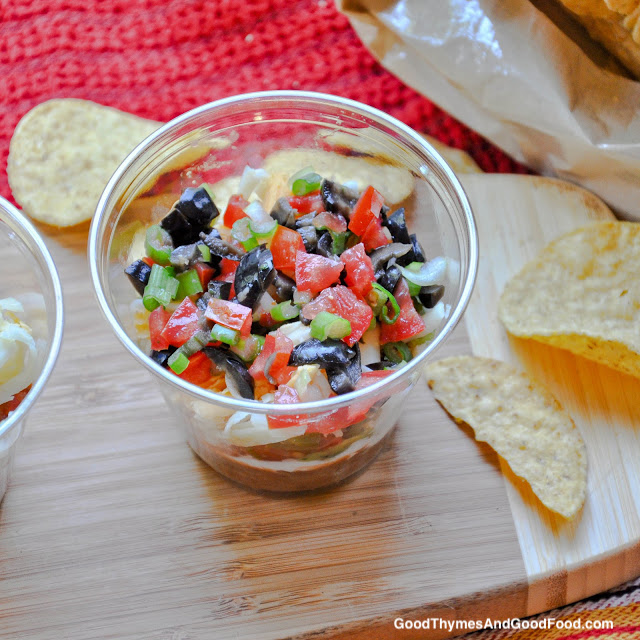 makes about ~16 servings
*Note: All measurements are approximate. You can adjust it depending on how thick or thin you want your layers.
1 (16 oz.) can refried beans
1 (15 oz.) can pinto beans, drained and rinsed
1 tbsp. homemade taco seasoning
2-3 cups guacamole, homemade or store-bought
1 cup sour cream
½ cup Greek yogurt
2 cups chunky salsa, well-drained (or pico de gallo)
1 cup shredded cheddar cheese
1 cup shredded pepper jack cheese
4 Roma tomatoes, seeded and diced
3 green onions, thinly sliced
½ sliced black olives
9-ounce plastic tumblers
tortilla chips
Directions
In a small bowl mix refried beans, taco seasoning, and pinto beans. Mash the whole pinto beans into the refried beans with a potato masher until they are mostly smooth.
Combine the sour cream with the Greek yogurt. Drain pico de gallo so that it is not too wet. Combine cheddar and pepper jack cheese.
In each plastic cup, layer about 2 tablespoons of each: beans first, then sour cream, guacamole, salsa or pico de gallo, and cheese.
If you are not serving right away, put cups in the fridge until ready to serve. Serve topped with tomatoes, olives, green onions.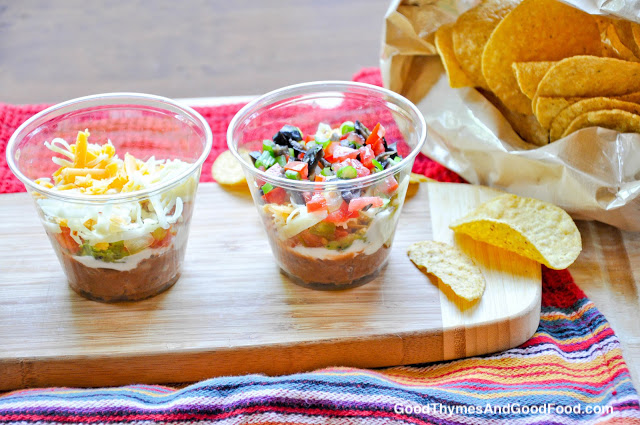 Layer 1: beans and taco seasoning
Layer 2: sour cream
Layer 3: guacamole
Layer 4: salsa or pico de gallo
Layer 5: cheese
Layer 6: tomatoes
Layer 7: green onions and olives
Just before serving, top each cup of dip with about 1-2 teaspoons of tomatoes, olives, and green onion. Garnish with one tortilla chip.