We really don't eat pizza all that often.  I think about it a lot but it just doesn't actually happen too much.  I was trying to figure out why that is and I think it's because I don't plan ahead enough to make the dough in time.  Pizza always seems to be one of those things that never actually make our weekly menu but when I decide I want Chicken Parmesan Pizza, it's at 4:00 pm which doesn't really give me enough time to make pizza dough.
UPD: This is my original recipe from 2013!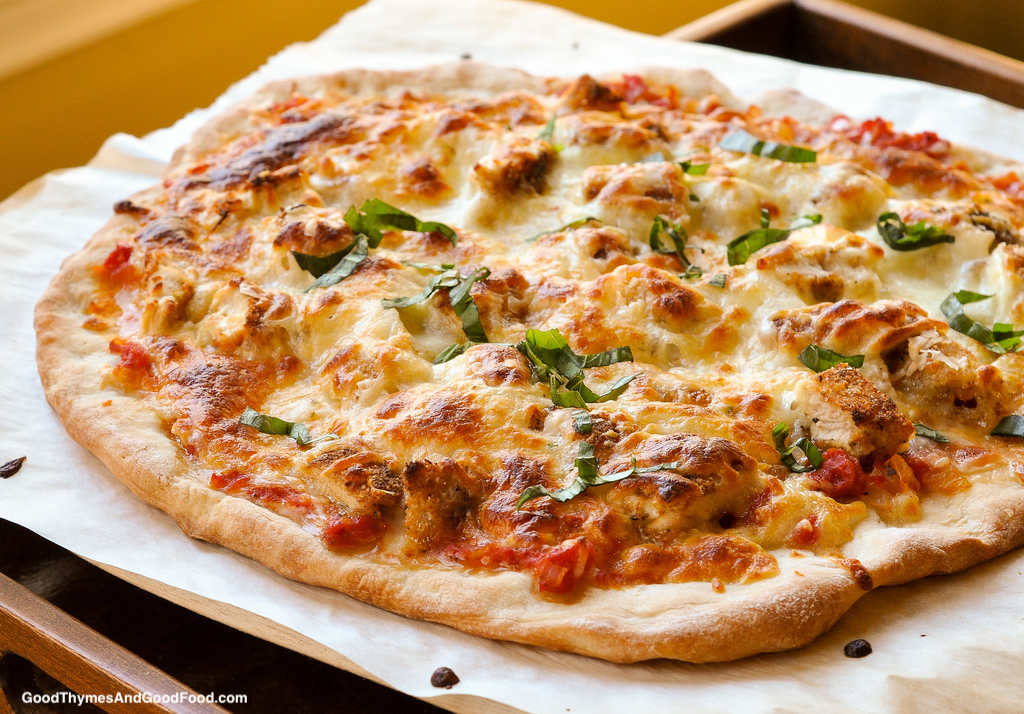 However, I did recently make calzones and had a ball of dough in the freezer.  I actually remembered to put the frozen dough in the fridge the night before so that it could thaw.  (It needs to sit at room temperature for several hours before making the pizza – I would say anywhere from 3-5 hours depending on the temperature of your kitchen.)
Chicken Parmesan Pizza was born out of necessity.  We had very little food to choose from as we are still trying to find a balance of schedules.  I did have mozzarella, pizza dough, marinara, and chicken, though.  And there you have it – chicken Parmesan pizza!
---
Chicken Parmesan Pizza Ingredients
1 tbsp. olive oil
1 tbsp. unsalted butter
1 large boneless, skinless chicken breast, butterflied
Kosher salt and freshly ground black pepper
1 egg, beaten with ½ tsp. water
½ cup bread crumbs
1 tsp. dried basil
1 tsp. garlic powder
2 tbsp. grated Parmesan cheese, plus more for topping pizza
1 ball pizza dough
 ~½ cup marinara or pizza sauce
~2 cups shredded mozzarella cheese
Fresh basil, for garnish
Directions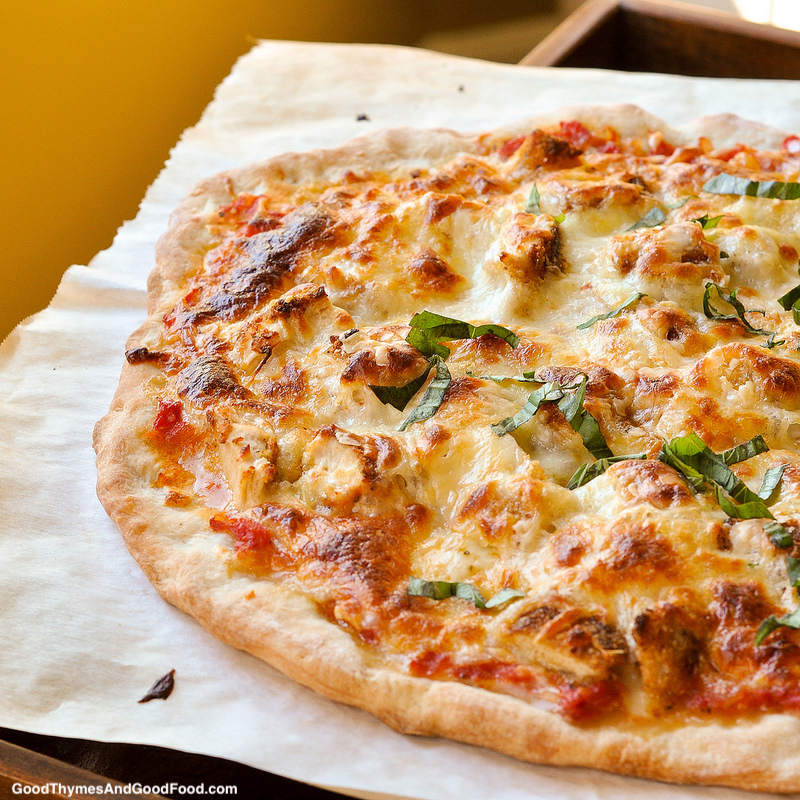 Preheat oven to 450° F. Place pizza stone in the oven and allow to heat for 30 minutes.
Heat a medium skillet over medium-high heat and add oil and butter. Season chicken with salt and pepper. Combine bread crumbs with dried basil, garlic powder, and Parmesan cheese.
Dip chicken into egg mixture and coat thoroughly. Dredge in bread crumbs, being sure that chicken is well coated. Place chicken in a hot pan and cook for 4-6 minutes per side, until fully cooked. Remove from pan and pat with paper towels to absorb oil. Let cool for 3-4 minutes and then cut into slices or chunks.
Set a large piece of parchment paper on a pizza peel or overturned baking sheet and form dough into a large circle. Bake untopped pizza for about 5 minutes. Remove dough from oven and carefully spread marinara or pizza sauce over dough, then top with chicken. Add mozzarella and additional Parmesan cheese. Return pizza to the oven and bake for another 10-15 minutes, until dough is crispy and cheese is beginning to brown.