Cheez-Its have been a longtime favorite snack of mine. They're easy to grab, salty, and crunchy – 3 of my favorite things about a snack.  As usual, though, I decided to try my hand at making them myself.  And wouldn't you know it? Homemade Cheese Crackers taste about a million times better than the boxed version!!  Shocking, I know.
I've made a couple of different recipes for cheese crackers and this one is my favorite.  It comes together super quickly in the food processor, chills in the fridge, rolls out easily, cuts nicely, and bakes up perfectly every time.  Jack could not get enough of these and James definitely had his fair share, too.  They are just as addictive as their store-bought counterpart but made with ingredients that you most likely already have on hand!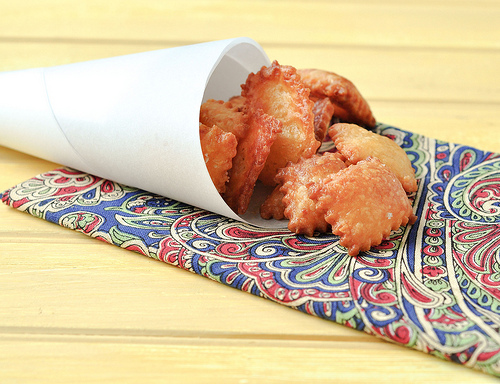 Homemade Cheese Crackers Ingredients
6 oz. (1½ cups grated) good-quality sharp cheddar cheese
4 tbsp. unsalted butter, cold and cut into small cubes
¾ cup all-purpose flour
¼ tsp. kosher salt, plus more for sprinkling
Directions
1. In the bowl of a food processor, combine all of the ingredients. Turn the food processor on and allow to run for 1-2 minutes, until a cohesive ball of dough has formed.
2. Remove dough from food processor bowl and break into two pieces. Form each piece into a disc and wrap each of them in plastic wrap. Place wrapped discs into the refrigerator and chill for at least 30 minutes.
3. While the dough is chilling, preheat oven to 350° F.
4. Once the dough has chilled, remove one disc from the plastic wrap and place it between two pieces of parchment paper. Roll the dough into a rough rectangle, about ⅛-inch thick. (If dough is too firm to roll, let stand for about 5 minutes to soften just slightly.)
5. Using a pastry wheel, pizza cutter, or sharp knife, cut the dough into a grid of 1-inch squares. Use a toothpick to poke a hole into the center of each square. Carefully transfer to a baking sheet and place into the refrigerator to chill for 10 additional minutes.
6. Once chilled, sprinkle with additional coarse salt, if desired. Space crackers about ½ inch apart on the parchment lined baking sheet. Bake for 11-14 minutes, until crackers are beginning to turn golden brown. (Watch carefully after the 11 minute mark.) Set baking sheet on a wire rack to cool completely. Continue with second disc of dough. Store crackers in an airtight container.