Giada White Bean Dip is a perfect dip for a friends' evening. Easy and quick to make, savory, delicious – what else you need when you're having a great time chatting with friends? All dip ingredients are usually on hand, too. I made it the night before and it was delicious the next day.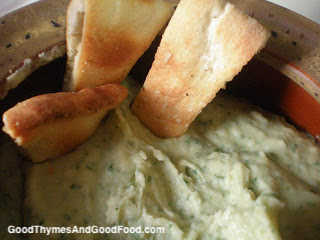 Save this recipe of Giada White Bean Dip as it happens very often that someone who tried it, wants to make it at home too.
Giada's White Bean Dip Ingredients
1 (15 oz) can cannellini beans (drain and rinse them)
2 cloves garlic
2 tablespoons fresh lemon juice
1/3 cup olive oil, plus 4 tablespoons
1/4 cup (loosely packed) fresh Italian parsley leaves
Salt
Freshly ground black pepper
6 pitas
1 teaspoon dried oregano
Directions
1. Preheat the oven to 400 degrees F.
2. In the food processor bowl add cannellini beans, garlic, lemon juice, 1/3 cup olive oil, and parsley.
3. Pulse until the mixture is coarsely chopped.
4. Season with salt and pepper, to taste.
5. Transfer the mixture to a small bowl.
6. Cut each pita into 8 -16 wedges (depending on what size you want).
7. Arrange the pita wedges on a large baking sheet.
8. Pour the remaining oil over the pitas.
9. Toss and spread out the wedges evenly.
10. Sprinkle with oregano, salt, and pepper.
11. Bake for 8 to 12 minutes, or until toasted and golden in color.
12. Serve the pita toasts warm or at room temperature alongside the bean puree.