It's no secret that I love baked oatmeal.  It's one of my favorite ways to enjoy breakfast (and I always enjoy breakfast).  With all of the fresh fruit that is available in the summer, our fridge is practically overflowing with berries and other sweet fruits.
In an effort to make sure that it was all used and none went to waste, I searched for a way to incorporate it into breakfast.
I didn't have to search far because there was a great recipe just waiting for me to try!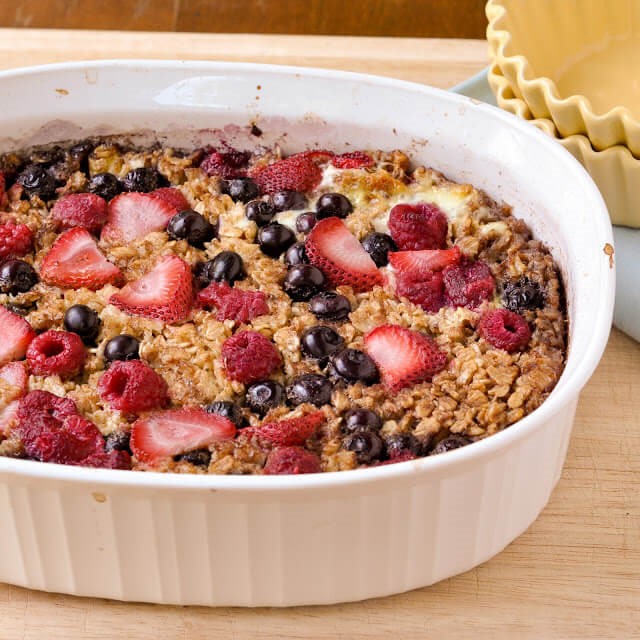 I immediately doubled the recipe, having a hunch that we would love it, and I wasn't wrong.  Not only did we eat this for breakfast but I also ate it for dessert!
This is definitely something that I like to make ahead of time and then reheat when we want it.  It takes only a few minutes to assemble but it needs to bake for about 40 minutes and we really aren't that patient when it comes to mornings.  😉
You can use any combination of fruit that you have around.  I've used blueberries, blackberries, raspberries, strawberries, pineapple, peaches, and bananas.  Mix it up and use what you  have around or what you love!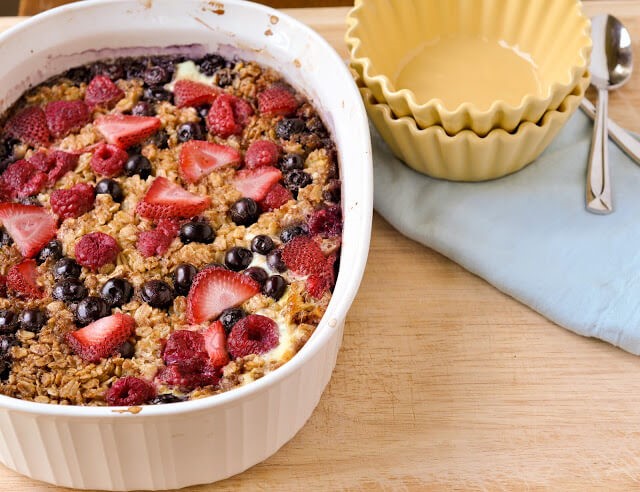 Baked Oatmeal

2 cups old-fashioned rolled oats
1 tsp. baking powder
1 ½ tsp. ground cinnamon
¼ tsp. salt
¼ cup maple syrup
¼ cup honey*
2 cups milk
2 large eggs, lightly beaten
4 tbsp. unsalted butter, melted and cooled slightly
2 tsp. vanilla extract
1 ripe banana, peeled and thinly sliced
2-3 cup fresh fruit (blueberries, strawberries, raspberries, diced peaches, etc.)
*You can use a combination of honey and maple syrup or ½ cup total syrup. I haven't tried this with all honey.
Preheat the oven to 375˚ F and lightly grease a 2-quart baking dish; set aside.
In a medium bowl, stir together the oats, baking powder, cinnamon, and salt; set aside.
In a liquid measuring cup, whisk together the maple syrup, honey, milk, egg, butter, and vanilla.
Cover the bottom of the baking dish with the sliced banana and then top with half of the berries. Pour the oat mixture over the fruit evenly and then add the liquid ingredients on top of the oats. Sprinkle the remaining berries over the top.
Bake for 35-40 minutes, until the top is browned and the oats are mostly set. Let stand for10 minutes before serving.