When I saw these pudding pops floating around the Interwebs they just looked way too amazing for me to pass up an opportunity to make them.  Frozen pudding on a stick?  Yes please.
These were not the easiest and quickest dessert I've ever made but there isn't anything particularly hard about them.  Make the pudding, pour the pudding, semi-freeze them, add a popsicle or lollipop stick, fully freeze, and enjoy!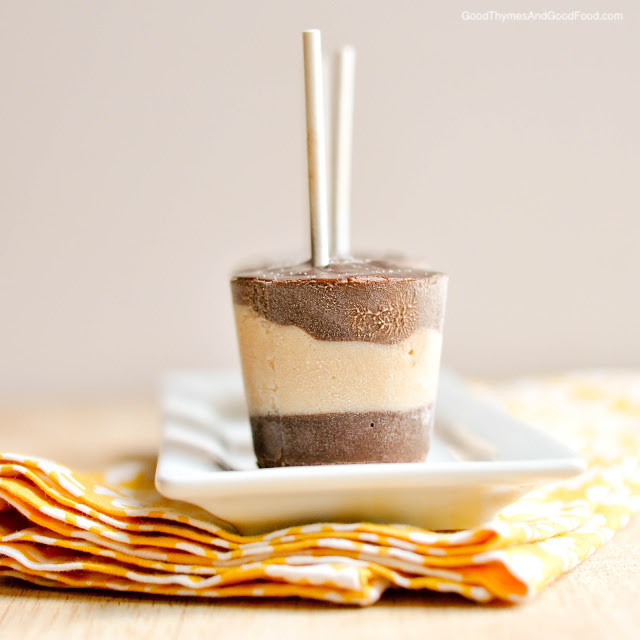 I had a lot of fun with these and we enjoyed several while sitting out on our porch, sharing with Jack.  As usual, the chocolate and salted caramel pair so well together but any combination of pudding flavors would work and would be just as delicious, I'm sure!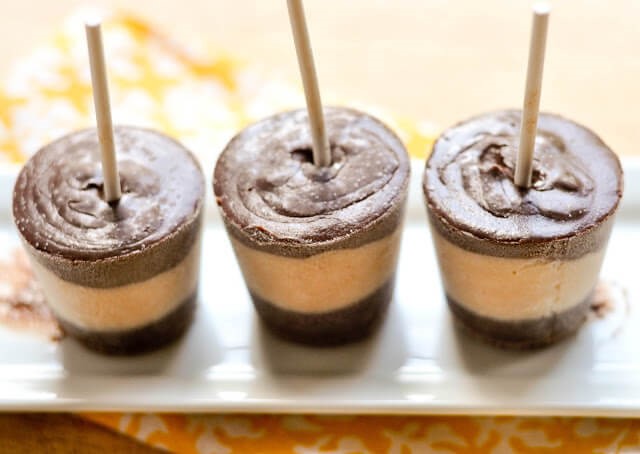 Chocolate & Salted Caramel Pudding Pops

Makes ~1 dozen pudding pops
For the salted caramel sauce: 
½ cup granulated sugar
2 tbsp. water
2 tbsp. unsalted butter
6 tbsp. heavy cream
½ tsp. sea salt
1 tbsp. vanilla
Add sugar and water to a saucepan over medium-low heat. Stir until sugar has dissolved. Use a wet pastry brush to remove any crystals that form on the sides of the pan.
Once sugar has dissolved, increase heat to high. Do not stir.
The mixture will begin to bubble after about a minute. When the mixture darkens to a medium amber color, approximately 5-7 minutes, remove from heat and add the butter and cream to saucepan. The mixture will bubble vigorously. Whisk to combine (bubbles will subside upon cooling). Add salt and vanilla and stir. Set aside.
For the pudding base:
⅔ cup cornstarch
1 cup granulated sugar
Pinch of salt
6 cups cold whole milk
For the chocolate pudding:
¾ cups dark chocolate, chopped
1 tbsp. vanilla extract
In a blender or food processor, combine the cornstarch, sugar, salt, and whole milk and pulse until well mixed.
Transfer mixture to a large saucepan and place over medium heat. Whisk to remove any lumps. Bring to a slow boil and then continue to whisk and cook for 1 minute more. Pudding is ready when mixture coats the back of the spoon.
Divide pudding evenly between two medium bowls. Add chopped chocolate and vanilla to one bowl and stir to combine. Set aside. Add ½ cup salted caramel sauce to remaining half of pudding base and stir to combine.
To assemble:
about 12 Dixie cups or other small paper cups
Popsicle or lollipop sticks
On a large baking sheet, set out paper cups in rows. Place cooled pudding into piping bags, zipper top bags, or a bowl with a spout. Layer chocolate and salted caramel pudding into cups**, beginning and ending with chocolate pudding. (You will have caramel pudding leftover. I'm sure you can find a use for it.)
Place cups in the freezer for one hour until the pudding becomes semi-firm, then place a popsicle stick in the middle and continue to freeze for at least another 2 hours.
When ready to eat, peel the paper cup away from the pudding pop and enjoy!
**You could also use a plastic popsicle mold for these.