Yum, yum, yum! I had a tub of sour cream that I needed to use and what to do with it? Coffee cake! This is not something I'd made before, but it turned out so well that I will have to keep this in my arsenal. 🙂 It's easy and pretty. Oh, and tasty!
Trish Yearwood's Sour Cream Coffee Cake Ingredients

Serves 12
Streusel Mixture
Glaze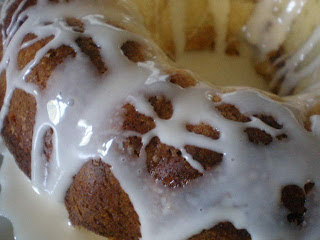 Preheat the oven to 350 degrees. Grease and flour a 10-inch tube or bundt pan.
Use an electric mixer to cream the butter and granulated sugar together until fluffy.
Add the eggs one at a time, beating well after each addition
Sift together the flour, baking powder, and salt.
Add the flour to the butter mixture in thirds, alternating each addition of flour with the addition of half the sour cream. Stir in the vanilla.
In a separate bowl, combine the brown sugar, cinnamon, and pecans.
Pour 1/3 of the batter into the prepared pan. Sprinkle with half the streusel
Scrape the remaining batter into the pan and smooth the top.
Bake for 1 hour, or until a toothpick inserted in the center comes out clean. (This sucker took forever to bake! Something like 1 1/2 hours! I don't know what happened.)
Allow the cake to cool in the pan for 10 minutes.
Remove the cake from the pan and cool on a wire rack.
When the cake is completely cooled, stir the glaze ingredients together in a small bowl until smooth.
Drizzle over the cooled cake.