I don't know if you will believe this craziness, but until recently, I wasn't a fan of Mexican food. Or at least I didn't think that I was before I tried Shredded Beef Chimichangas. Perhaps I was mistaken. I just never craved, it didn't sound good.
Maybe that's because the only Mexican food I ever really had was tacos. I don't think that counts. 😉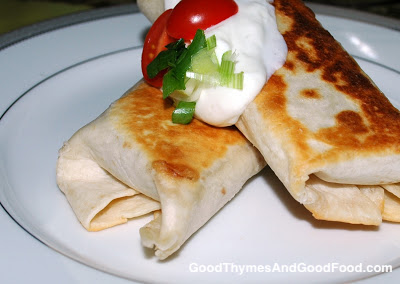 Well, that has all changed, thankfully. I have discovered many, many Mexican inspired dishes that I love. These Chimichangas are right up there, too.
The beef is delicious and cooking it in a slow cooker means that it's super easy, as well. It has great flavor and shredded so nicely. The lightly fried shell provides the perfect crunch to the soft interior of these Chimichangas. Definitely a huge hit around here!! AND they make for wonderful leftovers.
Definitely remember to give yourself the 6-8 hours to cook the beef, though. It's worth it.
Ingredients
4-6 tbsp. olive oil, divided
2 lb. boneless chuck roast, trimmed of excess fat
1 tsp. chili powder
1/2 tsp. cumin
1/2 tsp. paprika
1 cup beef stock
1 tbsp. tomato paste
2 chipotle peppers in adobo sauce, minced
1/2 large onion, diced
5 cloves garlic, minced or pressed
flour tortillas
Monterrey Jack or sharp cheddar cheese, shredded
toppings – salsa, sour cream, lettuce, tomatoes, guacamole…
Directions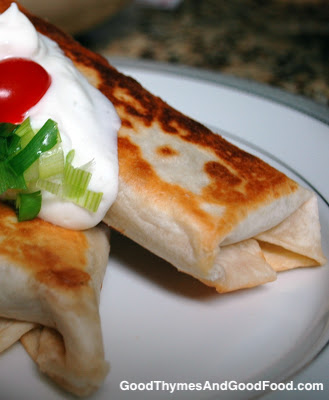 For the beef:
Combine the spices in a small bowl, mix together. Rub spices into the beef evenly.
Heat a large skillet over medium-high heat with 2 tbsp. olive oil. Sear the meat on all sides until well browned. Remove meat to slow cooker.
Place skillet back on the heat and deglaze with the beef stock, scraping the brown bits from the pan. Whisk in the tomato paste and chipotle peppers. Bring to a boil and reduce heat. Simmer for 4-6 minutes, until slightly thickened.
Meanwhile, add onion and garlic to the slow cooker.
Once the sauce is thickened, pour over top of meat in the slow cooker and cover. Cook on low for 6-8 hours.
Once the meat is fork-tender, remove it from the slow cooker and shred with two forks. Add sauce to meat as needed for moisture.
For the Chimichangas:
Heat 3-4 tbsp. olive oil in a large skillet over medium-high heat, until shimmering but not smoking.
2. While waiting for the pan to heat, warm tortillas in the microwave for 10-20 seconds until they are soft and easy to work with.
Lay a few tablespoons of the meat across the center of the tortilla and add cheese.
Roll up, tucking in the ends.
Once the pan is hot, place Chimichangas into the pan, 2-3 at a time, and cook to golden. Start with the seam side down.
Place on a paper towel-lined plate before serving.