Who doesn't love Rice Krispie Treats?  I mean, really? They are sweet, gooey, and crispy and they bring you right back to childhood.  Guilty pleasure all the way, and Pink Rice Krispie Treats Recipe, especially for Valentine's Day!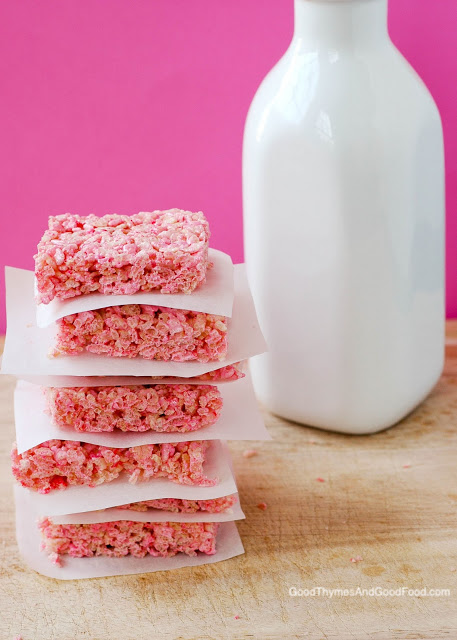 These basically came about because I have marshmallow fluff staring at me and Rice Krispie's leftover from the granola bars. With Valentine's Day right around the corner, I thought that a pink version would be highly appropriate.  🙂
Brown Butter Rice Krispie Treats Ingredients
¼ cup unsalted butter
7 ½ oz. marshmallow fluff
pink gel food coloring (you can also add any different color if it is not for Valentine's)
5 cups crispy rice cereal
Directions
Butter a 13x9x2-inch pan and set it aside. Melt butter in a large saucepan over low heat until it melts. Continue cooking until butter begins to brown. Watch carefully and stir often.
Add marshmallow fluff and cook over low heat for about 5 minutes, stirring constantly. Remove from heat and stir in a few drops of gel food coloring, until the desired tone is reached.
Add crispy rice cereal to a very large bowl and then add in marshmallow mixture. Stir until well coated.
Using a buttered spatula or waxed paper, press the mixture evenly into the buttered pan. Cut into squares when cool. Store in an airtight container.