These Old fashioned soft and buttery yeast rolls were by far one of the best parts of our Thanksgiving dinner.  I know, I know…bread?  But yes, bread!!  Everyone really loved these rolls: slightly crisp shell, soft and fluffy bread with the perfect sweet and salty flavor.
They truly were perfect and I know we'll be having these again and again.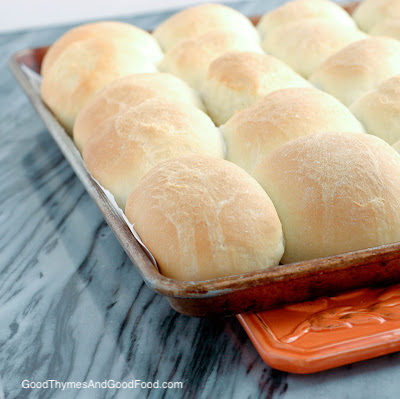 Old fashioned soft and buttery yeast rolls Ingredients
5 cups unbleached bread flour
1½ tsp. salt
3 tbsp. granulated sugar
2 tsp. instant yeast
1 egg, lightly beaten
¼ cup unsalted butter, cut into pieces
1½ cups warm water, about 115-120°F
Optional:
1 1/2 cup milk
1 egg, lightly whisked with a small amount of water for egg wash OR 2 tbsp. unsalted butter, melted
Directions
In the bowl mix flour, salt, sugar, and yeast. You can use electric mixer with a dough hook.
In a large measuring cup, combine the hot water with the butter pieces and stir until melted.
In a small bowl, lightly whisk the egg and add it to the butter mixture.
Mix the wet and dry ingredients to make a dough. Knead on medium speed until smooth and elastic, about 10 minutes. A good dough barely sticks to the bowl. If your dough is too sticky, add 1-2 tablespoons of flour at a time and mix well. If it's too dry, add more water.
Transfer the dough to a lightly oiled bowl, cover, and allow to rise for about 1 to 2 hours, or until doubled in size.
Once the dough has risen, divide it into about 20 2-ounce pieces. Shape each piece into a small round and place it on a baking sheet lined with parchment paper.
Let them rise for about 1 hour, covered with a clean, dry towel – they should become doubled in size. Once doubled, brush with the egg wash or butter, if desired.
Preheat the oven to 400°F and bake for 15-18 minutes, or until they are golden brown.