Lupe Tortilla Fajita recipe is a copycat recipe for famous beef fajita served in Lupe Tortilla in Texas. Lupe Tortilla exists since 1983 and we recommend you try their Mexican food.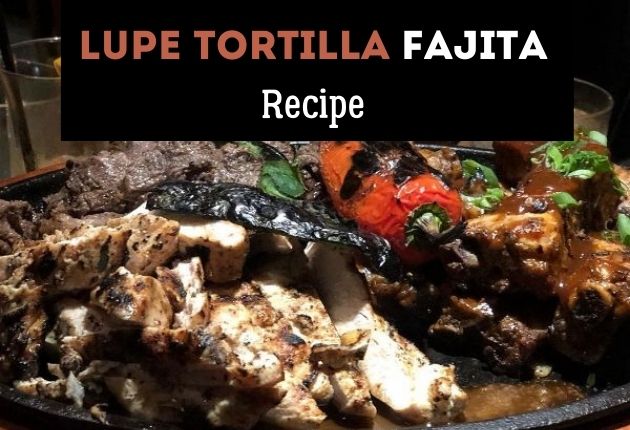 Lupe Tortilla Fajita recipe is easy and requires a bit of prep to marinate the meat, but the ingredients are easy-to-find and delicious. Here are easy 3 steps to cook it and enjoy one of the best fajitas in the States!
Fajita is basically a tough cut of grilled meat sliced against the grain, with grilled vegetables and flour or corn tortillas on the side. I'll suggest the original recipe with beef, but some restaurants serve chicken fajitas too.
---
Ingredients
All the ingredients are simple and affordable. Please, pay attention to the quality of the meat, as it is the main ingredient.
2 lbs (1 kg) skirt steak
3-4 garlic cloves
1/3 cup vegetable oil*
extra 2 tablespoons vegetable oil (to sauté the veggies at the end)
4 tablespoons tequila
1 teaspoon salt
4 tablespoons

fresh

lime juice
1 large white onion
3 green bell peppers or assorted color bell peppers
2 green onions
1/2 – 1 teaspoon ground cumin
Optional (for marinade):
*Vegetable oil – canola, olive oil, soybean oil, sunflower oil, etc.
You'll also need:
---
Instructions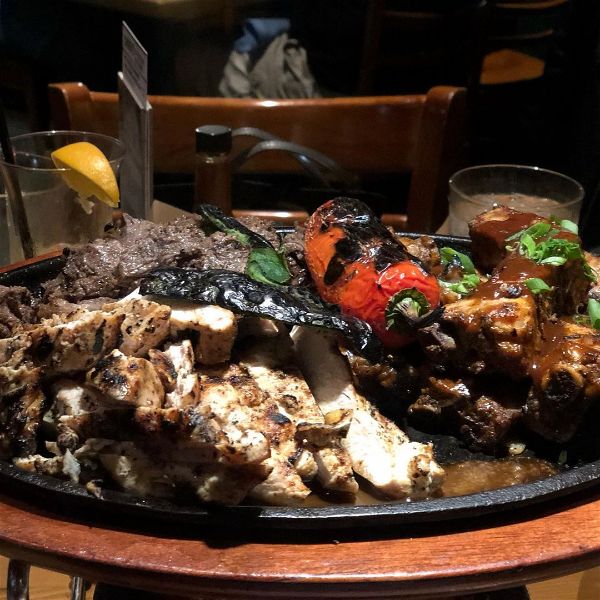 | | | |
| --- | --- | --- |
| Prep time | Cook time | Servings |
| 2-6 hrs | 15-20 min | 4 persons |
For Lupe Tortilla Fajita Recipe is crucial to buy inside skirt beef steak. In case you can't find it and you're desperate, you can go for skirt steak or flank steak 🙂
Step 0 – Prep
peel and mash garlic cloves.
slice onion into thin crescents (half rings).
cut bell peppers into strips.
clean green onions and cut down the middle longwise, then cut them in half.
make lime juice (squeeze fresh limes).
cut the meat into pieces that will fit on your grill or skillet. Cut the meat across the grain!
---
Step 1 – Make the marinade
The marinade is the key to the tender, soft and not chewy meat. In case you are worried about timing, leave the meat in the bowl overnight.
In a large bowl mix the garlic, lime juice, cumin, tequila, salt, and 1/3 cup vegetable oil. You can add Adobo seasoning or mayo if you want to experiment.
Whisk the ingredients until it is a homogeneous smooth texture.
Submerge the beef fajita in the bowl and leave for 2-6 hours, 4 hours will be good.
Then, remove the meat. Don't rinse it.
You can also use a big zip-lock bag instead of a bowl.
How can you substitute tequila? Basically, lime juice has the same function here. There is also a non-alcoholic tequila substitute such as RITUAL ZERO PROOF Tequila Alternative (substitution ratio will be 1:1).
Alternative recipe for the marinade for Lupe Tortilla Fajita recipe without tequila:
4 cups light soy sauce
1 cup brown sugar
1 teaspoon each of garlic powder, onion powder and ginger
juice of 4 limes
---
Step 2 – Grilling the beef
| | |
| --- | --- |
| Grill or ceramic cooker | Skillet |
| 375 F (190 C) | medium – high heat |
Heat your grill or cast-iron skillet.
Cook beef fajitas for 3 -5 minutes on each side. Don't overcook. If you're worried about marinade – don't, it will all be cooked.
Let the meat rest at least 5 minutes, and slice against the grain into strips.
Sometimes cooking time can be up to 9 min on each side. You need medium-rare steak. Optional is to grill meat for 2 more minutes after cutting it into strips.
Step 3 – Cooking veggies
Heat the 2 tablespoons of vegetable oil and sauté bell peppers and onions over med-high heat.
Serve Lupe Tortilla's Fajita with vegetables and warm tortillas (corn or flour). As sides serve guacamole, chipotle sauce, salsa, sour cream, pico de gallo, or cheddar cheese. You can also serve nachos or tortilla chips.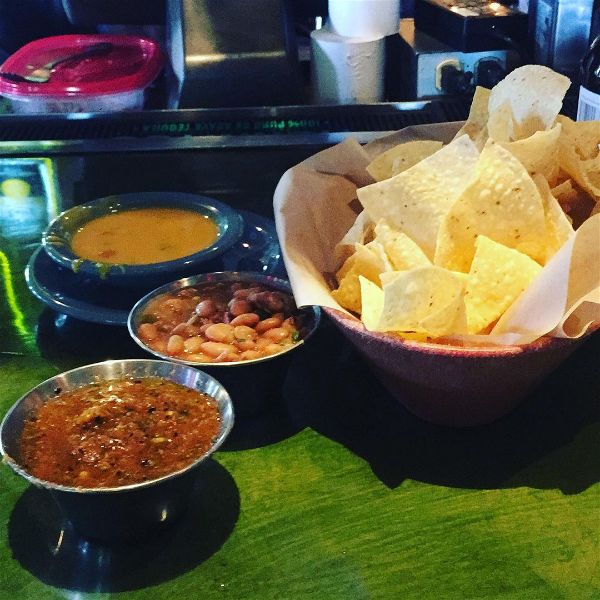 ---
Easy guacamole recipe:
Time: 5 min
Ingredients:
3 avocados
1 fresh lime
1-2 garlic
salt
cilantro (optional)
grate the garlic or mince it finely
squeeze lime in the bowl, add peeled avocados, garlic, salt.
mash using a fork until it has a smooth consistency.
---
FAQ
Is Fajitas Healthy?
Beef is a source of high-quality protein, lean cuts are low in calories. Beef is rich in protein, iron, zinc, selenium thiamine, riboflavin, niacin, vitamin B6, vitamin B12, vitamin D, phosphorus, pantothenate, magnesium, and potassium.
Do not overcook meat, as eating overcooked meat can cause cancer.
Why are my beef fajitas tough?
First of all, choose the right cut, skirt steak or flank steak soak the marinade better, which means the meat will be tender.
Second, check how much acid you add to your marinade (lime juice), as it helps tender the meat too. Recommended portion is 4 tablespoons for 2 lbs of meat.
Also, don't forget to cut it against the grain!
How to substitute skirt steak?
The best substitute for skirt steak is flank steak. You can also buy flap steak (flap meat), or thinly sliced beef tenderloin or short loin steaks.
How do you eat Lupe Tortilla Fajita?
Fill the tortilla with meat and veggies, roll it and eat with fingers. You can use a fork only to eat any filling that falls to the plate.