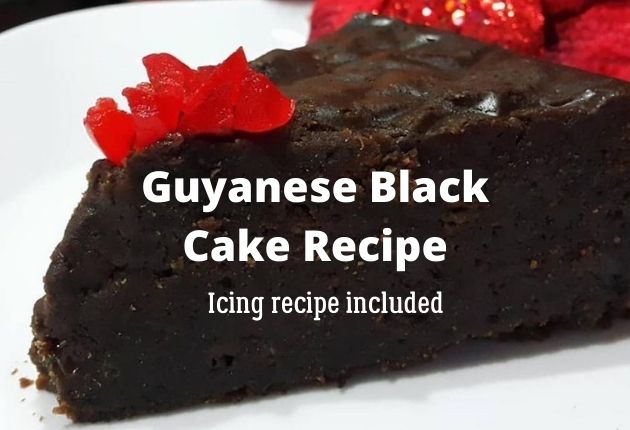 Guyanese Black Cake, also called Caribbean black cake, Black cake, Fruit cake, Rum cake and even Jamaican rum cake with icing (so many names I know!) is a staple dense and moist cake for Christmas, weddings, and other celebrations in the Caribbean.
Guyanese Black Cake reminds fruit cake and chocolate cake, but it is none of them. For Europeans, it is similar to English Christmas pudding. The dried fruits are soaked in wine or rum, baked with spices, and then covered with rum again.
If you want to make it for Christmas and invite all your friends and family members – do it! They will all feel themselves in a real Christmas movie – where the house is full of warm, aromatic flavor!
The black cake can be served for weddings too, in this case, you need marzipan and Royal icing on top, while for Christmas cake you just go without icing. I would share the icing recipe too, don't worry!
The story says that British people introduced British plum pudding to the Caribbean, but they adapted the recipe with what they have and today we have a chance to enjoy this great cake, even with a thick layer of marzipan, for various occasions.
This article contains affiliate links to Amazon. It helps me maintain this website but costs nothing extra for you. Thank you!
---
Ingredients
First of all, honestly, it is up to you what dried fruits you'll use. But as it is a real recipe, I will suggest the staple ones. Plus, I will share some optional ingredients you can add to experiment with the original taste.
1-2 pounds of dried fruits (1 lb will make cake drier): candied cherries, prunes, raisins, currants
1/4 lb candied lemon peel
1/4 lb candied orange peel
1 lb unsalted butter, softened
1 cup sugar (you can add up to 1 lb sugar, based on your personal preference). You can also use 1 1/2lbs. brown sugar instead of white sugar.
store-bought burnt sugar or homemade (can be substituted by 2 tablespoons molasses or browning sauce)
2 teaspoon vanilla
1 lb all-purpose flour
4 teaspoon baking powder
1 teaspoon cinnamon (you can also add nutmeg, cloves)
1/2 teaspoon allspice
1/2 teaspoon salt
8-9 eggs
1 cup rum (use dark rum), you can need more, so keep the bottle 🙂
1 cup sweet wine, or non-alcoholic wine
1/4 lb mixed nuts (unsalted) or 1/4 lb nuts, of your choice, peanuts, walnuts, etc.
1 tsp lemon essence
2 tsp almond essence
Optional:
Use of alcohol
You can use dark rum, cherry brandy, port wine for the cake – they all work fine. You can also mix them:
1/2 liter dark rum,1/4 liter cherry brandy,1/4 liter port wine.
How to substitute alcohol in Black cake and make it non-alcoholic?
Use non-alcoholic wine to soak the fruits and do not pour rum after baking, use browning sauce to make cake darker.
---
Ingredients for Icing
MARZIPAN
2 egg whites
1/2 lb ground almonds (2 cups)
1/2 lb icing sugar (confectioner's, 2 cups)
1/2 teaspoon almond essence (extract)
ROYAL ICING
2 egg whites
1lb icing sugar (confectioner's, 4 cups)
juice of 1 lemon
You'll also need:
---
Guyana Black Cake Recipe Instructions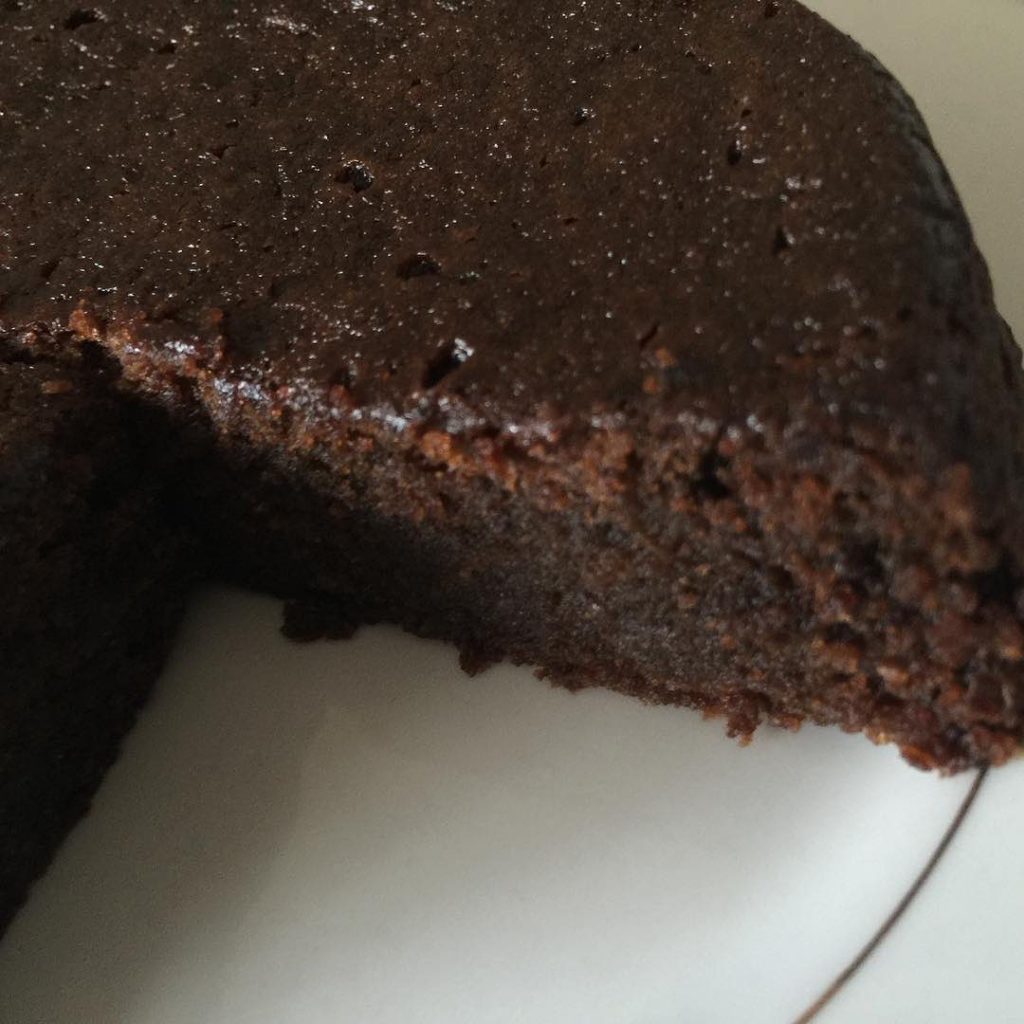 | | | |
| --- | --- | --- |
| Prep Time | Cook Time | Servings |
| from 20 min to 1 year | 2 h | ±12 servings |
The tradition of making Black cake is really old and requires a lot of respect for the key elements of the cake – soaking the fruits. Although, nowadays not everyone can soak fruits for months or even a year, as simply we tend to live "faster".
It is true, that once you have some fruits you can soak them in wine or rum and let it for months until an occasion for a Black cake comes. On the other hand, some modern cooks tested 2-week soaking which was enough for a smooth texture. If it is your first time making Guyanese Black Cake Recipe, try to soak fruits for at least a couple of days.
If you just learned about this whole soaking thing, don't worry, simmer the fruits in sweet wine for 20 minutes and let them cool, then macerate and pour some rum.
I will now just give you straightforward steps, but you can find some Pro Tips gathered from other professional cooks below.
Please, note, that when the cake is done it is better to leave it for 2-3 days before eating.
---
Step 1 – Soaking Fruits for Fruit Mixture
Soaked fruit is the main ingredient for the Caribbean fruit cake or black cake.
If you were soaking fruits for days, weeks or month – it means they are ready. If you didn't:
simmer the dried fruits in sweet wine for 20 minutes and let them cool,
macerate the fruits and pour some rum.
If you want to soak dried fruit:
wash and dry fruit
grind the fruits and soak with rum or wine the way the alcohol covers fruits. You can also use a blender.
leave it for a couple of days or 2 weeks (or longer, up to 1 year). Add alcohol if needed.
You can keep them in glass jar (with a lid).
Step 2 – Making Cake batter
burn some sugar or use store-bought burnt sugar. To make burnt sugar, place sugar in a small saucepan. Stir on low heat until it begins to caramelize. Once the sugar is dark brown, add some wine and remove it from heat. Let it cool completely before adding to the batter.
If you don't have a saucepan, use a heavy bottomed frying pan, and simmer sugar until it gets dark brown.
Bring eggs and butter to room temperature. Crack them into a separate bowl one at a time, remove the white membrane from each egg. Add citrus peels (lime zest and orange zest). Combine mixed peel with vanilla, almond extracts, and mixed essence, and mix well. Put aside. You can also add Angostura bitters.
Mix all dry ingredients (flour, spices, powder, chopped nuts) and set aside.
Cream butter and sugar well in a large bowl, add eggs a little at a time. Cream them at high speed until it's fluffy and white (3- 5 minutes).
Add dry ingredients mixture and mix well.
Add soaked fruits and rum or red wine, stirring well, add burnt sugar to make it as dark as desired. Scrape down the sides of the mixing bowl. You can use molasses or browning sugar instead of burnt sugar to make the cake dark color.
Your goal is a smooth, creamy consistency.
Step 3 – Baking
Preheat oven to 275-325°F depending on how well you know your oven and how fast it heats.
Use 8-10 inch baking pans (the bigger the pan is, the faster the cake will be baked). Grease it and line with waxed paper or parchment paper. An alternative method is to spray the pan with nonstick cooking spray.
Put batter into prepared pan and bake in preheated oven for approximately 90 – 120 minutes. With 300F it will take around 90 min. A slow oven is the best way to bake a Black cake.
Immediately after you take the cake off the oven, you will pour mixture of alcohol or rum on it and use a brush to distribute it evenly on the top. You can also use the cherry brandy + dark rum mixture on top.
Let it cool, then wrap it into plastic and leave the cake for 2-3 days before eating.
*Some people bake this in a bain marie (water bath) to steam the cake.
When you remove the cake from the oven it may seem undercooked – don't worry, it's fine. The cake is not like chocolate or really dense cake, it is more like pudding. In 2-3 days the good black cake is ready to be served.
Step 4 – Icing
For the icing, you can usually do marzipan (almond) and Royal icing. The icing is more common for wedding cakes, for Christmas you normally will skip it.
Marzipan
beat egg whites to a stiff froth
stir in ground almonds, sugar, and almond essence until it forms a paste.
cover the top of the cake with almond paste
roll the rest of the paste thinly over the sides
let it dry 1 day before adding Royal icing
Royal Icing
beat egg whites to a froth, add sugar, a little at a time
add lemon juice and sugar and continue to beat until it forms peaks
dip a spatula in hot water and smooth the icing over the almond paste
a second layer may be applied when the first is thoroughly dried
---
TIPS for making Black cake:
How to make eggs and butter at room temperature? Pop your butter in the microwave for a few (5-10) seconds at a time, until it softens up. To warm up cold eggs, put the eggs in a bowl of warm water.
8-inch cake pans are a perfect size for baking. 
Ground fruits should resemble a paste texture.
If you use store-bought browning/burnt sugar, taste it first. Sometimes it can be salty.
Black cakes infused with alcohol can last a very very long time in a closed container.