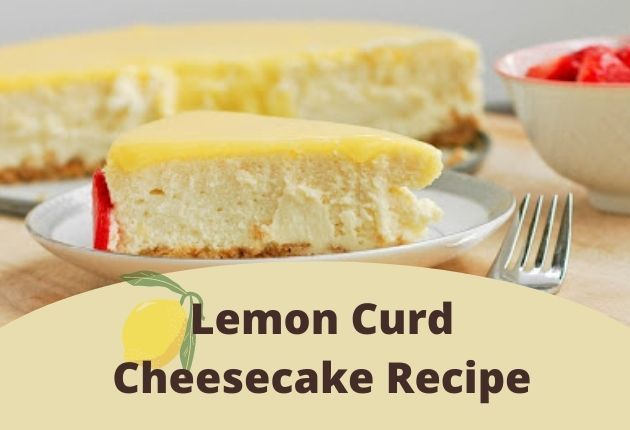 I love cheesecakes and this time we go for a lemon curd cheesecake – juicy, a bright and sweet sprinkle of taste with creamy and smooth cheesecake base – what can be better?
The biggest challenge with Lemon curd cheesecake is not to eat all lemon curd before even making cheesecake – yes, it turns out SO good!  It's creamy, smooth, tart, sweet, and light. The classic cheesecake is a staple sweet, and if you're not a fan of the simplicity, pair it with the lemon curd and a few strawberries. The recipe is served for 12 servings, but make sure you don't have a lot of people to share with – it is too tasty. Of course, I'm kidding.
Basically, lemon curd is a British and American delicacy since 19 century. The way to make it is unique – we use bain-marie (water bath). It lasts up to 10 days in the fridge, or up to a couple of months in the freezer. There is also an option to buy lemon curd, but I would really recommend trying and make a homemade one.
---
Lemon Curd Cheesecake Ingredients
For lemon curd:
1/2 cup lemon juice (only fresh)
6 egg yolks
1 cup granulated sugar
4 tsp. lemon zest (only fresh)
8 tbsp. (1 stick) cold unsalted butter, cut into pieces
For crust:
For cheesecake:
2 1/2 packages (20 oz. total) cream cheese
½ cup plus 2 tbsp. granulated sugar
3 tbsp. all-purpose flour (can be substituted by corn starch)
Salt
1 tsp. vanilla extract
1 tsp. freshly squeezed lemon juice
1 tsp. freshly grated lemon zest
2 large eggs, plus 1 yolk
1/2 cup ricotta cheese
Optional:
You'll also need:
---
Instructions
In general, cheesecake is not a very easy cake to make. Be patient, follow the directions but also your taste, and will be only fun! Some advice before you start:
always use room temperature ingredients. Remove your cream cheese and eggs from the fridge on the eve.
a cheesecake needs plenty of time to chill in the fridge. If you're planning for an occasion make it the day before and leave overnight.
we will use foil in the recipe, seal the top of the foil as tightly as you can around the top of the pan, it will keep water from getting into the cheesecake filling and crust.
do not use high sped while mixing cheesecake filling, you will overbeat it.
cheesecake likes slow cooling.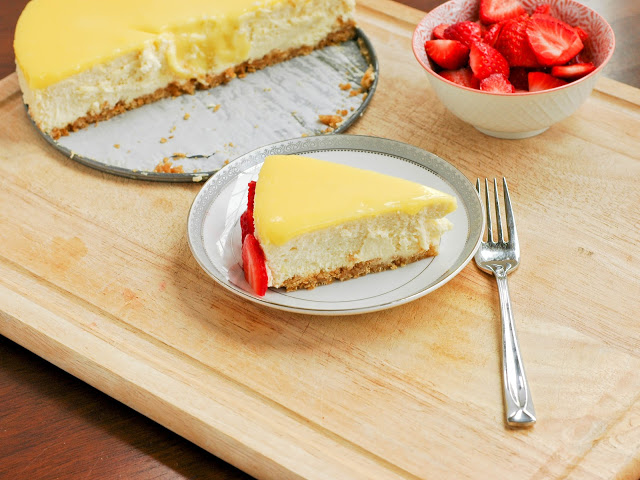 Step 1 – Making the lemon curd
Whisk egg yolks, lemon juice, and sugar in a saucepan. On medium-low heat (140°F) cook the mix, constantly stirring for 5-10 min.
Remove saucepan from heat and strain mixture over a bowl.
Stir in butter and lemon peels until the butter completely melts. Cool slightly before using.
The curd is ready, you can store it in the fridge in an airtight container up to 1 week. Warm it to reuse in the microwave.
Step 2 – The crust
Combine the graham cracker crumbs, sugar, salt, and melted butter in a bowl. You can use a fork to stir the mixture well.
Line a springform pan with parchment paper. Put the mixture in the pan and press it to the surface using your hands or the bottom of the cup/jar.
Preheat the oven to 350°F (180C) and bake for 8-10 min.
Once it is ready, remove it from the oven and let it cool.
Step 3 – Prep cheesecake
In an electric mixer fitted with the paddle attachment, beat cream cheese at medium-low speed until creamy, about 2 minutes. Scrape down the sides of the bowl. Gradually add sugar, then flour, and finally a pinch of salt while the mixer is on the low. Scrape down sides again. We need creamy consistency.
Switch to a whisk attachment and continue by mixing in vanilla, lemon juice, and lemon zest. Whip in eggs and yolk, adding one at a time. Scrape down the sides of the bowl and whisk at least twice. Continue to whip on low speed and add ricotta. Whip until well blended; do not overbeat.
Step 4 – Baking
Decrease oven temperature to 325°.
Brush sides of springform pan with softened butter.
Cut 2 large pieces of tinfoil and wrap the pan tightly in the foil.
Pour cheesecake filling into pan. Place the springform pan wrapped into the foil in a large roasting pan. Pour hot tap water into the roasting pan so that it comes about halfway up the springform pan height.
Place into the oven and bake until filling is just set in center, about 45 minutes in 8-inch pan, 40 min for 9-inch pan. If edges of the cheesecake start to pull away from the pan sooner than that, remove it from the oven. Immediately remove the pan from water and remove foil, and cool to room temperature.
*When the cheesecake is done, leave it in the slightly opened oven for an additional 1 hour
We using the water bath as it is a very gentle way of baking, steaming, our filling, plus, it keep the crust from cracking.
Step 5 – Adding lemon curd
Stir lemon curd until smooth (it should be the consistency of thick sour cream) and spread over the surface of the cheesecake.
Cover the springform pan with plastic wrap and leave it in the fridge for at least 8 hours or overnight.
Basically you can use this recipe as just a recipe for a cheesecake. Just skip the lemon curd and you'll have the classic cheesecake.