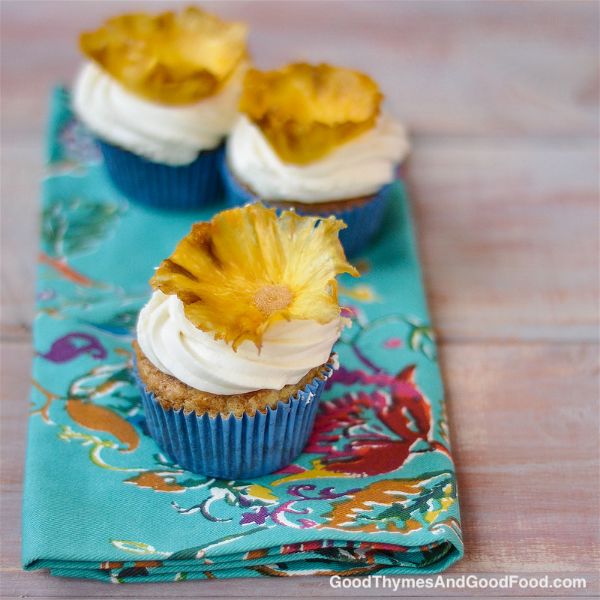 Hummingbird Cupcakes with Dried Pineapple Flowers one of the most spectacular cupcakes you can make for birthday parties.
Hummingbird cake is a southern tradition that is seriously delicious. The cake is moist and filled to the brim with flavor from pineapple, cinnamon, banana, and coconut.  It usually contains walnuts or pecans but if you're allergic, you can easily omit them. The Hummingbird cake is topped with a traditional cream cheese frosting.
The dried pineapple flowers are absolutely doable, they just require patience. I've made these with and without the flowers and obviously, they're a little more impressive with them but still just as tasty without!  
---
Hummingbird Cupcakes with Dried Pineapple Flowers Ingredients
For the cupcakes:
2 cups all-purpose flour
½ tsp. baking soda
¾ tsp. salt
½ tsp. ground cinnamon
11 tbsp. coconut oil or unsalted butter, melted and cooled
1 tsp. vanilla extract
1 ⅓ cups sugar
2 large eggs, at room temperature
1 ⅓ cups mashed ripe banana (about 2 small)
⅔ cup crushed pineapple, drained
⅔ cup shredded coconut
For the frosting:
8 oz. cream cheese, at room temperature
5 tbsp. unsalted butter, at room temperature
2 tsp. vanilla extract
Pinch of salt
2 ½ cups confectioners' sugar, sifted
For the dried pineapple flowers:
1 large pineapple, peeled
You'll also need:
cupcakes cups (paper, silicone, or tin)
electric mixer with a paddle attachment
2 baking sheets
parchment paper or nonstick baking mats
---
Directions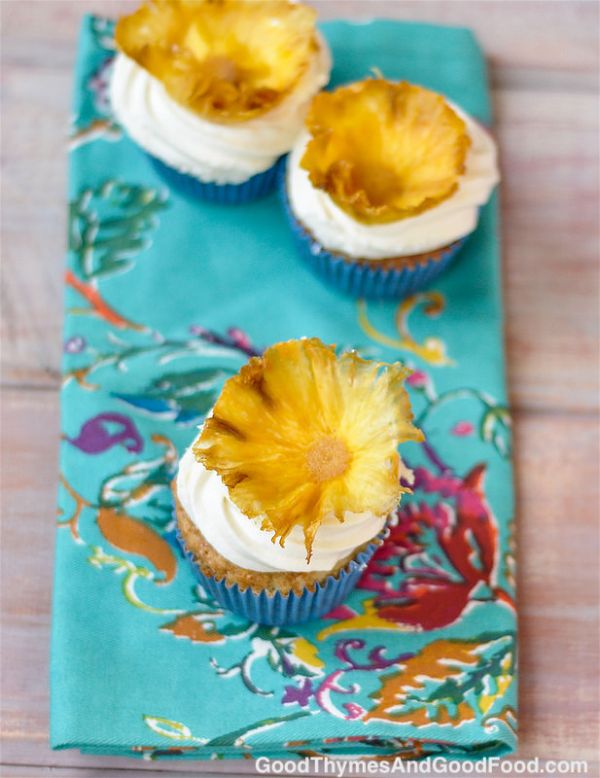 Preheat the oven to 350º F. Line cupcake cups and set aside. In a medium bowl, whisk flour, baking soda, salt, and cinnamon.
In the bowl of an electric mixer fitted with the paddle attachment, beat together the coconut oil or butter, vanilla, and sugar until blended and very smooth, about 2 minutes.
Add in the eggs one at a time, at low speed. Mix well after each addition and scrape down the bowl as necessary. Beat in the mashed banana and then the dry ingredients, mixing only until there are a few flour streaks remain. Gently stir in the crushed pineapple and coconut.
Fill each prepared cupcake pans about ¾ full and bake for 18-22 minutes, until a tester comes out clean. Cool cupcakes in the pan for a few minutes and then remove to a wire rack to cool completely.
To make the frosting:
Combine the cream cheese and butter in the bowl of an electric mixer and mix on medium speed for 3 minutes until well combined and very smooth.
Add in the vanilla extract. Mix in the salt and sifted confectioners' sugar until combined and then gradually increase the speed to medium high and beat until fluffy, about 3 minutes more.
Frost cooled cupcakes.
For the pineapple flowers:
Preheat oven to 225º F and line two baking sheets with parchment paper or nonstick baking mats.
After removing the peel from the pineapple, use a melon baller or a sharp knife to remove any "eyes" from the pineapple.
Slice as thinly as possible with a very sharp knife and transfer to the prepared baking sheets. Bake for about 30 minutes, then flip the pineapple slices over and continue baking until the pineapple is completely dried, this will take anywhere from 30 minutes up to an hour more. Flip as needed to dry out the pineapple.
Place dried pineapple slices in a cupcake pan (you can use a regular muffin tin, a mini muffin tin, or even a clean, empty egg carton) to cool completely. Let sit for several hours to ensure the pineapple slices hold their shape. Refrigerate in an airtight container up to 3 days.