I finally bought pizza dough (I am so inept at the dough making.) when I went grocery shopping today, so we had this delicious pizza for dinner. It was SO GOOD. Part of why it was so good was the dough. Oh my goodness. Lucious.
We topped our pizza with mozzarella, mushrooms, onions and chicken. So yummy!!! Luckily we have leftovers. I can't wait for dinner tomorrow night!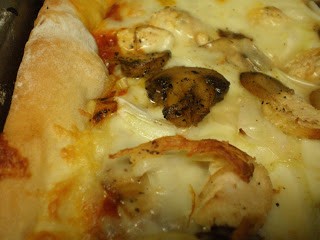 Deep Dish Pizza
Serves 8 (I only made one pizza though, so adjust accordingly. Also, I am including the recipe as it was in the magazine. Just add or take away toppings as desired.)
Olive oil, for pans
All-purpose flour, for work surface
2 balls (1 pound each) store-bought pizza dough, thawed if frozen
1 1/2 cups jarred tomato sauce
6 cups shredded part-skim mozzarella (1 1/2 pounds)
Coarse salt and ground pepper
For Pepperoni-Onion Topping
4 ounces thinly sliced pepperoni
1 medium onion, halved and thinly sliced
1 pound thinly sliced button mushrooms, sauteed (optional)
For Spinach-Artichoke Topping
1 package (10 ounces) frozen leaf spinach, thawed and squeezed dry
1 can (14 ounces) artichoke hearts in water, drained, quartered, and squeezed dry
Directions
Preheat oven to 425 degrees.
Brush bottom and sides of two 13-by-9-inch metal baking pans with oil.
On a lightly floured work surface, stretch each ball of dough into a 10-by-14-inch oval (if dough isn't holding its shape, let rest a few minutes).
Transfer each oval to a prepared pan, pressing to fit into corners, and one inch up sides to form a rim.
Dividing evenly, spread sauce over each oval of dough.
Using 3 cups of cheese per pizza, spread three layers each of cheese and topping, ending with topping (layering with cheese helps to hold each pizza together).
Season with salt and pepper. (If making ahead, cover and refrigerate, up to 1 day.)
Bake pizzas side by side until cheese and crusts are golden brown, 30 to 40 minutes, rotating once (if refrigerated, add 10 minutes).
Let rest in pans 10 minutes. To serve, use two wide spatulas to transfer pizzas to cutting boards.